Laura Davidson might have solved the whole Monday blues thing and… it involves this blueberry loaf cake. And lots of almond streusel. Because, let's face it, streusel makes everything better.
By Laura Davidson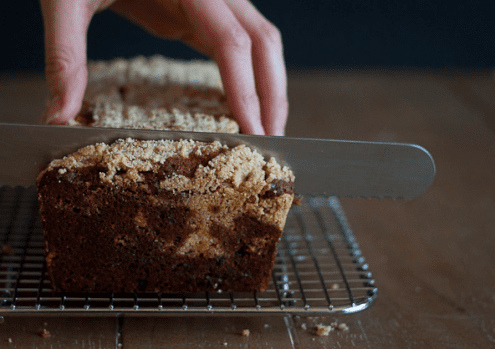 Blueberry Loaf Cake with Almond Streusel
Laura Davidson might have solved the whole Monday blues thing and… it involves this blueberry loaf cake. And lots of almond streusel. Because, let's face it, streusel makes everything better.
Author:
Laura Davidson, adapted from Bouchon Bakery Blueberry Muffins
Ingredients
Blueberry Loaf Cake:
¾ cup + 3 tablespoons frozen wild blueberries (which have lower water content than regular)
1 tablespoon all-purpose flour
¾ cup + 1.5 tablespoons cake flour
½ + 2 tablespoons all-purpose flour
¾ teaspoon baking powder
½ + ⅛ teaspoon baking soda
½ teaspoon kosher salt
3½ ounces unsalted butter, softened just slightly
½ cup granulated sugar
3 tablespoons unsulfured molasses
1 tablespoon wildflower honey
2 whole large eggs, room temperature
½ teaspoon pure vanilla extract
¼ cup low-fat buttermilk, room temperature
Almond Streusel:
½ cup almond meal
¼ cup granulated sugar
¼ teaspoon ground cinnamon
⅛ teaspoon kosher salt
2½ ounces cold, unsalted butter, cut into ¼" pieces
Instructions
Preheat oven to 350 degrees Fahrenheit. Grease a 9 x 5 inch loaf pan and set aside.
Almond Streusel:
Combine flour, almond meal, cinnamon, salt, and sugar in a small bowl.
Add the butter, chopped into ¼" pieces, and toss to coat. Using fingertips, break the butter into very small pieces, incorporating it evenly among the dry ingredients. If butter gets too soft, place in freezer for several minutes before continuing.
Once streusel is ready, place in freezer and begin making cake batter.
Blueberry Loaf Cake:
Toss the frozen blueberries with the one tablespoon of all-purpose flour. Place in freezer.
Add remaining all-purpose flour, cake flour, baking soda, baking powder, and salt into a medium-sized bowl. Whisk together to combine evenly.
Using a stand mixer with the paddle attachment, cream the butter at medium speed for 2-3 minutes. Add the sugar and beat over medium speed for an additional minute, until mixture is fluffy and light.
Scrape down the bowl using a spatula and add the honey and molasses, mixing over medium speed for another minute to incorporate.
In separate bowl, whisk together the eggs and vanilla until. Turn the stand mixer over low speed and slowly add the egg mixture, scraping down the bowl once or twice, until just combined.
Over low speed, add half the flour mixture and mix until just combined, followed by half the buttermilk. Repeat with remaining flour and buttermilk. Do not over mix.
Remove bowl from mixer and using spatula, scrape down side and bottom of bowl, insuring that all the ingredients are evenly incorporated. Remove (flour-coated) blueberries and streusel from freezer and using spatula, carefully fold them into the batter. Try to fold as little as possible to avoid color bleeding into the batter.
Add about half the batter to the loaf pan--spreading it out lightly so it is in an even layer. Sprinkle half the streusel mixture over the batter.
Add remaining batter on top and spread out a small offset spatula. Top with remaining streusel (it will be a relatively thick layer) and pat it down gently on the surface using fingertips.
Bake at 350 F degrees (on center-rack) for 55-60 minutes or until a skewer inserted in the center comes out clean.
Allow loaf to cool (in pan) on cooling rack for 10 minutes. Using a knife, run along edges of loaf pan, and invert (carefully) to release the loaf. Allow to cool slightly before slicing. Best served the day of baking or wrapped in foil and placed in plastic bag for up to 2-3 days at room temperature.