PARTNER POST: Be inspired this season to make little changes to your holiday menu by adding the merriest berry – blueberries — into your recipes.
Before or after a heavy holiday meal, refresh your guests with a sweet wine slush made a beautiful hue with delicious frozen blueberries.
By Anita Schecter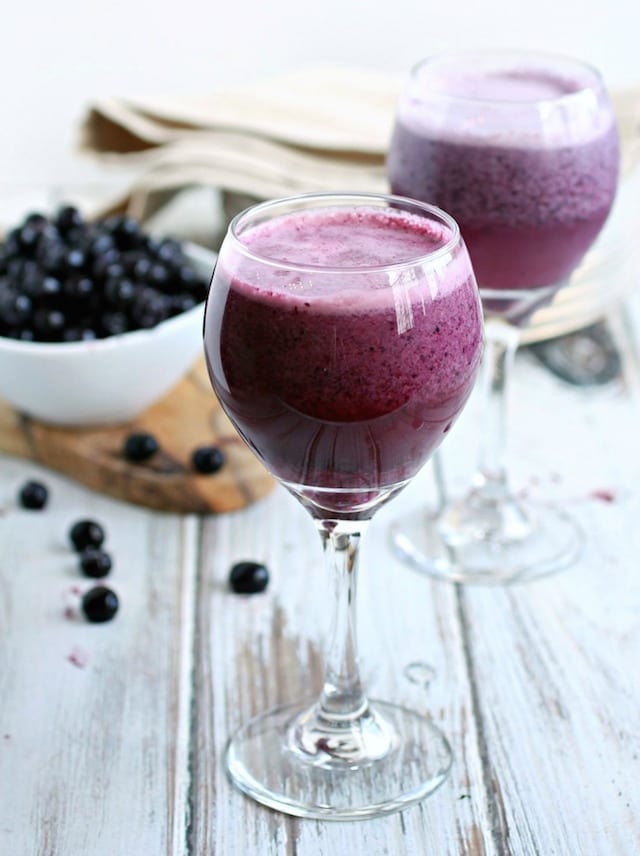 Blueberries were all over my cooking, baking and drink making this summer. Sweet and packed with fiber and vitamin C, they're one of my favorite treats. And now that summer is over…I see no reason to stop. Frozen blueberries get me through the other three seasons just fine. They're picked fresh and frozen to preserve their color, flavor and nutrition.
My gatherings have been a big hit thanks to bottles of wine and bags of frozen berries. I make big batches ahead of time so that people can help themselves and I'm not playing bartender all evening. Find the recipe for this delicious wine slush here.
This time I decided to add a twist with a bit of vanilla ice cream and a good white wine. And happily all the flavors came through – the blueberries, the sweetness of the vanilla ice cream and the flavor of the sauvignon blanc I chose. The holidays are coming, lots more guests are coming and these blueberry drinks will be flowing.
Make little changes this holiday season by adding blueberries to traditional dishes – from sauces to cocktails! The Blueberry Council has teamed up with their favorite bloggers to bring you delicious recipes for Thanksgiving, Christmas and more. Click here to enter for a chance to win $500 or a weekly blueberry gift bag through our Little Changes for the Holidays Pinterest sweepstakes!
See Also