PARTNER POST: Be inspired this season to make little changes to your holiday menu by adding the merriest berry – blueberries — into your recipes.
A perfect holiday side dish, oven roasted brussels sprouts are glazed with blueberry balsamic and tossed with bacon and blue cheese for a stunning flavor combination.
By Sarah Fennel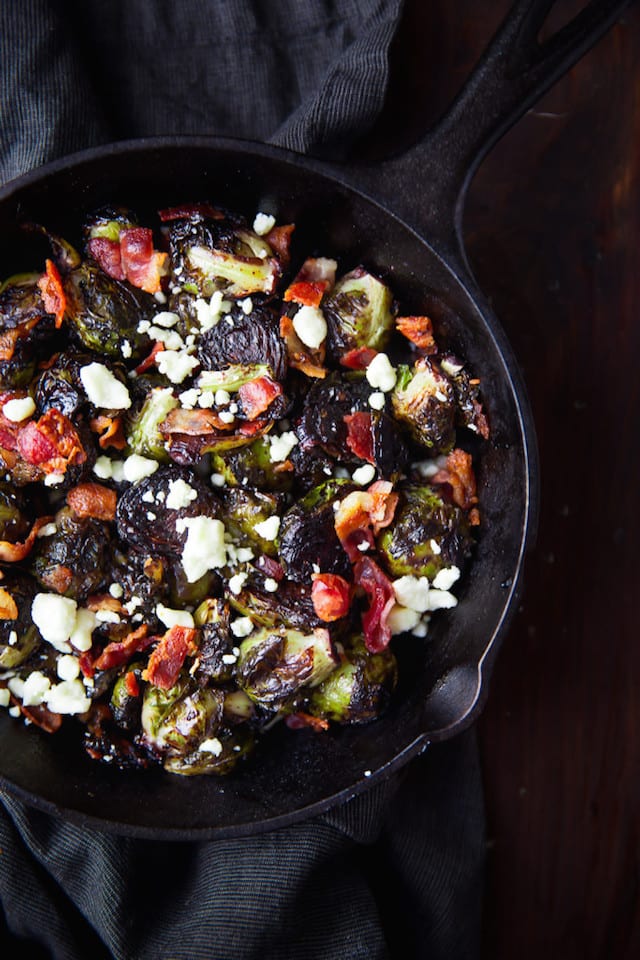 Blueberries have been a part of my life for as long as I can remember. Every summer of my life (beginning at a tender 1 month old), my family has journeyed to our summer house in Nova Scotia. Our house overlooks the calm side of the bay, home to lobsters, scallops, and blue heron. You drive up to it from the backside, and as you walk down the boardwalk towards the house, to the left is a large and open blueberry patch.
For as long as I can remember, my sister and I have picked blueberries in that patch. We bring out large plastic measuring cups and recycled yogurt containers and fill them to the brim with juicy blueberries.
While I and many others associate blueberries with the warmer months, blueberries can actually be found year round in the frozen section of the grocery store. So for Thanksgiving this year, I've decided to cook with blueberries. Find the recipe for these brussels sprouts glazed in a blueberry balsamic sauce here.
While the idea of balsamic-glazed brussels sprouts felt totally holiday-esque to me, I wanted to do something a little different. So I put blueberries in my balsamic reduction, and boy was I a fan.
The blueberries give this phenomenal warmth to the brussels sprouts. While typically homemade balsamic glaze can be quite acidic, the glucose in the blueberries takes away all of the unwelcomed tartness.
See Also
Tossed with bacon and blue cheese, these brussels sprouts are like the superstar of the side dish association.
Be sure to enter to win a $500 gift card to create a holiday meal with some new delicious dishes.
Sarah Fennel
Sarah Fennel is a photographer, writer, and baker for her blog, Broma Bakery. She also works in marketing, and has held a variety of positions in the food industry in Boston, New York, and Ann Arbor, where she now lives. She is a graduate of the University of Michigan. On her site you will find simple, delicious, and eye-catching recipes that anyone can make at home.