Black Tea Pops with Blackberry Jam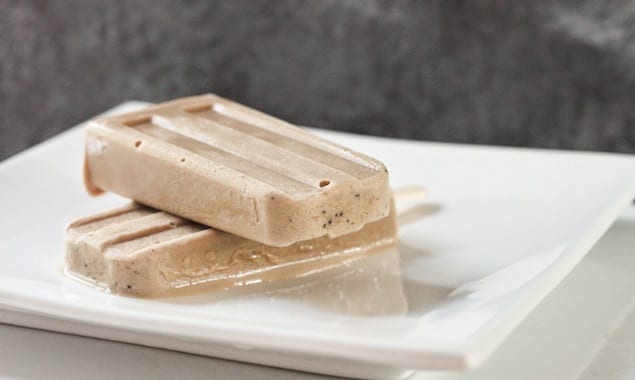 A cool iced tea with lemon zest frozen into popsicle form. Fold in blackberry jam for a slightly sweet and fruity addition.
By Amrita Rawat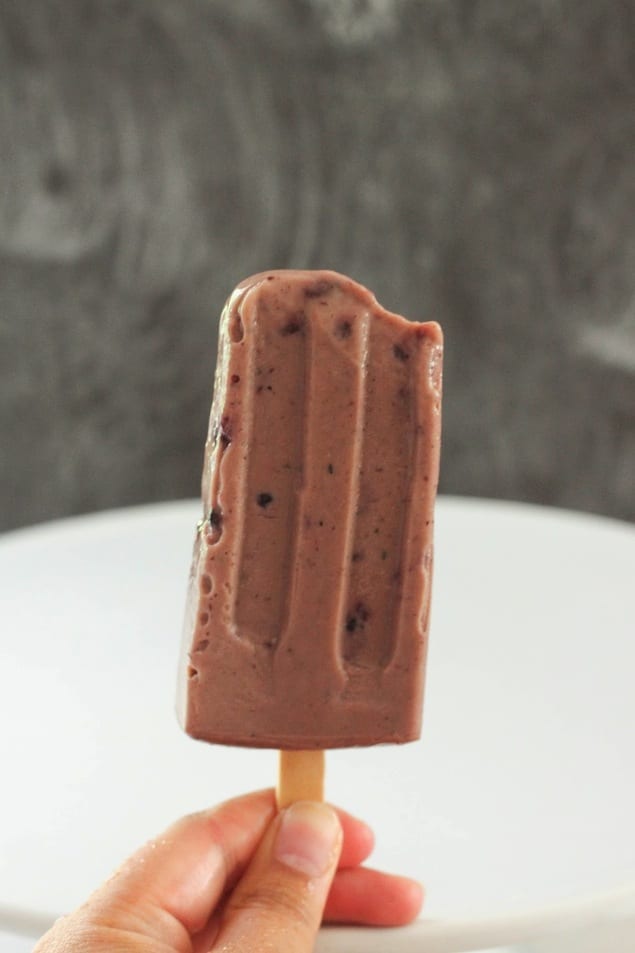 he result is delicious and not too sweet. The flavor of tea really comes through, so use your finest black blend! I tossed in some lemon zest as a nod to the lovely iced teas of summer, and I also swirled some blackberry jam into half of them just for the hell of it. The blackberry swirled ones were my favorite.

Black Tea Pops with Blackberry Jam
A cool iced tea with lemon zest frozen into popsicle form. Fold in blackberry jam for a slightly sweet and fruity addition. Adapted from Lady and Pups
Ingredients
4 tablespoons (23 grams) of black tea leaves
2½ cups (610 grams) of whole milk (or almond milk, which is what I used) + another ½ cup
3 tbs cornstarch
1 cup blackberry jam
½ cup condensed milk
zest of one lemon
Instructions
Place the 2½ cups of whole milk or almond milk in a large saucepan over medium heat with the tea leaves.
Once the milk comes to a gently simmer, turn off the heat completely and let steep for one minute, then strain the leaves while pouring the mixture into another bowl.
Whisk the cornstarch together with the ½ cup of milk until there are no lumps, then whisk it into the milk-tea until slightly thickened.
Whisk in the blackberry jam, lemon milk, and the condensed milk until even.
Add more condensed milk according to your preference of sweetness*
*Keep in mind that once frozen, it tastes slightly less sweet because of the iciness, so it's okay if it's a bit on the sweet side as a warm mixture!
Divide the mixture into popsicle molds and freeze until hard, and enjoy!
Notes
I only put a ½ cup of jam in half the recipe because I wasn't sure I'd like the taste and wanted to know how it'd taste without the jam, but it was so tasty I wish I had added it to all! Feel free to taste a little of the mixture with jam to see if it's your thang.
Amrita Song
Amrita Rawat is the author of the blog Chai and Dumplings. Born in India and a lifelong resident of Atlanta, she recently moved to Saint Louis. Her love for food stems in part from its ability to bring cultures together and in part from how darn good it feels to eat a delicious meal. She loves traveling and has eaten her way through cities like Hong Kong, Paris, Budapest, Mumbai, and Shangri-la. Amrita is also a contributor to Sauce Magazine in St Louis.