A delicious and gluten free holiday treat with dates and cereal.
By Kathy Gori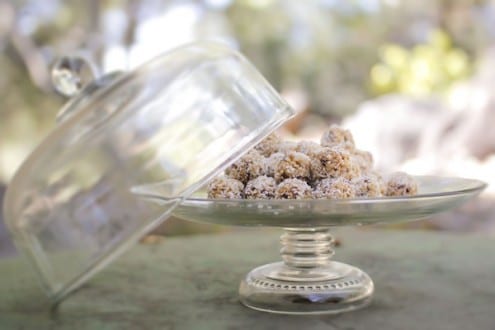 A couple of weeks ago  I heard from my friend Bibi in Nepal. I love getting recipes from her because she whips up the coolest stuff, much of it gluten free. After seeing the recipes on Marocmamas site and here at The Colors of Indian Cooking, Bibi mentioned she had a couple more twists to the tale. She sent me her recipe for Holiday Balls.
This recipe is something that Bibi makes for the Festival of Eid-ul-Fitr when the fasting of Ramadan is broken, and they're definitely the perfect sweet treat to celebrate any holiday with. My family is going to be seeing a lot of these balls come Halloween, Thanksgiving, Channuka and  Christmas. Did I also mention they're fast and easy to make and they're made with Rice Krispies, either regular or gluten free? Something new, and yet totally old school. So here, courtesy of Bibi, is the recipe.
Print
Bibi's Krispy Balls, A Gluten Free Holiday Treat
A delicious holiday treat
Prep Time:

30 mins

Total Time:

30 minutes

Yield:

1

0

1

x
2

eggs beaten

3 cups

of Rice Krispies cereal, regular or Gluten Free

1 cup

of finely chopped dates

1

Tbs of butter or ghee

1/2 tsp

of ground cardamom

1 tsp

of vanilla

1 cup

of sugar

1 cup

of dried grated unsweetened coconut
waxed paper
Instructions
In a pot or skillet, melt the butter or ghee.
When it's warm, add in the chopped dates, sugar, vanilla, cardamom, and beaten eggs.
Stir continuously on a medium heat. You don't want this stuff to get too hot or over done as it will then stiffen and crumble.
What you're looking for is a smooth, thick, creamy texture.
Bring the mixture to a light boil and let it bubble for 3 minutes still stirring constantly.
After 3 minutes of cooking, pour the mixture into the Rice Krispies.
Mix them together with either a wooden or Teflon spoon.
Let the mixture cool for about 10 minutes, or until you are able to handle it comfortably.
Grease your hands lightly with butter (these little suckers are sticky) and scoop Tablesoon sized balls out of the mixture. Roll them between your hands.
Set them onto a cookie sheet covered in wax paper to cool further.
When they've cooled, roll them in the dried coconut, and you're good to go.
To store them, keep them in an airtight container, no need to refrigerate. Bibi says that they ought to keep fresh a couple of days, but they never last that long at her house and once you've tasted one you'll understand why.  I want to thank Bibi for sharing this wonderful recipe.
Kathy Gori
Kathy Gori has a passion for Indian cooking. She brings 20 years of cooking experience and a natural flair for communicating her culinary adventures to her blog The Colors of Indian Cooking "A Hollywood Screenwriter, A Bollywood Kitchen". Food writer, commercial and cartoon voice actor (Rosemary the telephone Operator in Hong Kong Phooey among others) and screenwriter (Chaos Theory starring Ryan Reynolds) Kathy is also a Clio award-winner. She and her screenwriting-partner husband Alan live with their Siberian Husky Patsy in Sonoma, California.