Look at the beautiful red color in this beetroot cream penne recipe. Simply amazing.
By Zita Nagy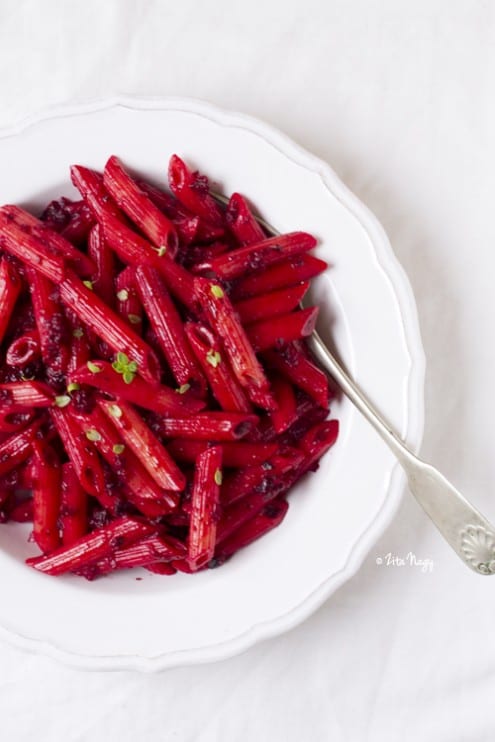 My body has a lack of iron (just a little bit) these days so I try to eat as many meals as I can that are rich in iron. Iron rich foods can fortify your blood, in a properly balanced diet. Iron, the metal, is an element that is also a nutrient mineral that humans need to consume as a part of our everyday diet. Iron, in some form, is essential for good health. It is also important to eat foods rich in vitamin C because this vitamin enhances the absorption of iron into our body. If we are not getting enough iron, the best way to increase our iron intake is by effecting a slight change in our eating habits.
If you are a vegetarian like me it's good to know that foods such as beans, whole grains, spinach and dried fruits have a significant amount of iron.
Print
Beetroot Cream Penne with Toasted Poppy Seeds
---
Author:

Zita Nagy

Total Time:

1 hour 5 minutes

Yield:

2
Description
Look at the beautiful red color in this beetroot cream penne recipe. Simply amazing.
---
– 200 g penne pasta
– 3 medium beetroot, peeled and diced
– 3-4 cloves garlic, peeled and chopped
– 2 sprigs thyme
– 4 tabelspoons olive oil
– 1 tablespoon balsamic vinegar
– 1/2 cup vegetable stock
– 1/4 cup cream or oat cream
– 1/2 cup grated parmesan
– 1 tablespoon poppy seeds
– salt, pepper
---
Instructions
In a bowl mix together the diced beetroot with 2 tablespoons olive oil, thyme, salt and pepper. Place it on a baking sheet and roast at 180C (356F) until tender (about 30-40 minutes). In the last 10 minutes baking, sprinkle the beets with the garlic and bake them together.
Transfer garlicy beets to a food processor and add balsamic vinegar, 2 tablespoons olive oil, 1/4 cup grated parmesan and pulse until it gets smooth. Transfer the mixture to a pan and add vegetable stock, cream and the leftover parmesan. Season with salt and pepper and simmer on low temperature while you prepare the rest of the dish.
In a medium sized pan bring water to a boil. Add salt into the boiling water and cook the penne al dente. Drain and set aside. In a dry non-stick pan toast the poppy seeds in 2-3 minutes.
Pour the beetroot sauce over the penne and serve immediately. Sprinkle with fresh thyme, the toasted poppy seed and some parmesan.
Prep Time:

10 mins

Cook Time:

55 mins
Zita Nagy
Zita's love for cookbooks and delicious food started at the age of 9. Whenever she went home from school her little brother and she would wait for mom to make dinner for them. Until the dinner was ready, she was turning the pages back and forth and was staring at photographs of amazingly looking dishes in mom's cookbooks to kill her appetite somehow. She couldn't have known then, that she would be collecting cookbooks after reaching adulthood and would still be, just like in her childhood, staring at awesome photos of delicious dishes. The only difference is that she does the cooking now. She loves traveling, going to the organic market and browsing foodblogs. Her vegetarian food and travelblog is Zizi's Adventures.