Sponsored Post: We've teamed up with Eggland's Best to bring you delicious breakfast to dinner or dessert recipes using their nutrient-rich eggs.
These colorful Beet Deviled Eggs are spiced up with a hint of coriander, smoked paprika and chili powder, and instead of mayo and mustard, they're so flavorful with red wine vinegar and Greek yogurt.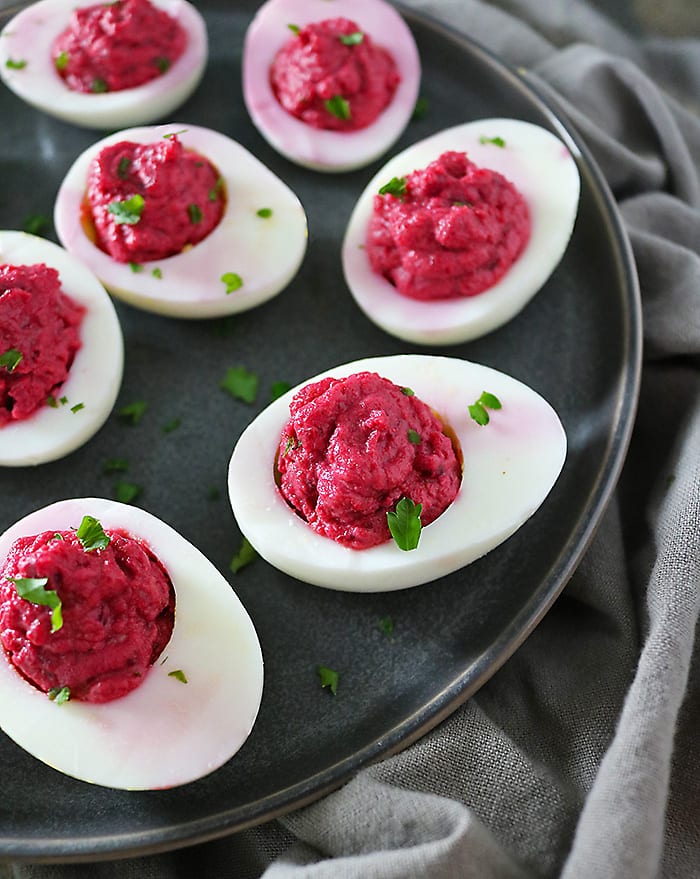 If I happen to be sitting near a plate of deviled eggs, it's so hard for me to leave that plate alone. That combo of creamy, spiced yolk filling nestled in a casing of firm egg white can be quite addicting. I keep picking up one after another of those little, two-bite morsels of deliciousness and before I know it, that plate is empty!
Deviled eggs are so darn delicious! And, they have come along way since their early beginnings with the Romans around the 5th century!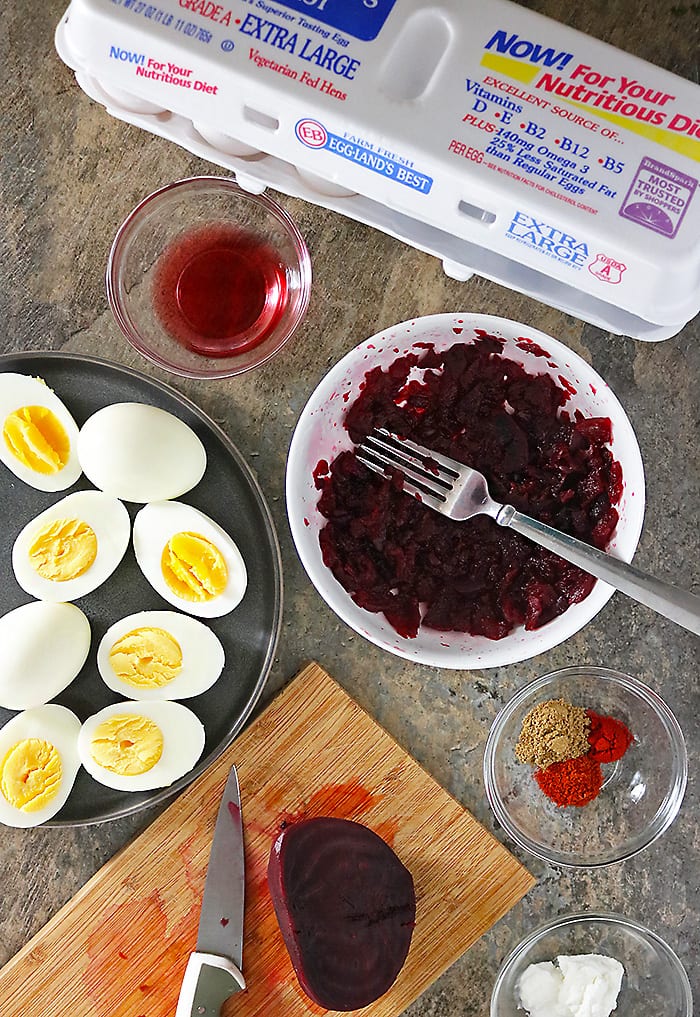 Around the holidays, my daughter makes some traditional deviled eggs that sometimes end up disappearing before they even have a chance to make it to the holiday table. Clearly I have some talented and smart holiday guests!
However, around Halloween, the deviled-egg-baton is passed onto me to come up with an out-of-the-box version, like these Beet Deviled Eggs.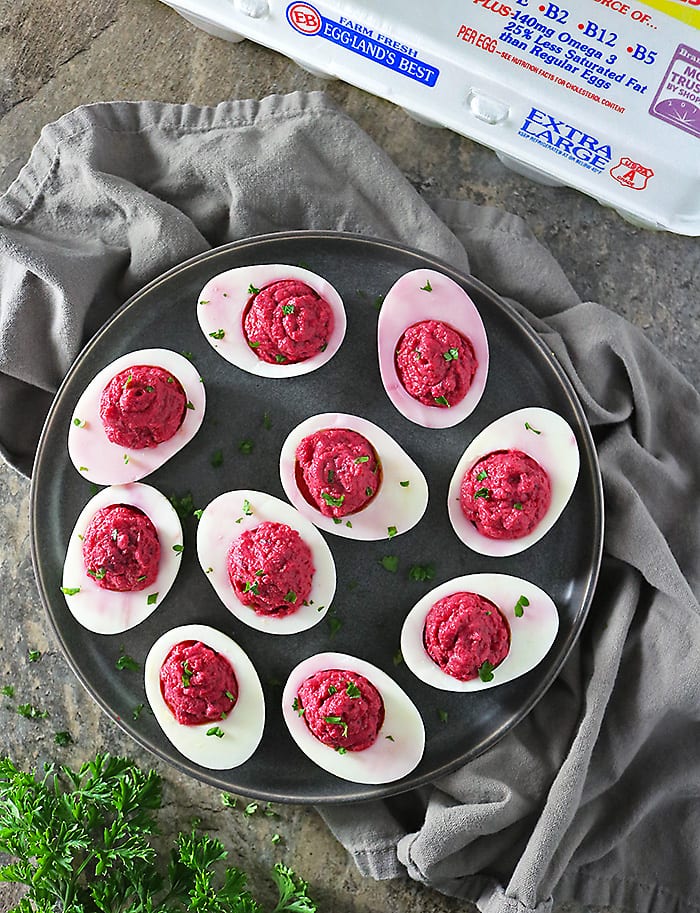 A few years ago, I made these Deviled Egg Bloody (beet) Eyeballs. This year, I am sticking with the beet theme, only jazzing it up in a different way. Like they did in Spain in the 13th century when they made deviled eggs by mashing the yolk with with cilantro, onion, pepper, coriander, murri (fermented barley or fish sauce), oil and salt and leaving out the mayo and mustard; I opted to mix Eggland's Best egg yolks with:
• Mashed, boiled beets,
• Coriander,
• Smoked paprika,
• Chili powder
• Red wine vinegar, &
• Greek yogurt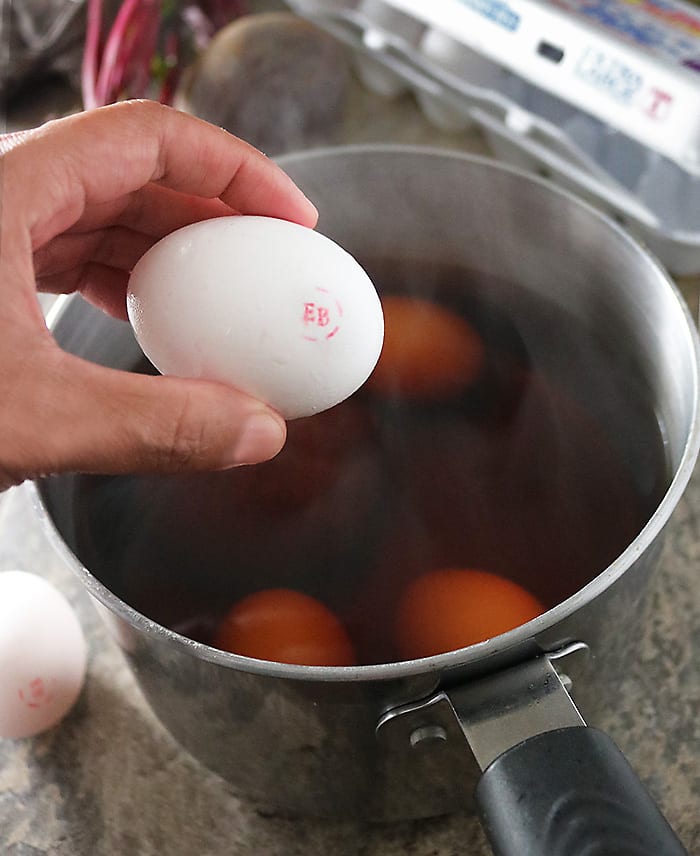 If you'd like a break from the traditional mayo-mustard deviled eggs, then do give these spice-alicious ones a try.
When It comes to eggs, Eggland's Best is my favorite choice. I make sure I give my small family the best by always using Eggland's Best eggs – like in these Oat Banana Chip Cookies, these Savory Oat Potato Pancakes, and these Lemon Muffins! Truth is, Eggland's Best eggs are superior. After all, their catchphrase IS "Better taste. Better nutrition. Better eggs.®" EB Eggs have more of the delicious, farm-fresh taste you and your family will love – no matter how you cook them.
EB Large Shell Eggs have:
10x more vitamin E
6x more vitamin D
3x more vitamin B12
More than double the omega-3s
25% less saturated fat
38% more lutein
Excellent source of vitamins B2 & B5
And, only 60 calories!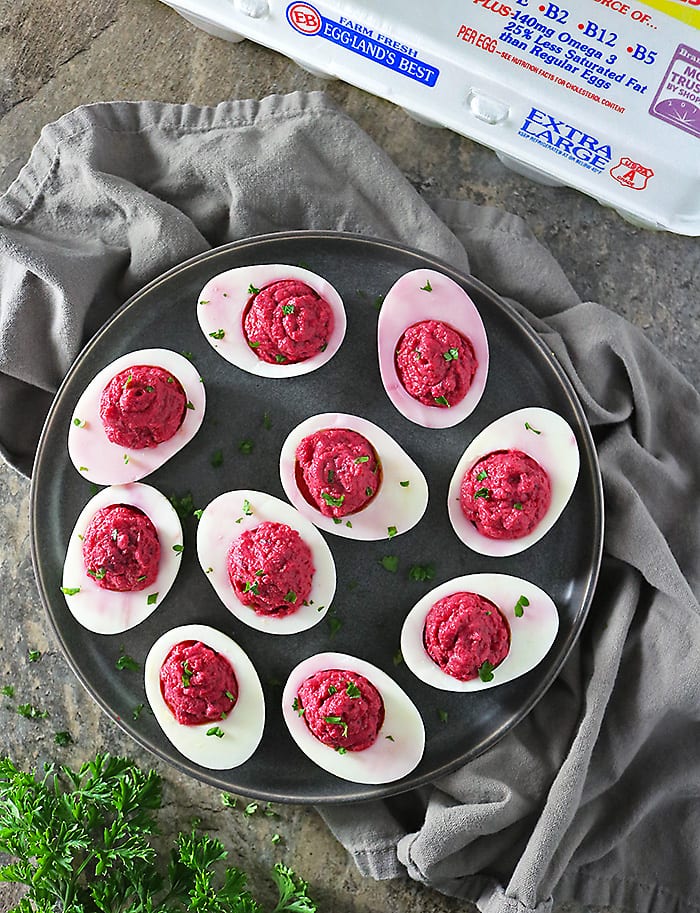 By the way, a complete list of the vitamins & nutrients in EB eggs can be found here. And, a complete nutritional breakdown of Eggland's Best eggs versus ordinary eggs can be found here.
The first time I made these, I had quite a bit of that beet deviled egg filling leftover, which my daughter and I ended up eating smeared on large white mushrooms, crusty french bread, and even on leaves of lettuce. Please check out the recipe in it's entirety on the Eggland's Best website.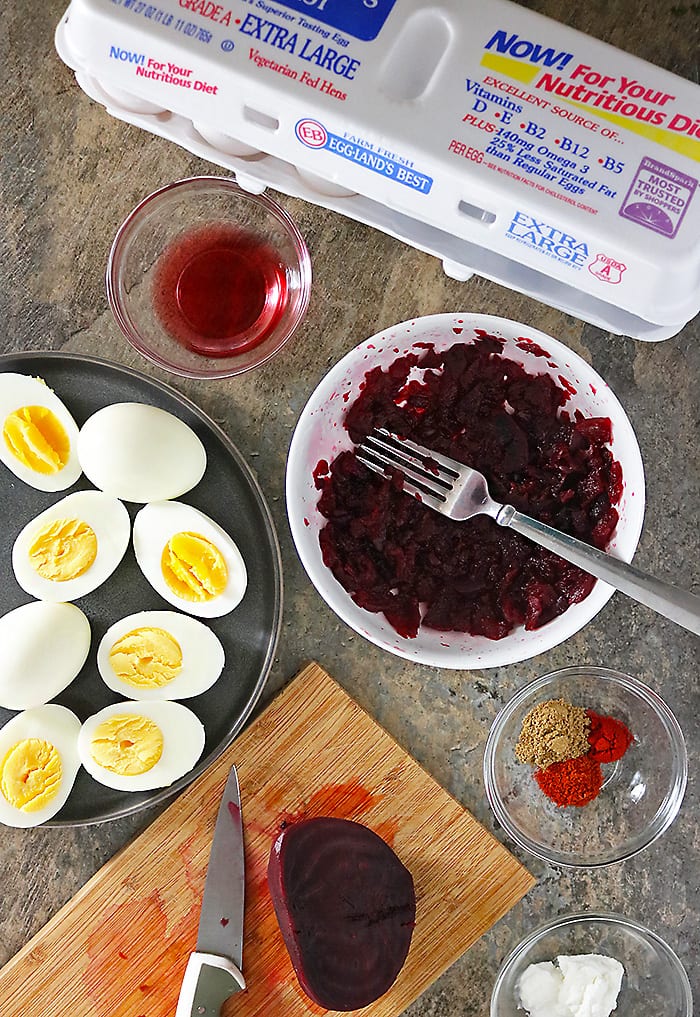 Shashi Charles
I am a healthy food lover - and tricking my loved ones into eating their veggies disguised as treats is my specialty! I am also a graphic designer by day and blogger by night and a mom 24/7!