Beans, cheese and a tortilla crust make for a perfect weeknight meal that is easy to make and tastes like one big enchilada.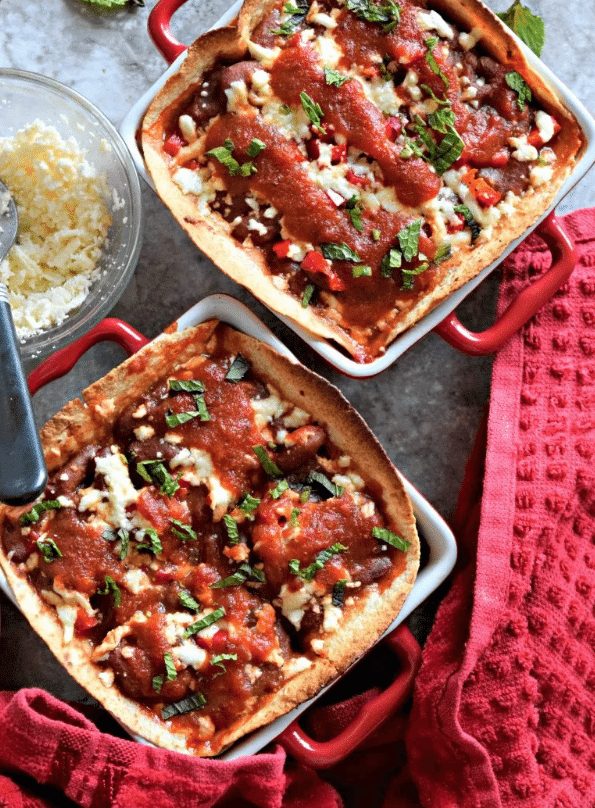 The first time I ever tasted an enchilada in my life was way back in college. The world cuisine was just making its entry into the Mumbai food scene and the local restaurants began serving dishes like pasta, tacos, enchiladas and pizzas to name a few. Everyone was gung-ho about Mexican food so me and my friends decided to try this cuisine out for ourselves. It was a newly opened restaurant near our college. Everything looked fancy and smelt new. The interior was tastefully done which made it stand apart from others. It was since then that I started preferring modern contemporary interiors over traditional and that is why I can vividly remember that restaurant even today as if I went there just yesterday.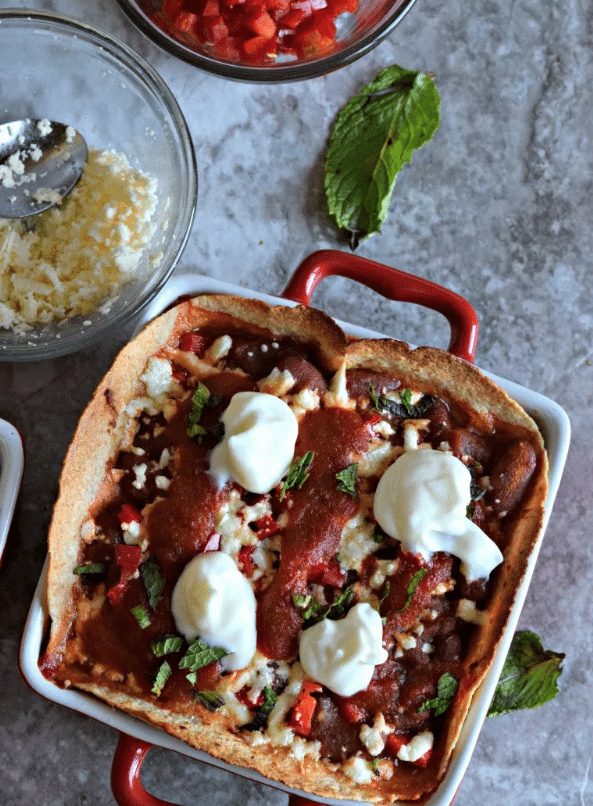 The food we ordered also is etched in my memory as I was blown away by these new flavors. For a girl who had eaten Indian food all her life, this was a major game changer. I had never eaten kidney beans/rajma cooked this way and that is what intrigued me the most.The Bean Enchiladas stood out for me. Recreating this Rajma/Kidney Beans Enchilada Mini Casserole bought back all those wonderful memories.
Rajma/Kidney Beans Enchilada Mini Casserole is ready! Garnish with chopped cilantro and mixed herbs. Add some sour cream on top as well. Allow it to cool a bit and then dig in. This is such a fun way to enjoy this dish. Every bite, transported me back to my college days. This dish holds a special place in my heart and it got me more close to world cuisine and opened up many possibilities. The sauce is perfectly tangy and spicy, the beans are juicy and the tortillas are moist. All in all, a winning dish. Serve this as single servings for lunch/dinner/brunch.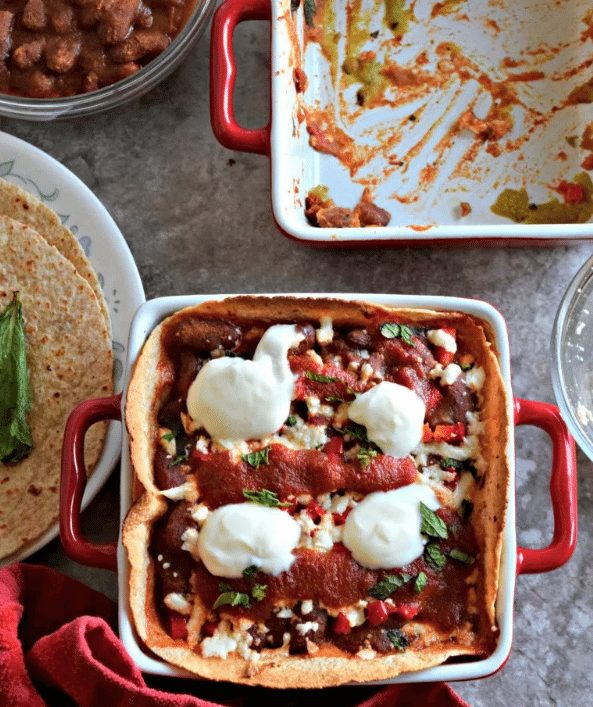 Print
Bean Enchilada Bake
Author:

Priya Lakshminarayan

Category:

Main
5

–

6

garlic cloves

3

–

4

to matoes

2

–

3

green chillies

1

can of tomato puree
Salt as required
Chilly powder (optional)

1 tbsp

coriander-cumin powder

1 tbsp

mixed herbs

2 cups

cooked kidney beans

1

packet tortillas

1

bell pepper (chopped)

1 cup

grated cheese
Cilantro for garnish
Sour cream as required
Instructions
Dry roast the garlic cloves and tomatoes separately. Let it cool down a bit and then grind it to a smooth paste along with green chillies. In the same pan, add tomato puree and cook it for 2 minutes.
Then add the ground tomato-garlic paste to the pan. Bring it to a boil and reduce the flame
to a medium. Add salt, coriander-cumin powder and mixed herbs to the mix. Mix and cook for a minute.
Take out a cup of this sauce and preserve it for later use. Then add boiled rajma/kidney beans to
the pan. Mix it all together lightly and carefully else the beans will get mashed. Cook it for a
minute or two. Take it off the pan.
Preheat the oven to 400 degrees F. Take a mini casserole dish, add a spoonful of guacamole and
spread it on the base of the casserole. Place a mini tortilla over it. Add some bean sauce over it.
Then add chopped bell peppers and cheese. Place another tortilla over it and follow the same steps
till the casserole fills up. Lastly add some sauce that was preserved. Bake this casserole for 10-15
minutes or until the cheese melts.
Rajma/Kidney Beans Enchilada Mini Casserole is ready! Garnish with chopped cilantro and mixed
herbs. Add some sour cream on top as well. Allow it to cool a bit and then dig in.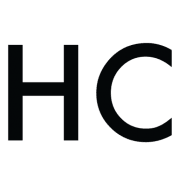 Priya Lakshminarayan
An Indian vegetarian/vegan food blogger from Florida who loves to cook, host, develop new recipes, style food and photograph it too. When not cooking/blogging, loves to travel and do DIY crafts.