In Bangkok, Jessica Smith finds a great lunch at an appealing price in the some of the city's popular shopping destinations.
By Jessica Smith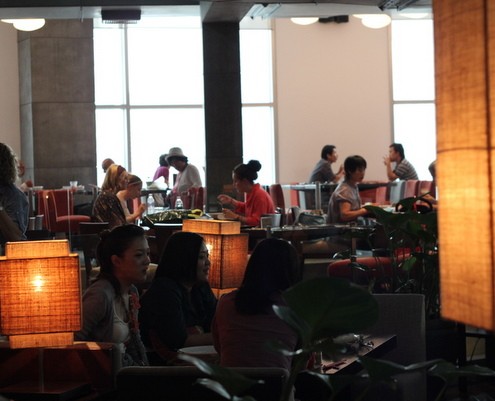 In Bangkok it's no secret that a great lunch can be found on the cheap from countless street vendors, or at a price to test the limits of the most generous expense account from any number of international restaurants.
But for those who want a bargain with a bit more ambience (and air conditioning) than a plastic stool outside, indoor food courts offer the chance to take a culinary trip around the world within the span of one meal.  Although these food courts can be daunting to the uninitiated, diving right in turns out to be a satisfying path to a great lunch.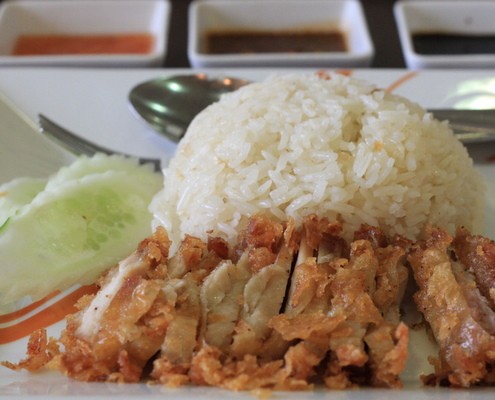 One of my favorite Bangkok food court finds is the Fried Chicken Rice at the Food Hall at Emporium.  Served with an irresistible collection of dipping sauces and a small bowl of savory broth, the briefest thought of this crunchy chicken is enough to make me hungry. With a feel that combines European café style and living room comfort, the Food Hall is also a great place for people watching at peek hours.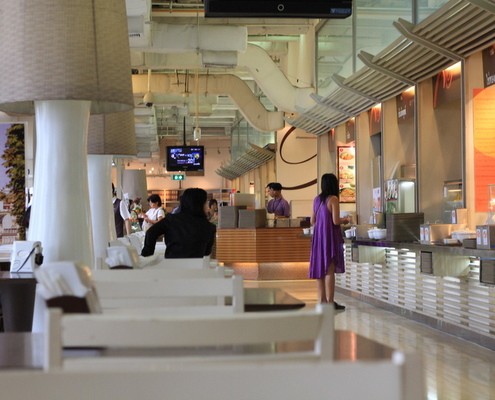 Another dish that I turn to time and again is the sweet and spicy combination of the Vietnamese Noodle Salad at FoodLoft in Central Department Store.  Unexpected and addictive, the salad tops lettuce with a heaping portion of noodles, pickled vegetables, bean sprouts, savory meatballs, chopped fried spring rolls, and crushed peanuts.  It is dressed in a flavorful vinaigrette and healthy scoop of chilies.  Although the dish appears overwhelming, it is in fact, perfection in a bowl.
For a sweet treat, my favorite spot is The Food Court at CentralWorld. This bright, airy food court can is casual but trendy with leather couches lining tall windows and background music ranging from current Thai pop singers to Western artists like Jack Johnson.  A Thai dessert station offers sweet roasted bananas or colorful jellies topped with crushed ice and sweetened coconut milk.
With so many options, I learned quickly that the best way to choose what to eat in many of these food courts is to follow the crowds.  Arriving a few minutes before noon means that I can watch the local work force arrive en masse and queue up wherever the food is sure to be good.  Paying is simple, as most of the locations require use of purchase card or tickets (resembling Monopoly money) that diners pick up upon entry and settle out as they leave.
For a creative, comfortable, and inexpensive lunch, Bangkok's food courts are hard to beat.  And because so many of them are housed in Bangkok's massive malls, you can even do a little shopping on your way out.
Food Hall at Emporium (BTS: Phrom Pong)
Open every day 10am-10pm
Before entering the hall, which offers great views of the neighboring park and the Bangkok skyline, stop by the cashier to purchase a booklet of paper coupons.  200 Baht is likely sufficient for a drink, entrée and Thai dessert.  (Just don't forget to stop back by the cashier on the way out for a cash refund on any coupons you don't spend.)
FoodLoft in Central Department Store (BTS: Chit Lom)
Open every day 10am-9pm
A step up in both price and ambience from most other food courts is the FoodLoft on the 7th floor of Central Department store.  Pick up a card at the entrance and make your way to the back to grab a table in the lounge-inspired dining space before perusing food options. Single dishes range from 65-200 Baht.  A booth in the middle of the dining area offers a respectable selection of cocktails, wine and beer ranging from 120-200 Baht each.
The Food Court at CentralWorld (BTS: Siam or BTS: Chit Lom)
Open every day 10am-10pm
Indian, Vietnamese, and Chinese (including a small selection of dim sum) cuisine can be found here alongside all of the Thai hits.  A complex Chinese-inspired soup filled with pork wontons, egg noodles and bright greens makes a satisfying lunch at only 55 Baht, and most dishes cost around the same price. Pick up a bar-coded card for making purchases and pay the balance as you leave.
Jessica Smith
Jessica Smith is a native of the American Midwest, currently living in Thailand where she writes about food and travel throughout Southeast Asia. Jessica believes that the best way to understand a place is through its local cuisine.