Banana-Coconut Pancakes With a Chocolate Caramel Sauce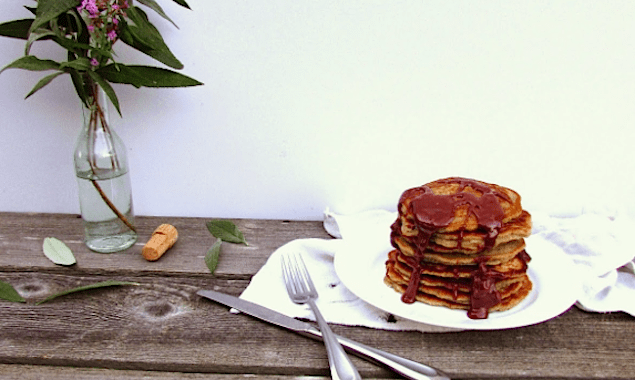 Hearty banana pancake batter is mixed with coconut oil and flakes for rich flavor and then doused in sticky-sweet chocolate caramel sauce.
By Daniel Valko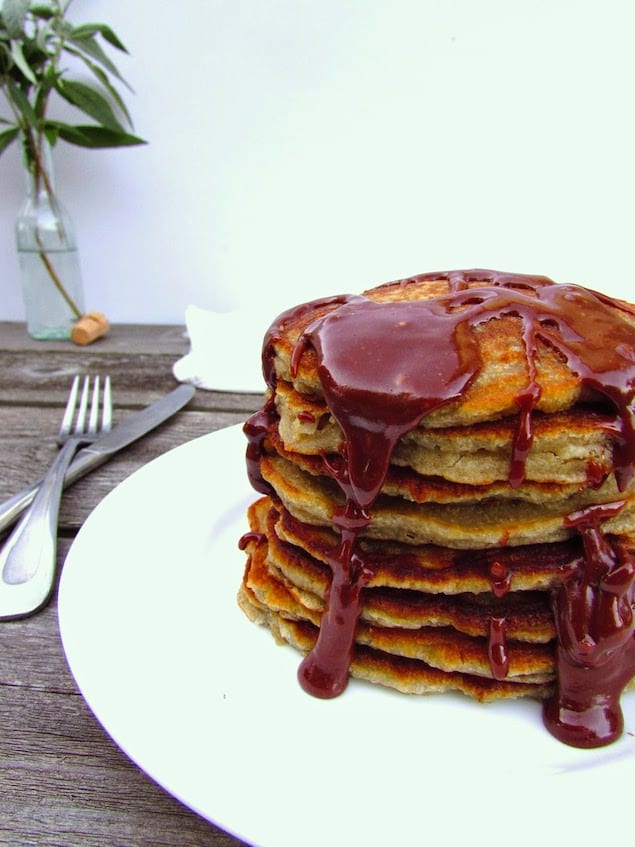 Everyone has their own way of eating pancakes the right way. For me, it's always lots of butter and syrup. But this time I'm doing something different by making banana and coconut pancakes with a chocolate caramel sauce. Even though I'm more of a waffle person, I eat pancakes more often. I don't know why that is? Maybe because the waffle iron is a mess to clean up. Or because every Saturday morning I wake up to the smell of my mom making pancakes….and so then all I need to do is enjoy them.
This recipe for pancakes started out with a gluten free recipe that I learned in my culinary class which was Bananas and eggs. But later when I was trying it at home I added flour to give it more form…which made it not gluten free. Then I added some shredded coconut and coconut oil for a more complex coconut flavor.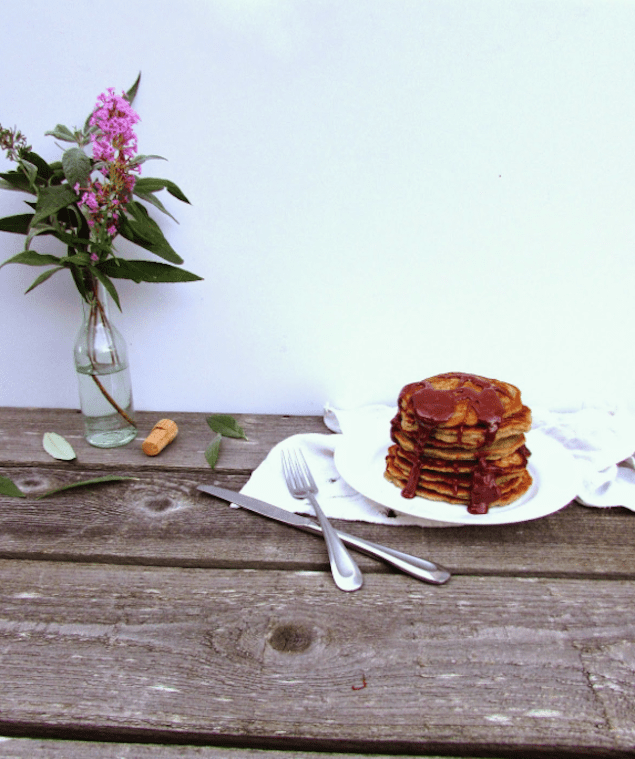 Banana-Coconut Pancakes With a Chocolate Caramel Sauce
Hearty banana pancake batter is mixed with coconut oil and flakes for rich flavor and then doused in sticky-sweet chocolate caramel sauce.
Ingredients
Pancakes :
2 Eggs
2 Bananas
¾ Cup milk
¾ Cups all purpose flour
½ Cup shredded coconut
3 tbs Coconut oil
2 tsp Granulated sugar
½ tsp Baking soda
Dash of salt
Chocolate Caramel Sauce :
½ Cup granulated sugar
¾ Cup milk
4 tsp Unsweetened coco powder
¾ Cup powdered sugar
4 tbs Butter
1 tsp Vanilla
dash of salt
Instructions
Sauce:
In a medium sized pot, heat the the granulated sugar on high heat. In a other pot heat the milk until hot and steaming ( not boiling ) Don't mix the sugar until it starts bubbling and is almost melted with steam rising.
When all the sugar is melted take the pot off the heat and pour the warm milk into it. It will steam and bubble, start mixing it with your wooden spoon Until incorporated. Then add the coco powder and butter, mix with a whisk for about 30 secs. Next add the powdered sugar and let It simmer for about 2 mins. Don't over do it or your sauce will be to thick. Then add in vanilla and salt, whisk it together well. If your sauce turned out to thick just add in some more milk. Let it cool or serve warm, Make the sauce before the pancakes.
Pancakes: Cut bananas into slices and in a mixer bowl whip them up using the paddle attachment. change the attachment to a whisk and beat the eggs in.
Next add in the flour, baking soda,coconut, coconut oil, sugar and salt. Whisk together well.
Then pour out pancake shapes on a skillet or griddle, heated on medium with a tsp of butter and another of coconut oil. Cook for about 2 mins on both sides, until dark gold/brown. Enjoy!
Daniel Valko
Daniel hails from Portland, Oregon and keeps busy baking, cooking, and blogging. Oh, and being a high school senior, too. He blogs on Plentifulplate.com