Balsamic Salmon Kabobs and Beaujolais Wine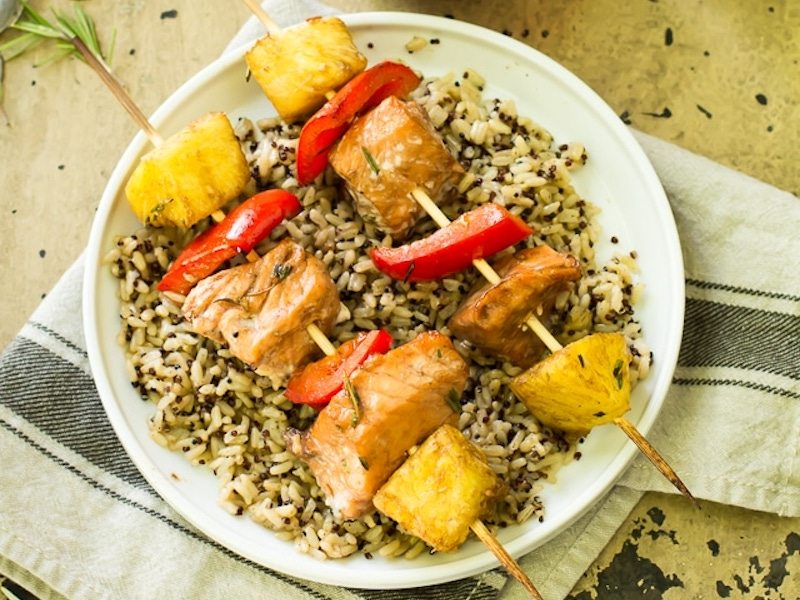 SPONSORED POST: We're celebrating the rest of summer with recipes and wines from Beaujolais that will usher us into fall in delicious style. Be sure to enter below for a chance to win the ultimate picnic set!
A simple, irresistibly recipe for balsamic salmon kabobs to throw on the grill and serve with Beaujolais wine for the rest of summer.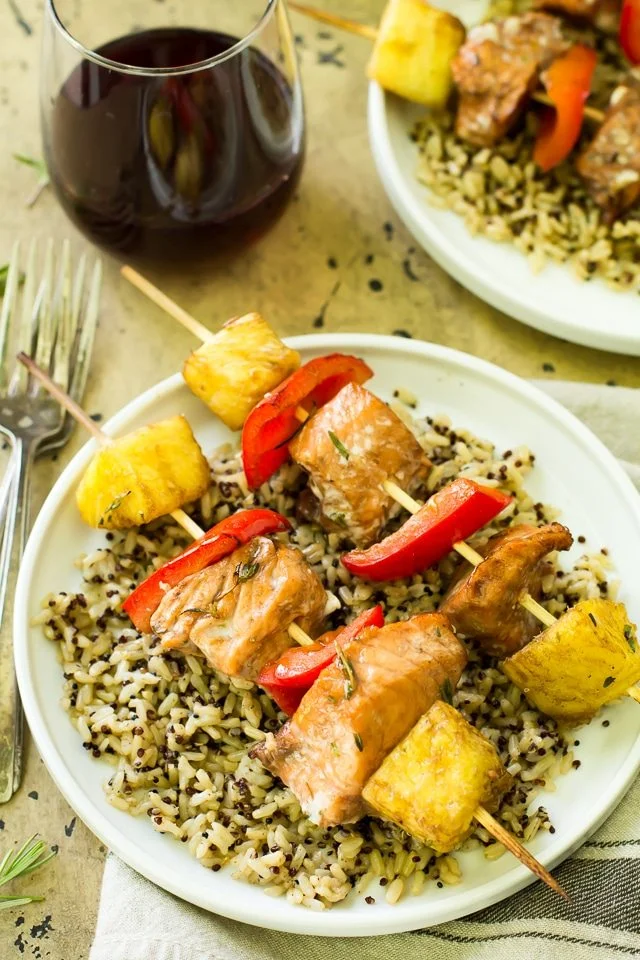 Kabobs or skewers are my very favorite way to grill. There's something therapeutic about threading veggies and meat onto sticks that I love and eating food off a stick is pretty cool, too. Ha! Even better – break out the wine and you can enjoy a sip after each skewer is complete!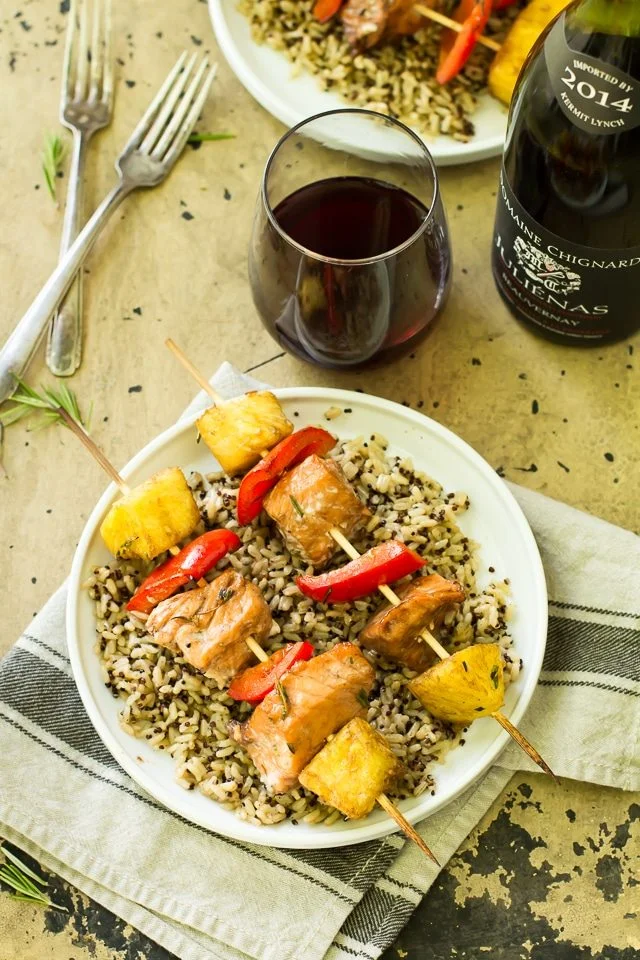 Because you know, I can't get enough of this Juliénas red wine. Juliénas is just one of the many Beaujolais wines. These French wines are versatile, fresh and easy to pair with a variety of foods. Seriously, my go-to wines for the summer! The Juliénas, Domaine Chignard, Beauvernay 2014 is deep ruby in color, and features generous notes of strawberry, violet, cinnamon, red currant and peach with hints of vanilla and spice as it ages. It pairs perfectly with Grilled Balsamic Salmon Kabobs and so many other foods too. The combo is crazy delicious and pretty much a match made in heaven.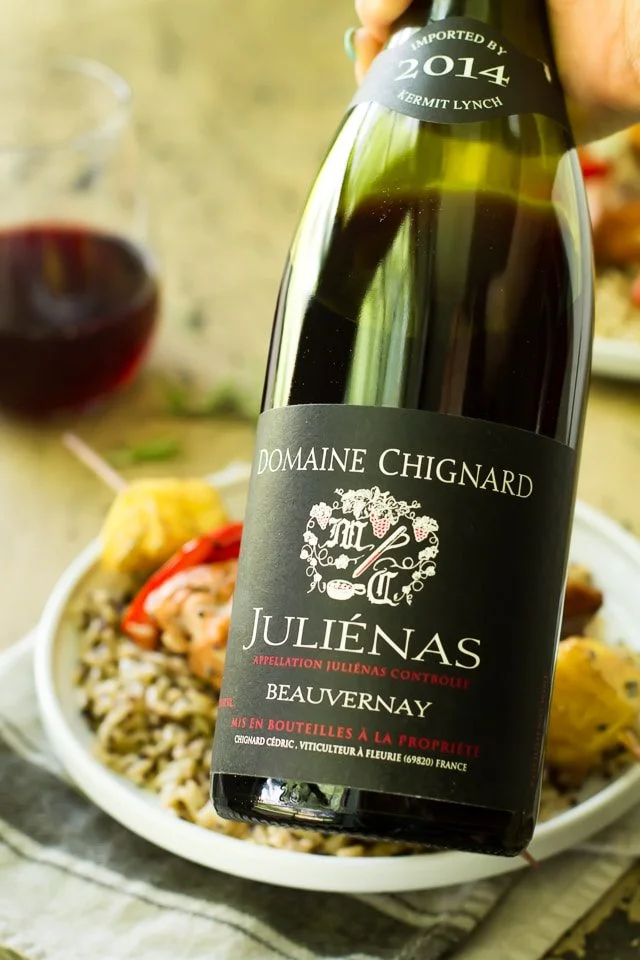 Now let's get out to the grill! Don't forget the Juliénas!
It's best to cut the salmon in relatively large chunks because the minute it hits the grill it's going to cook super quickly. If you cut the fish too small, the veggies won't have a chance to cook before the fish is overdone. If you have one of those pans that goes over the grill I suggest using that. You can even use foil.
As an added plus, the skewers can be made ahead of time. Plan to cook them at the very last minute…they won't need longer than a few minutes on each side over a hot grill. The salmon cooks quickly and is so flavorful. Seriously, the best salmon I've had in a long time. Long live salmon kabobs!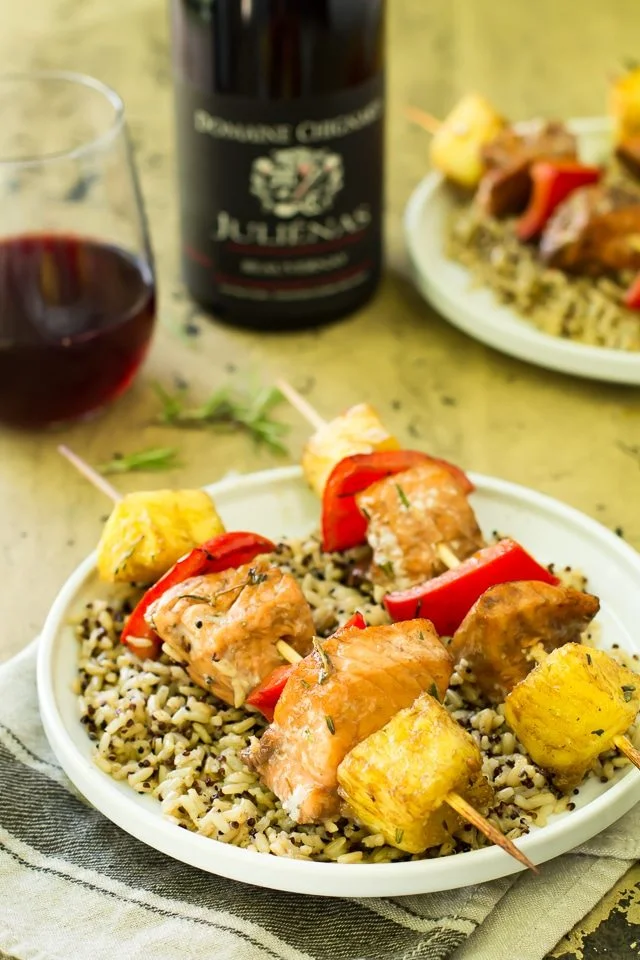 Enter below to win a wine picnic set valued at $119!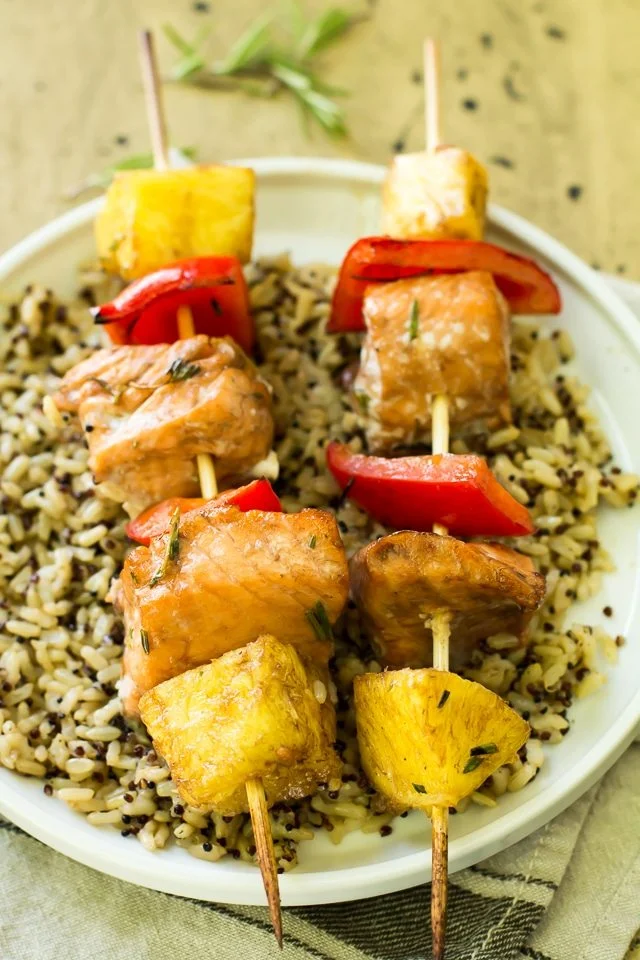 Up Your Beaujolais Game! from Honest Cooking on Vimeo.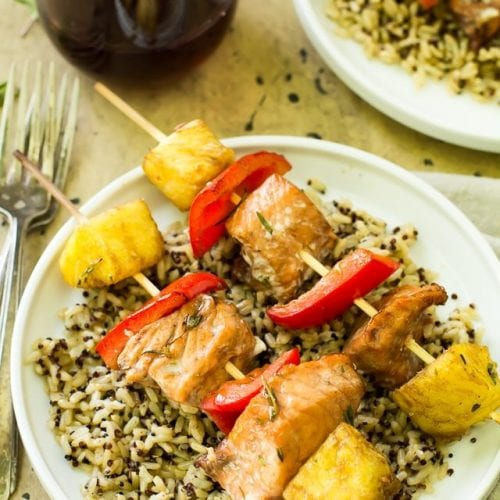 Balsamic Salmon Kabobs and Beaujolais Wine
Kim Lee
A simple, irresistibly recipe for balsamic salmon kabobs to throw on the grill and serve with Beaujolais wine for the rest of summer.
Ingredients
1 1/2

pounds

wild king salmon

or other favorite salmon variety

3

sprigs fresh rosemary minced

3

sprigs fresh thyme minced

1/2

cup

olive oil

1/4

cup

balsamic vinegar

2

cloves

garlic minced

1/4

teaspoon

salt

1/4

teaspoon

pepper

1

red bell pepper large dice

1

cup

fresh pineapple cut into 1-inch chunks
Instructions
Chop salmon into 1 1/2? cubes, removing skin and pin-bones if necessary. In a large bowl, whisk together the olive oil, balsamic vinegar, rosemary, thyme, garlic, salt and pepper. Add the salmon and toss. Then, add the red pepper and pineapple and toss well so everything is covered with the marinade. Cover bowl with plastic wrap and set in the fridge for 45 minutes.

Heat up your grill and rub oil on the grates so the kabobs don't stick. Or better yet, cook the kabobs over foil or grill pan, on the grill. After salmon, pepper and pineapple have finished marinating, remove from fridge and place on kabob sticks.

Grill kabobs for about five to eight minutes, until salmon is just done. Be careful, it's easy to overcook the fish. Stay close to the grill to make sure your salmon doesn't dry out — it doesn't take long!

Serve kabobs with couscous, quinoa or rice for an easy and delicious summer dinner!
Kim Lee
Kim is a freelance recipe developer, writer, and the author behind the healthy living blog, Kim's Cravings. Kim has a passion for sharing nutritious delicious recipes and showing others that eating right can be easy and tasty.