Baklava-Inspired Crêpe Cake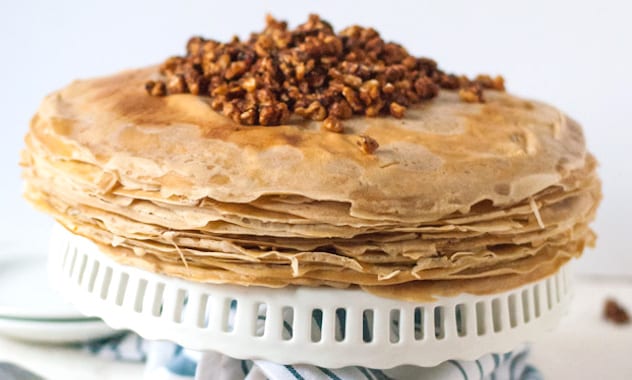 This special stack of crêpes is layered with a spiced and nutty whipped cream and then doused in a honey syrup before serving.
By Amanda Powell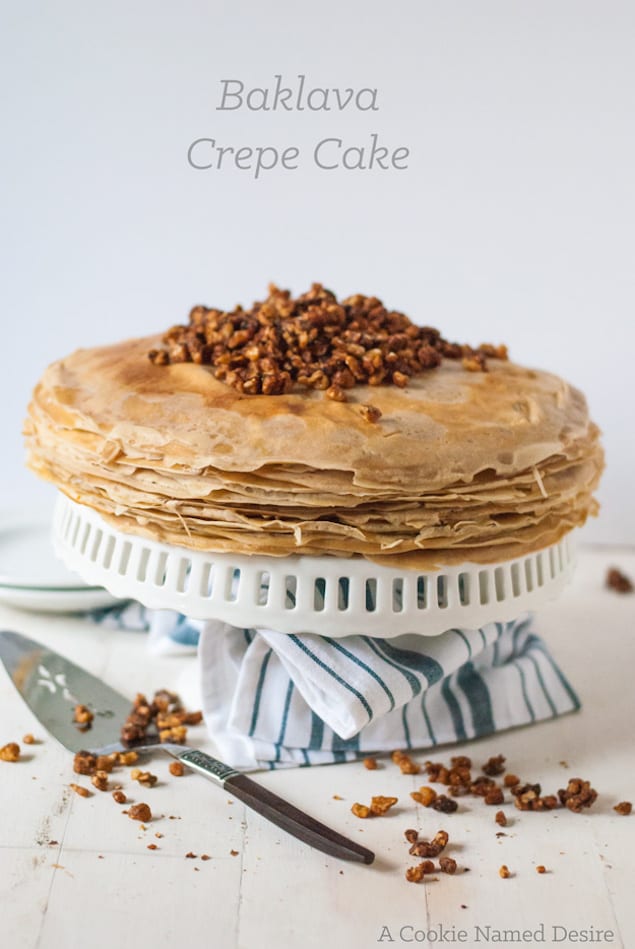 Baklava and I have a long history. As a small child, my family would go to the Greek festival every year where we would fill up on tons of delicious food and desserts. My favorite was always the baklava. I loved the flaky crust that got everywhere once you bit into it and that sticky, sweet honey orange sauce.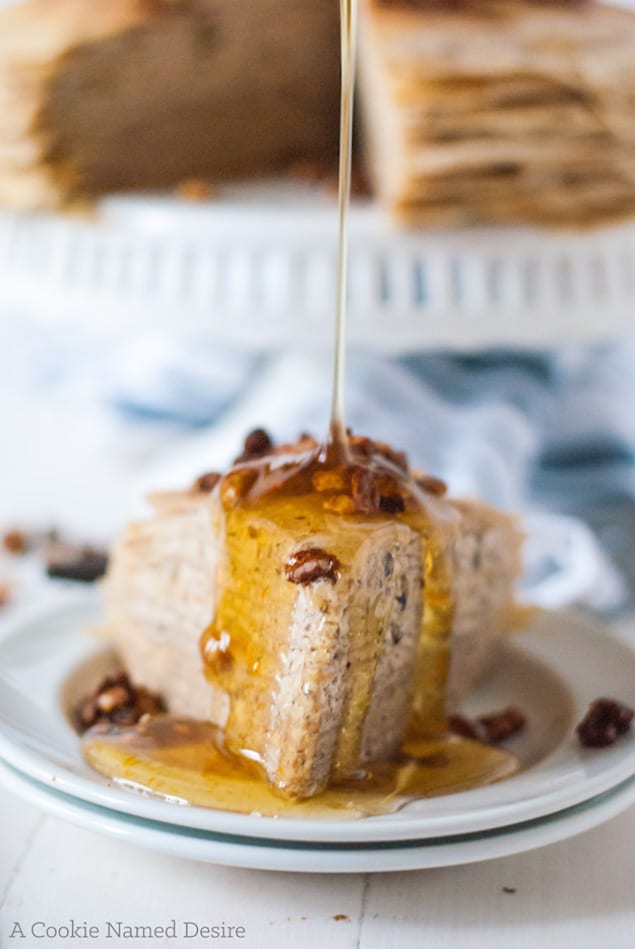 This special stack of crêpes is layered with a spiced and nutty whipped cream and then doused in a honey syrup before serving.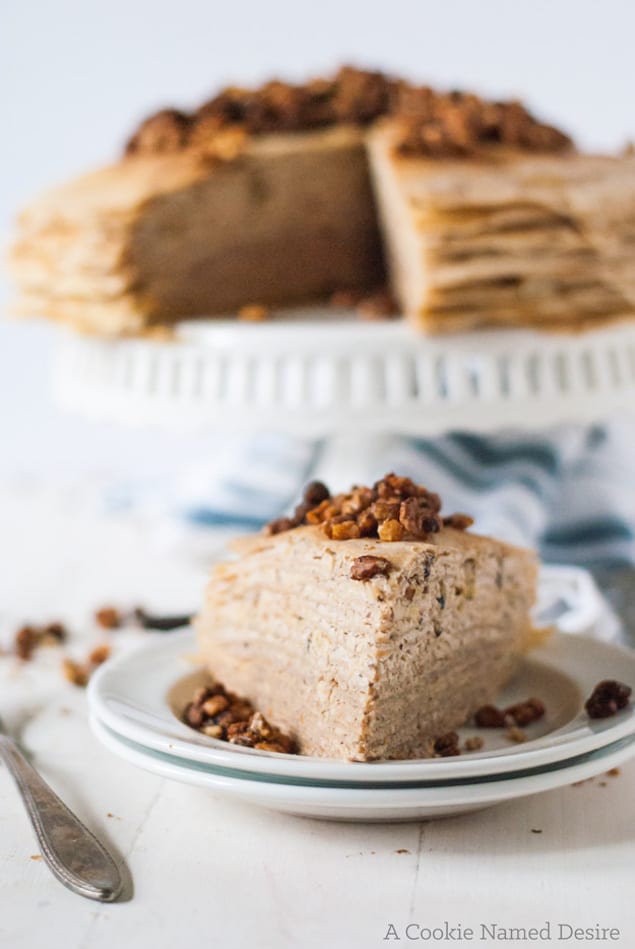 Baklava-Inspired Crêpe Cake
This special stack of crêpes is layered with a spiced and nutty whipped cream and then doused in a honey syrup before serving.
Recipe Type:
Dessert, Recipe
Ingredients
For Crepes
5 large eggs
2¼ cups milk
1½ cup water
3 cups flour
6 tablespoons melted butter, plus extra for pan
2 teaspoons cinnamon
zest of one orange
For Syrup
2 cups sugar
1 cup honey
1½ cups water
2 tablespoons orange juice (freshly squeezed - may also use lemon juice)
2 (3-inch) sticks cinnamon (optional)
4 to 6 whole cloves, or ½ teaspoon ground cardamom (optional)
For Filling
2½ cups fresh whipped cream*
14 oz nuts, finely chopped (can use any nuts you prefer for baklava, I prefer walnuts or pistachios)
1½ tablespoons cinnamon
¼ teaspoon ground clove (optional)
4 tablespoons powdered sugar
3 oz chopped candied walnuts for topping (optional)
Instructions
Combine all the ingredients for the crepes together and blend in blender or food processor. Allow the batter to rest for about 30 minutes in the refrigerator.
In a saucepan, mix together all the ingredients for the syrup together and heat on medium-high. Stir until the sugar is completely dissolved and the mixture boils. Stop stirring and bring down the heat to medium and allow it to cook unstirred for about 5 minutes, or until the mixture becomes thicker. Strain out the cinnamon sticks and cloves and allow the syrup to cool completely.
Lightly butter your crepe pan (or frying pan) and place a scant ¼ cup of the batter in the center and spread out to the edges with a crepe spreader or swirling the pan. Cook for about 1 - 2 minutes then flip and cook for an additional minute. Repeat for the remaining batter. Place a sheet of wax or parchment paper between each crepe to prevent them from sticking.
Fold the ingredients for the filling together.
Begin creating your layers by spreading a thin layer of the filling on each crepe and stacking them on top of each other. (Do not put the filling on the last layer).
Top with candied walnuts if using. Drizzle the syrup on individual slices or on the entire cake (I recommend allowing each person to drizzle their own syrup).
Notes
est served immediately and eaten the same day. May last up to 24 hours in the refrigerator.

If you want to make the cake ahead of time, make the crepes and syrup up to a day ahead and mix the filling and layer the cake the next day.

*If you want the cake to last longer and/or want to omit the whipped cream, you can replace the whipped cream for the syrup. Simply make a double batch of the syrup and combine the syrup with the remaining filling ingredients to make a thin nutty paste to spread on the crepes. The cake will last longer and have a more authentic baklava taste.
Amanda Powell
Amanda is a self-taught baker and photographer. Her passion for food began when she started college in London and was able to experience authentic food from across Europe. She loves being in the kitchen with her daughter and developing her skills in the kitchen.