Baked Tomato-Pesto Eggplant Stack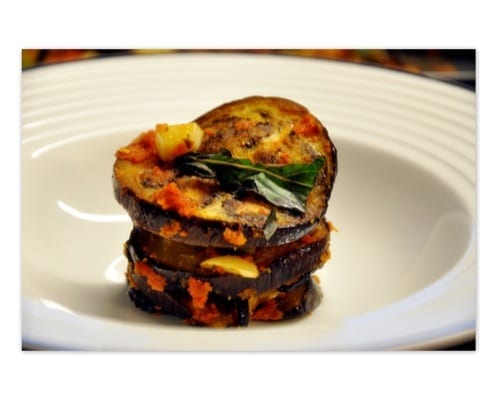 This recipe is extremely easy. You can substitute the tomato pesto with any other pasta sauce that you like.
By Shuchi Mittal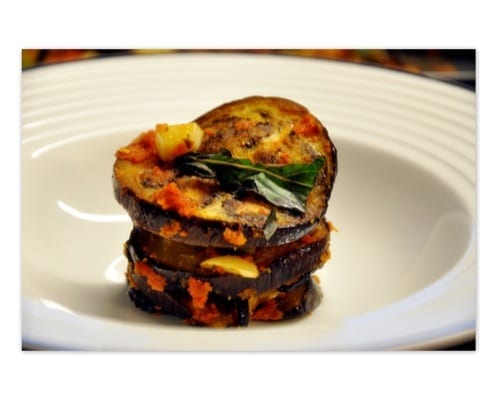 The crazy eggplant lady is here.
I always end up buying eggplants when I go grocery shopping because they look so appetizing (and also because I am suckerfor the color purple). They are uber tasty in every form, and I don't think I can ever get enough of them. They have found a home in my home, and guilty as charged, I'm completely hooked.
Last week, there were 2 of them staring at me constantly whenever I took a peek in my fridge. How could I leave them there looking so woeful and on-so-ready to be eaten! So I decided to make something quick and simple from them. The recipe is extremely easy. You can substitute the tomato pesto with any other pasta sauce that you like. Serves well on it's own as a sort of warm salad, or eat as a side with white sauce bakes. Mmmm…..

Tomato-Pesto Eggplant Stack
Grilled eggplant yumminess with hints of tomato & pesto
Ingredients
1 medium eggplant, diced in rounds
1 clove of garlic, crushed
2 teaspoon sun dried tomato pesto
5-6 fresh basil leaves, torn into pieces
1 teaspoon olive oil
Salt & pepper to taste
Instructions
Mix all the ingredients above, except the pesto.
Heat the oven to 425 degree F, and let the eggplant grill for 25-30 minutes.
Once it's brown and tender, mix with the pesto and grill again for 10 minutes.
It's done! Simple isn't it?
Shuchi Mittal
Shuchi cooks with the heart of a poet. Banker turned chef, she runs the 29. Private Kitchen in NYC focusing on social tasting events, dining experiences and small-scale private events. Using simple & wholesome ingredients, she likes to re-invent homemade Indian flavors into modern tapas & small plates. Her dream? To cook, feed, write, and eventually open her own communal dining cafe - with a published recipe book on the stands.