These oven-fried pickles are a must-have for your next soiree. They are baked, and dipped in the most addicting buttermilk ranch dressing with a hint of dill.
By Justine Sulia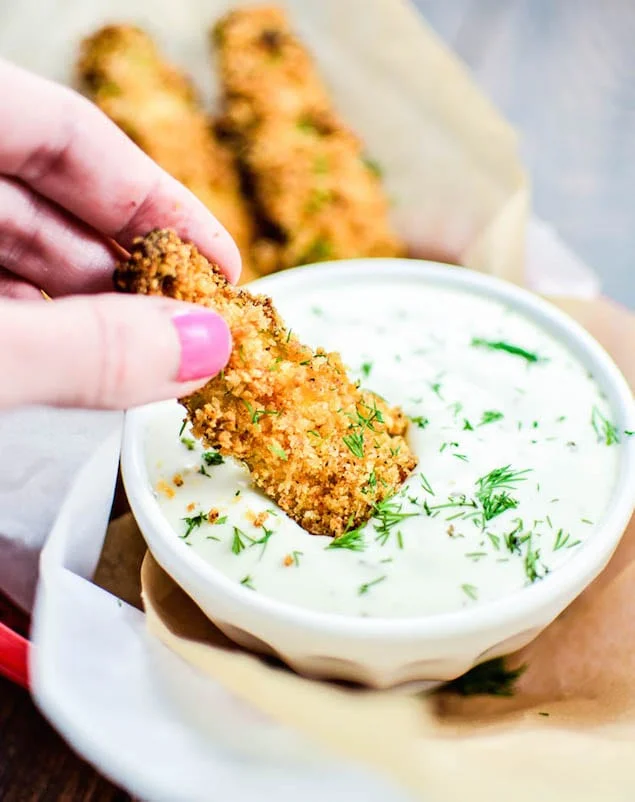 These oven-fried pickles definitely took some trial and error. The first time I made them the coating fell completely off, and ended up in a goopy (yet delicious) mess. I think the most important thing to know before starting this recipe is making sure your pickles are COMPLETELY dry. If they are not, the result could not end well.
Start by laying pickles on a paper towel-lined plate and pat them completely dry. In three separate shallow bowls, you will add flour to one, eggs to another and a solid mixture of bread crumbs, corn meal, parmesan cheese and some essential spices to the last one.
Coat each pickle in the flour. This step is super important. It will help in having the egg adhere to the pickle. Without the flour, I found that the egg just slid off the pickle and the bread crumb mixture would not adhere.
You will then fully coat the pickles in egg and then the bread crumbs. You may need to press down to have the crumbs adhere, even though the egg will act as a pretty good binder.
Lay the pickles out on a HEAVILY greased baking sheet and then spray the crap out of them with a non-stick canola spray. This will help them brown. Bake them in a 450 degree F oven for 25-30 minutes or until they are crispy, brown and delicious.
Times will vary. Don't pull the pickles out at the 30 minute mark if they are still pale. Continue to cook until they have browned significantly, and don't forget to flip them once during the cooking process.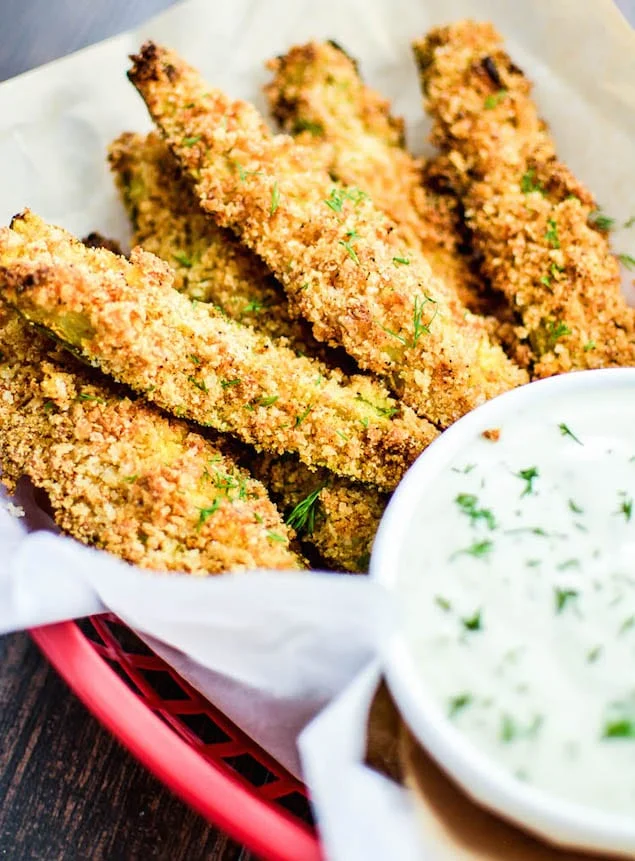 The homemade dill buttermilk ranch is definitely the second best part about these oven-fried pickles. I love a little bit of dill in just about any dressing I make.
See Also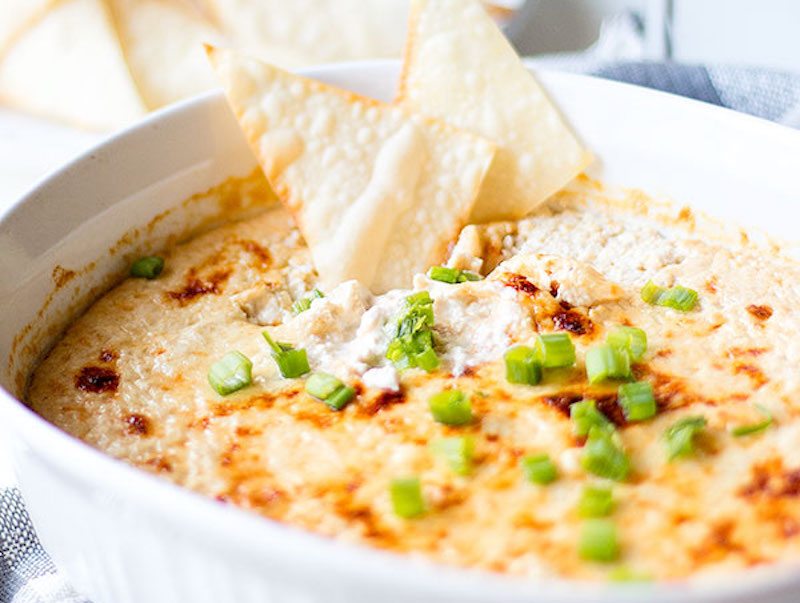 Pilsners and pickles: one of my favorite beer pairings of all time. Could there be a more glorious pairing?! I personally don't think so, which is why this pairing is so insanely obvious. Pickles and beer have a lot of similar qualities, and one thing is for sure, if you've never had something actually pickled in beer than you are seriously missing out. The two are just the perfect compliment for one another, which is why these are some of my favorite pilsners to pair with these oven-fried pickles.
Crooked Line's Imperial Pilsner: Tilted Smile
Great Divide's Nomad
Oskar Blues' Mama's Little Yella Pils
Troeg's Sunshine Pils
Print
Baked Pickle Fries with Homemade Ranch Dip
These oven-fried pickles are a must-have for your next soiree. They are baked, and dipped in the most addicting buttermilk ranch with a hint of dill.
Author:

Justine Sulia

Yield:

8

-

10

pickles

1

x
Category:

Appetizer, Side
Dill Buttermilk Ranch
1 tablespoon

fresh baby dill

1/2 cup

mayo

1/4 cup

plain Greek yogurt

1/4 cup

milk

1/4 cup

buttermilk

1 tablespoon

white balsamic vinegar

1/4 teaspoon

onion powder

1/4 teaspoon

garlic powder

1/8 teaspoon

ground white pepper
salt, to taste
Oven-Fried Pickles
1

(24-ounce) jar dill pickles spears

1/2 cup

all-purpose flour

2

large eggs

1/2 cup

panko bread crumbs

1/2 cup

stone-ground corn meal

1/4 cup

plain bread crumbs

1

tablesoon finely grated parmesan cheese

1/2 teaspoon

cayenne pepper (more or less to taste)

1/4 teaspoon

black pepper
Instructions
In the bowl of your food processor or blender, combine all of the ingredients for the ranch. Blend until smooth and creamy. Pour into a small bowl and cover. Place in the refrigerator until you are ready to use.
Preheat your oven to 450 degrees F and spray a large baking sheet with a non-stick spray. Set aside.
Drain the jarred pickles and place them on a paper towel-lined plate. Pat completely dry. Set aside.
In one shallow bowl, add the flour. In another shallow bowl, add the eggs and whisk to combine. In a third shallow bowl, combine the panko, corn meal, regular bread crumbs, parmesan cheese, cayenne pepper and black pepper. Toss the ingredients until evenly distributed. You shouldn't need any more salt, as the pickles are already extremely salty. If you need more salt, then feel free to salt away.
Starting with one pickle, dredge in flour, then coat in the whisked eggs, and then transfer to the bread crumb mixture. Toss the pickle to make sure it is evenly coated, pressing to adhere where it is needed. Place on the prepared baking sheet and repeat this step for the rest of the pickles. Spray the pickles with a non-stick canola oil spray.
Place the pickles in the oven and bake for 25-30 minutes, rotating them halfway through. Spraying again with a non-stick canola oil spray. Make sure they are crispy before pulling them from the oven. This may take more or less time, so keep a close eye.
Serve immediately out of the oven with homemade dill buttermilk ranch.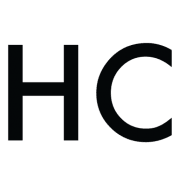 Justine Sulia
I am the writer, publisher and photographer behind Cooking and Beer. Over at Cooking and Beer, I am combining bold and inspirational cooking (and baking) with the best craft beer I can get my hands on!