This rich goat cheese sauce could pair with an array of vegetables and proteins for a comforting one-dish dinner.
By Taylor Kadlec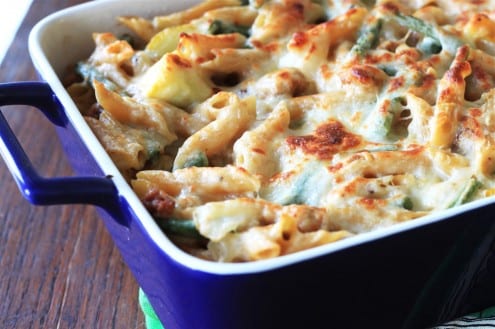 This pasta dish is a perfect dinner for transitioning from summer to fall. It uses late summer veggies like summer squash and green beans, and is the ideal comfort food for a chilly summer night. The sausage lends a great flavor to the dish – a little spiciness but not overpowering. I also used Italian chicken sausage, but you could certainly use regular sausage or turkey sausage too.
And then the goat cheese sauce – oh heaven is it good. It is made by starting a simple roux with a little butter and flour, then mixing in milk, mozzarella cheese, and an entire log of goat cheese. I also amped it up by adding a dash of nutmeg and some lemon zest which I would definitely not leave out. The nutmeg adds a bit of depth to the sauce while the lemon zest brightens it up. All together it was incredibly delicious! The entire dish is topped with a little sprinkle of mozzarella cheese, then popped into the oven, only to come out 20 minutes later bubbling and golden brown on top.
The great thing about this baked pasta (besides how tasty it is) is that it can be easily adapted to whatever vegetables and protein you have on hand. I could see broccoli, carrots, spinach, kale, red peppers, zucchini, and tomatoes all working well in this pasta along with bacon or chicken. Just don't mess with the goat cheese sauce. It's perfect, as is.

Baked Pasta with Veggies, Sausage and Goat Cheese Sauce
This rich goat cheese sauce could pair with an array of vegetables and proteins for a comforting one-dish dinner.
Ingredients
8-10 oz penne pasta
4 Italian chicken sausage links, casings removed
1 tbsp olive oil
1 onion, diced
2 cloves garlic, micned
2 cups diced yellow summer squash (about 2 small or 1 medium summer squash)
1 cup chopped green beans
4 tbsp unsalted butter
3 tbsp flour
3 cups milk
1 (10.5 oz) log goat cheese
2 cups shredded mozzarella cheese, divided
1 tsp lemon zest
¼ tsp nutmeg
1 tsp salt
pepper, to taste
Instructions
Get a large pot of water boiling, and cook pasta according to package instructions to al dente.
Meanwhile, you can get the rest of the dish started.
Preheat oven to 350 degrees F. Grease 9x13" baking dish and set aside.
In large skillet, cook sausage until done.
Remove sausage from skillet and set aside on a plate.
In same skillet, add diced onion and olive oil, if needed. There will probably be some grease from the sausage leftover so you can cook the onion in that, too.
Cook over medium-high heat until slightly soft, about 4 minutes.
Add garlic and cook another minute.
Season with salt, to taste.
Add summer squash and green beans and cook another 6-8 minutes, stirring often. You want the squash and beans to be slightly cooked but not completely. Remove from heat and set aside.
In separate skillet, melt butter over medium heat.
Add flour and mix with butter to create a paste, cooking 1-2 minutes until the flour is slightly golden.
Slooooooowly add milk, whisking continuously to break up clumps until smooth.
Once all the milk is added, bring to a simmer, whisking often, and let simmer 10 minutes.
Add goat cheese, 1 cup of mozzarella, lemon zest, nutmeg, salt, and pepper. Stir continuously until cheese is all melted.
In large bowl, combine pasta, sausage, and veggies. Pour sauce over pasta mixture, stirring well to combine.
Transfer pasta into prepared baking dish.
Top with remaining 1 cup mozzarella cheese.
Bake in preheated oven for 20-25 minutes, until cheese is golden brown.
Serve immediately. Enjoy!
Taylor Kadlec
Taylor Kadlec is a lover of all things food including baking, cooking, and of course, eating. She is a self-taught baker and cook, and she shares her kitchen adventures on her blog Greens & Chocolate, where healthy cooking meets sinful indulgence.