A traditional sharp cheddar mac and cheese goes gourmet with added cheeses and spicy jalapeños before baking.
By Jayme and Jessica Kauffman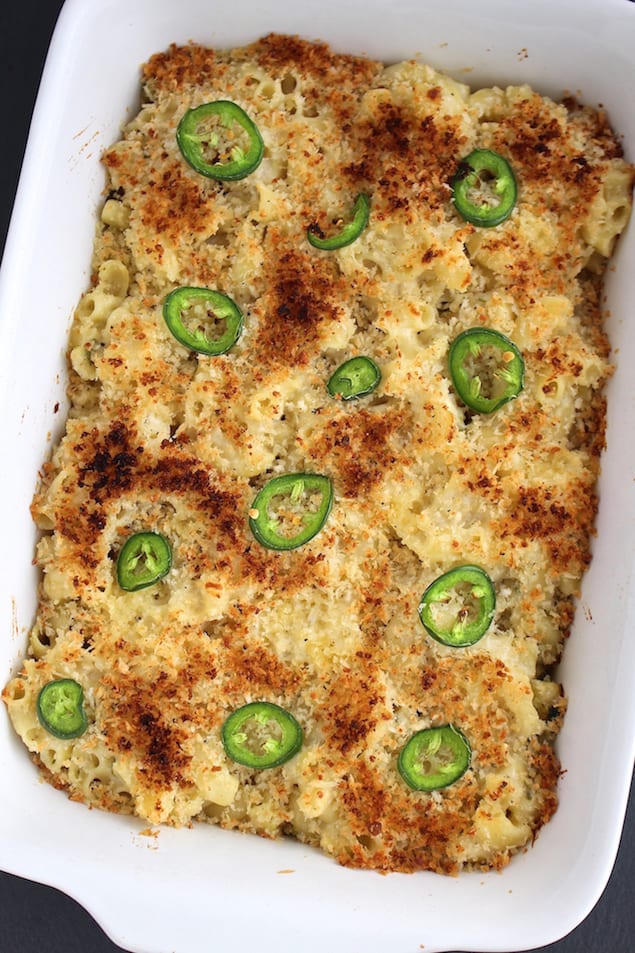 This recipe has a twist on the traditional mac and cheese with jalapeños throughout, adding a bit of spice to the dish. The great thing about this recipe is that it's so versatile, so you can make as many additions or substitutions as you like to accommodate your palette. We think mac and cheese is a perfect winter supper for family and friends because everyone seems to love it and there is just something comforting about a big bowl of homemade mac and cheese.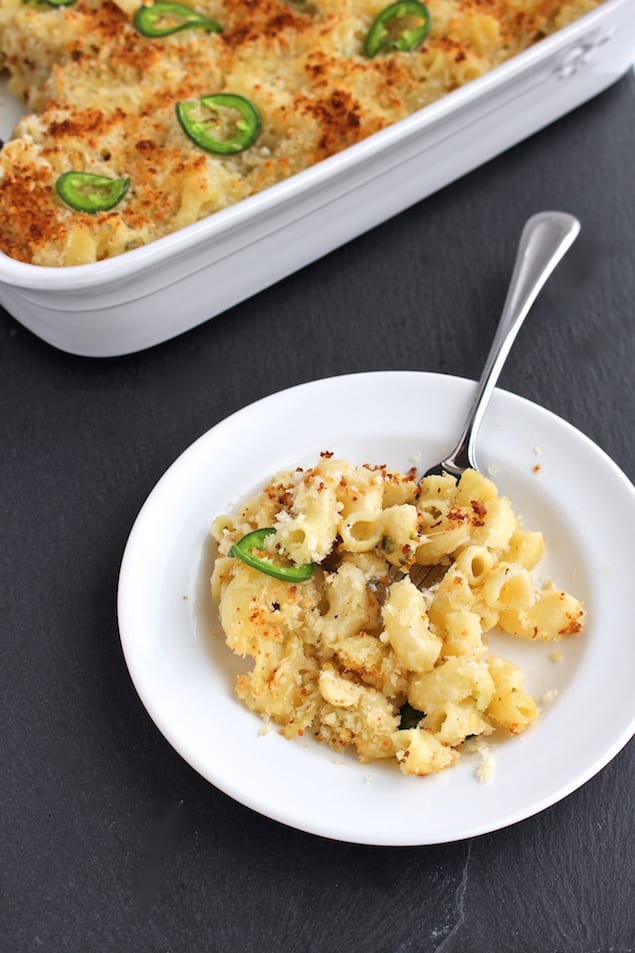 You could go crazy with all types of different cheese combinations. We used a sharp cheddar and a gruyere. If you want to use a sharp cheese we'd recommend pairing it with another cheese that is more mild to balance the flavors. Another great one to add with cheddar would be fontina. You could get really crazy and throw in a bit of blue cheese, maybe some bacon with that for a nice contrast of flavors? You see, we could go on and on about cheese and the endless pairings, so pick what you like best and go for it!

Baked Gruyere Mac and Cheese with Jalapeños
A traditional sharp cheddar mac and cheese goes gourmet with added cheeses and spicy jalapeños before baking.
Author:
Jayme and Jessica
Ingredients
1 pound of elbow macaroni
4 tablespoons unsalted butter, plus 1 tablespoon melted for topping.
¼ cup all-purpose flour
3 cups of whole milk
½ tsp dry mustard
2 cups of sharp cheddar cheese, shredded
2 cups of gruyere, shredded
1½ cups of Panko bread crumbs
¼ fresh grated parmesan cheese
2 jalapeños, roasted and minced (with seeds)
Salt and pepper to taste
Instructions
Preheat oven to 425 degrees and roast jalapeños by placing on an aluminum lined baked sheet and baking for 15-20 minutes, turning half-way though until they develop some color and are tender.
Reduce oven temperature to 350 and grease a medium-sized (3 quart) casserole dish.
Cook the noodles according to package directions, but cooking one minute under the directed time; set aside
To the pot that the pasta was cooked in, add the butter until melted. Then whisk in the flour and cook for 1 minute.
Gradually add in the milk, whisking frequently.
Bring the milk mixture to a boil over medium heat.
Once boiling, remove from heat and add in the dry mustard, cheddar cheese, gruyere cheese, jalapeños, and salt and pepper to taste. Stir until combined.
Add in the noodles until everything is well coated in the sauce, pour into the prepared dish and set aside.
Mix the topping ingredients (panko, parmesan cheese, and 1 tablespoon melted butter) in a small bowl until combined. Sprinkle on top of the noodles in an even layer.
If desired, slice a fresh jalapeño and place slices on top of the bread crumbs and dot with butter.
Bake at 350 degrees for 20 minutes until golden brown and bubbly.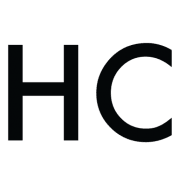 Jayme and Jessica Kauffman
Twin sisters Jayme and Jessica can pretty much always be found in the kitchen. Cooking has always been a family affair for the girls, and they learned at a young age from their Grandmother the ins and outs of the kitchen. They cook everything from savory to sweet, so check it out at www.pairingknifeblog.com!