Baked Bratwurst with Potatoes and Beer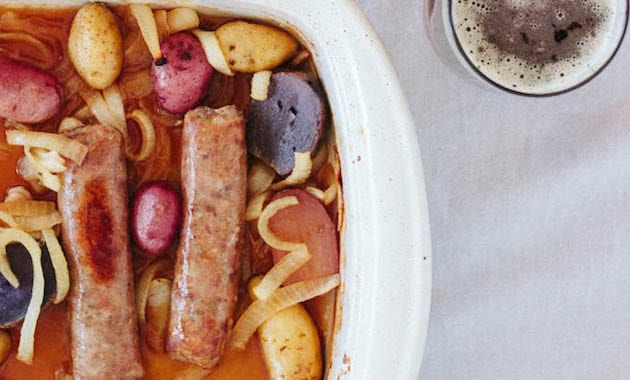 Simple and warm is often best in the winter. Start with quality bratwurst and you are on the right track to a great meal topped off with mustard and a pint.
By Sonja Bradfield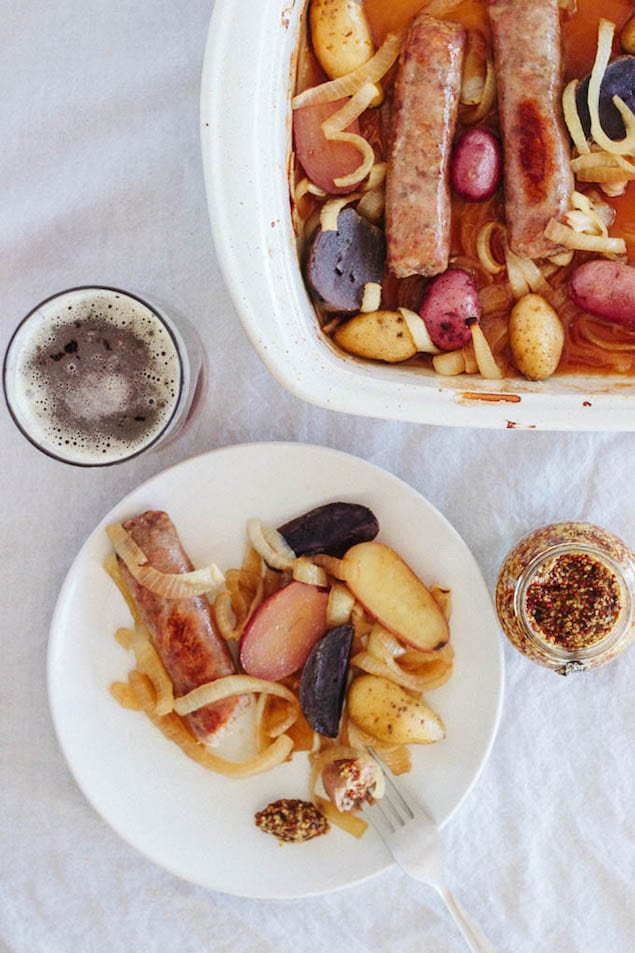 A quick and easy dinner thrown together in minutes, I often think that simple is best, especially when the ingredients you work with are of such high quality. Serve this with a dollop of whole grain mustard and a pint.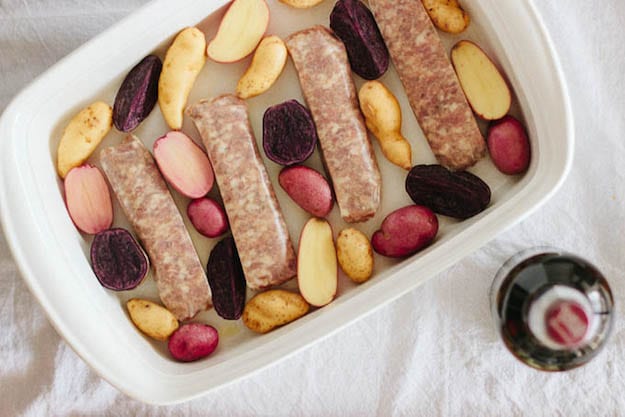 Baked Bratwurst with Potatoes and Beer
Simple and warm is often best in the winter. Start with quality bratwurst and you are on the right track to a great meal topped off with mustard and a pint.
Ingredients
4 bratwurst links
1 teaspoon of olive oil
1 pound of fingerling potatoes
2 large onions, sliced
1 cup of lager
½ teaspoon of salt
whole grain mustard to serve
Instructions
Heat the oven to 400 degrees.
Rub a 9 by 13½ inch casserole dish with the teaspoon of olive oil.
Place the bratwurst and fingerling potatoes evenly throughout the dish. Cover the links and potatoes with the slices of onion.
Pour the lager into the casserole and sprinkle the salt over the dish.
Place the dish into the oven and bake for an hour, stir the contents of the dish halfway through.
Serve with mustard and beer.
Sonja Bradfield
Hello there! My name is Sonja and I love food. I'm food obsessed, actually. I moved back to the US last year after living in Seoul, Korea for five years. I hope to share what I've learned about good eating from my time in Korea and traveling Asia. I focus on recipes that are influenced by my Korean heritage and experience as an expat in Seoul which inspired cooking recipes from home, as well as the ever changing food scene in DC and Virginia.