Profiteroles are the foundation to a variety of different pastries from gougéres to French wedding cakes.
By Marissa Sertich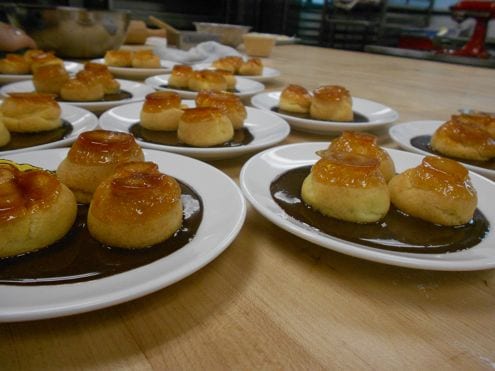 While the culinary students rehearsed the mother sauces, we "dough throwers" practiced puff pastry, pie dough and pâte à choux and by the time I graduated from baking and pastry school, éclairs were coming out of my ears.  Piping éclairs was a daily exercise and the magic of watching the small fingers of batter expand in the oven quickly lost its initial enchantment.
Although after months of making éclairs, the thing lost a bit of its charm, pâte à choux is an essential part of any pastry chef's repertoire.  It was only later, when I entered the industry, that I fully realized how wonderfully versatile and important the pastry dough can be.  Cream puffs, éclairs, croquembouche, gougéres, and French crullers all come from the same, simple batter, and with only four necessary ingredients (water or milk, eggs, flour and butter), it is also one of the cheapest products to produce.
One of my favorite applications of pâte à choux is the petit and elegant profiterole. Smaller than a cream puff and filled with a flavor of choice, profiteroles are the perfect finger food for any party, reception, or to eat unceremoniously over your kitchen counter. Dip them in hard caramel to give them a finished shine and a crunch to contrast with the dough's soft and chewy texture.
Although they can be filled with straight pastry cream, which is delicious on its own, I like to give my profiteroles an airier texture by folding some whipped cream into the pastry cream to create what is known as "diplomat cream."   When I'm feeling particularly rambunctious, I'll even add a bit of melted dark chocolate into my pastry cream before incorporating the whipped cream to make a chocolate diplomat.  To fill the profiteroles, you can simply inset a small pastry tip into the bottom of each profiterole and to squeeze filling into each puff using your pastry bag.
See Also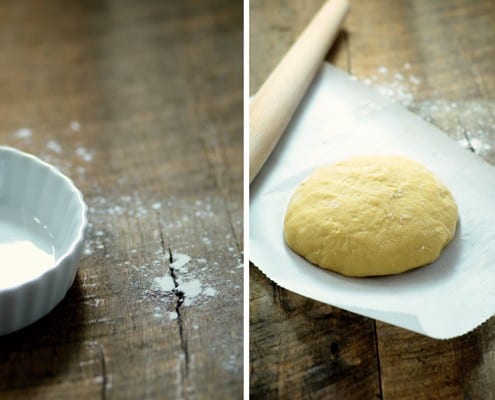 The finished profiteroles can be served with a warm chocolate sauce, ice cream or any variety of sugary condiment – part of the profiterole's beauty is its versatility and ability to cater to a variety of tastes.  The dough on its own is plain and un-sweetened and therefore forms the perfect vehicle for other flavors.
Print
Profiteroles
Profiteroles are the foundation to a variety of different pastries from gougéres to French wedding cakes.
Author:

Marissa Sertich

Prep Time:

25 mins

Cook Time:

35 mins

Total Time:

1 hour

Yield:

5

0

1

x
4 oz

milk

4 oz

water

4 oz

unsalted butter

4 oz

flour

4

eggs
pinch of salt
Instructions
Pre-heat an oven to 200 degrees Celsius.
In a small saucepan, bring water, milk, butter and salt to a boil
Remove the mixture from the stove and add the flour, all at once, and stir with a wooden spoon.
Return the mixture to the stove and cook on medium heat, stirring vigorously to avoid any lumps. Continue to stir until a filmy residue appears at the bottom of the pan. This should take less than a minute.
Transfer the mixture to a mixing bowl with a paddle attachment and mix on slow to medium speed.
Gradually add the eggs one at a time, making sure that each egg is fully incorporated before adding the next. The mixture should be smooth and glossy.
Using a pasty tip and piping bag, pipe quarter-sized rounds of dough on a parchment lined sheet-tray.
Bake until they are a deep, golden brown
Notes
To dip profiteroles in caramel, line a sheet-pan with plastic wrap. Then, place a cup of sugar in a saucepan and mix it with water until it becomes the consistency of wet-sand. Cook the mixture on high heat. When the sugar comes to a boil, stop stirring and let it cook until it becomes a golden caramel.
To stop the cooking process, dip the bottom of the saucepan in a bowl of ice-water. Then work quickly to dip the tops of each profiterole in the caramel and place them top-down on the plastic wrap. (This method does not require turning the profiterole right-side up again which avoids dripping hot caramel drips onto your hand.)
WARNING: Hot sugar is….HOT. Use great caution and have a bowl of ice-water handy whenever you are working with hot sugar.
Marissa Sertich
Marissa Sertich Velie is a New York based pastry chef and graduate of the Culinary Institute of America. She passionately documents her adventures of baking and eating her way through the fascinating (and sometimes nutty) underbelly of the American pie. Velie has a Master's degree in Food Studies from NYU.