Situated on the Jersey Shore, the Ocean Casino Resort offers stunning ocean views, high-end dining, and endless entertainment options.
Like the tide rolling on the shores, for years, the Jersey Shore—a 141-mile stretch of Atlantic coastline—has been a haven to beachgoers each summer. Where are they staying? While several hotels offer superb accommodations and excellent amenities, Ocean Casino Resort is becoming a favorite.
Celebrating its 5th birthday, Ocean Casino Resort is a luxurious and modern casino located in Atlantic City. The glimmering resort with grand architecture sitting on an oceanside elbow on Absecon Island has emerged as a leader among hotels and casinos in the area. Unlike its neighbors, the resort stands out; its 710-foot-tall venue has made waves across the state thanks to its spectacular amenities, with nearly 2,000 slot machines, a 45,000-square-foot beach club, and more than 15 drinking and dining venues packed into one property.
The Room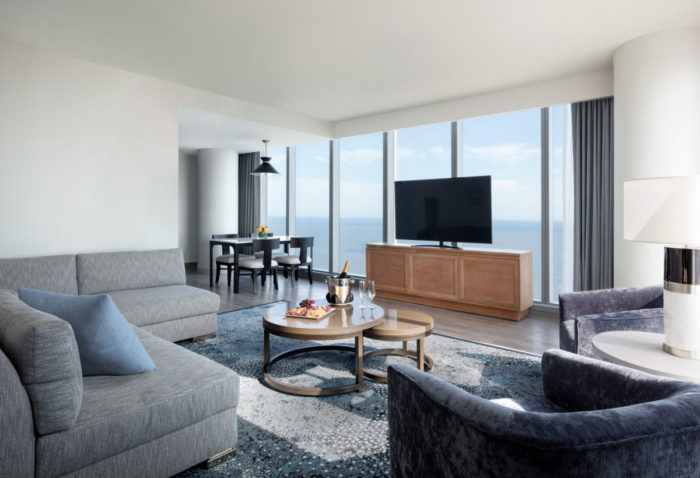 Ocean has 1,860 guest rooms and suites that range from tastefully decorated double bedrooms to the beach-inspired social suite. The interior of the rooms is clearly inspired by the Atlantic Ocean that many of the rooms look out onto. White, grey, and blue accents, with wooden features, bring the beach aesthetic inside.
Rooms are spacious and well-designed, perfectly utilizing minimalist fashion with floor-to-ceiling windows that spotlight the vast ocean and vistas of the infamous boardwalk.
However, a beach-inspired social suite is where the beach-chic style and 21st-century luxury come together. At 1,389 sq ft, the suite features two bedrooms, a wet bar, and awe-inspiring views of the Atlantic Ocean. If you can bare it, keep the curtains open throughout the night for a spectacular sunrise.
The Entertainment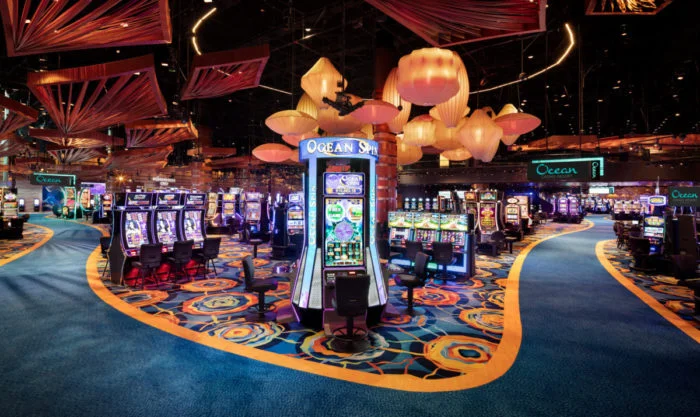 Ocean Casino Resort is an entertainment hub in Atlantic City, famously known as the Entertainment Capital of the Jersey Shore.
The resort has Ovation Hall, which houses different types of entertainment like music performances, comedy shows. It also features pre-screenings for highly anticipated movies. The experience is certainly unmatched, and I can attest to it based on a recent weekend trip. I witnessed the space transform into pink for the highly-anticipated Barbie film. There was nothing quite like listening to Ryan Gosling belts his heart out in "I'm Just Ken" inside the Hall with its unmatched sound.
Before attending a show at the Hall, you grab a couple of shots at the resort's Birthday Pop-Up bar at 1927 Lounge, only available in the summer. This one-of-a-kind bar is whimsical, to say the least, featuring neon signs, rainbow tapestry, and colorful potent cocktails. Celebrating a birthday, anniversary, or any milestone here will make anyone feel special.
During the day, guests can book one of the resort's Cabanas. These are different from the ones you'd imagine where you only get a bed and an umbrella; they are a private oasis overlooking the Atlantic Ocean. Whether it's a birthday party or if you're celebrating "Barbiecore," the Cabana is an ideal setting for a special gathering. Ocean's Cabanas can be transformed and tickled in pink. Barbies parade around the pool donning classic outfits like disco, cowgirl, or beach, ready to serve you a specialty cocktail and make you believe you are in the Malibu Barbie Dream House.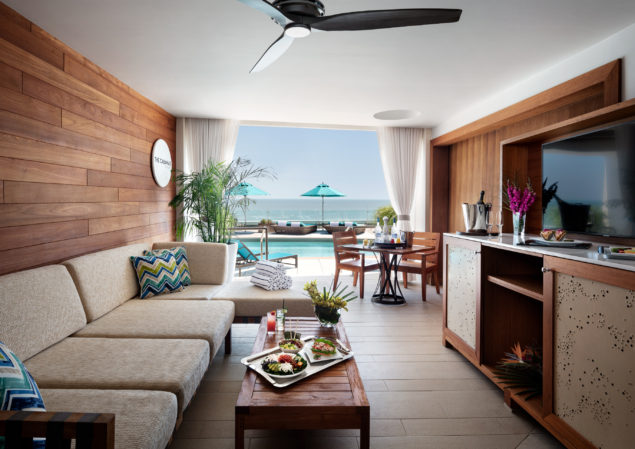 For nighttime entertainment, you can head to HQ2 Nightclub to dance the night away. It's a two-level nightlife destination where guests can fully immerse themselves in a diverse dance-club experience filled with world-renowned musical talent. Or visit Nola's Bar & Lounge, an entertainment, and lounge where cocktails and music rendezvous like a Barbie Drag Show. Lastly, guests can visit the casino, which the resort is best known for. It's a gambler's paradise that houses 138,000 sq. ft. of gaming entertainment.
Dining
Too often, restaurants down the Jersey Shore can have less-than-stellar food. But restaurants at Ocean Casino Resort abolish this preconceived notion. And the results are a sublimely specific combination of excellent service, new takes on classic American food, and incredible ocean views.
Villain and Saint
This isn't a standard Jersey Shore restaurant — it's a bit of an artsy haven with local live performances. The modern gastropub and rock-n'-roll music hall feature draft beers from around the world and bass-pumping live shows from Atlantic City favorites every weekend. But it's not a total stand-up scene: plenty of comfortable seating with sightlines to the stage! There is something for everyone with a carefully curated menu, including KFC-Korean Fried Chicken Wings, Fried Shepard's Pie, biscuits with hot honey, and pork loin.
Linguini By the Sea
At this Atlantic City seafood stalwart, ceviche, speck-wrapped scallops with English peas, and linguini alle vongole with manila clams and garlic white wine sauce await. Additionally there are top-notch specialty cocktails like Ocean's 5th Birthday Cake Martini and plenty of wine and beer. Stunning ocean views accompany classic Italian cuisine with a contemporary twist.
Ocean Steak
Ocean Steak is for steak lovers and other eaters, thanks partly to the restaurant's ample seating and striking views of the Atlantic Ocean. Drop in for cocktails, dry-aged porterhouses to share, and other rich options like 30-day snow-aged Japanese Wagyu and Pastrami Rub Atlantic Salmon.
Serendipity3
A decades-old American restaurant best known for its Wonka-esque desserts and quirky interior has a home inside the resort. Similar to the original, the menu features hamburgers, salads, mac and cheese, among other hearty dishes. But the real draw is the desserts. These include Serendipity's famous Frrrozen hot chocolate, which you can get straight or in the salted caramel. If you're  unable to slurp it all, you can take it back to your room. You'll be thrilled to sip it while catching up on the Real Housewives of New Jersey as a nightcap.
Things to do in Atlantic City.
Atlantic City is famous for its five-star hotels like Ocean Casino Resort, casinos, and unforgettable live shows. Consequently it is also home to the world's first and longest boardwalk, over 7km long. After a morning workout, grab an egg white burrito from Caffeincino and head out to the boardwalk to people watch, perhaps one of the best activities to do.
There is also an amusement park named the Steel Pier. It's packed with old-school rides, like Ferris wheels, roller coasters, arcade games, and eateries. For a truly memorable afternoon, buy a bag of saltwater taffy and explore the bright lights.
Whether you want to soak up the sun while enjoying a good book or jump in the water to surf, kayak, or swim, the beaches in Atlantic City will not disappoint.
Ocean Resort Casino
Website – http://theoceanac.com/
500 Boardwalk, Atlantic City, NJ 08401