The warm weather finally broke last week and with it came asparagus!
By Katherine Sacks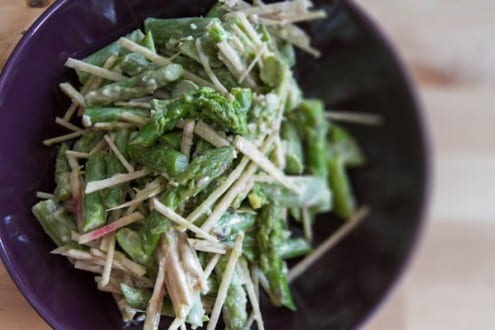 Yellow beet or jicama would be a fine substitution if you can't find sugar beet. All together it's a lovely, simple, fresh salad and one I have a feeling with become a regular on our table throughout the rest of spargel season (which I just found out ends quite specifically on June 24th, the feast of St. John the Baptist and the date the Germans decide the harvest has lasted long enough).
Asparagus-Beet Salad with Tahini Dressing
The warm weather finally broke last week and with it came asparagus!
Ingredients
Tahini dressing
1 shallot, minced
3 tablespoons tahini
4 tablespoons olive oil
7 tablespoons apple cider vinegar
1 tablespoon water
Salt
Freshly cracked black pepper
Salad
1 bunch asparagus, stems trimmed
½ sugar beet, julienned
2 tablespoons Tahini Dressing
Instructions
Dressing
In a medium-sized bowl, whisk together the shallot, tahini, olive oil, vinegar, and water until mixture is smooth. Season to taste with salt and pepper.
Salad
Bring a medium pot of salted water to a boil. Blanch the asparagus, cooking for about 8 minutes until tender. Shock in ice water and drain. Slice on a bias to ½-inch pieces.
In a medium-sized bowl, combine the asparagus, beets and dressing. Toss to combine and enjoy.
Katherine Sacks
Katherine Sacks is a Berlin-based freelance writer and recipe developer specializing in travel, food, lifestyle, and health topics. A graduate of Drexel University's culinary arts department and Northwestern University's Medill School of Journalism, Katherine combines seven years of restaurant experience with her reporting and editing background. Her work has appeared in Chicago magazine, the Chicago-Sun Times, and FoodandWine.com, among other publications. She also contributes to culinary trade publication StarChefs.com, Forbes Travel Guide, and Snooth Eats, and blogs at LaVitaCucinare.com.