ARoqa continues to create an elevated Indian dining experience donning Indian takes on tapas and modern takes on traditional dishes.
Midtown New York may be known as the primary repository of Indian restaurants, where enticing curries and pillowy naans take center stage on the menus. That is until Monica Saxena came into the culinary world in 2017 and opened aRoqa, a modern Indian restaurant located in Chelsea.
The Atmosphere
Now in its 7th year, the vision of aRoqa continues to create an elevated Indian dining experience donning Indian takes on tapas and modern takes on traditional dishes. The eatery allows guests to explore Indian cuisine in a new way paired with a refined, Indian-inspired cocktail menu by Beverage Director Prasad Pawar.
Entering aRoqa, you'll be stunned by the black and gold cocktail bar. It instantly catches the eye and lures you into the main dining room, nestled in a dark, cozy cave by Texer Nam.
The Michelin-recognized establishment celebrates Monica Saxena's journey from India to California to New York. The name aRoqa originates from the term "roka". It is a traditional Indian event where families gather and celebrate the newfound engagement of a couple over a meal. The Mughal culture inspires the meals and the ambiance, which spark that feeling of celebration and festivities for customers.
The Flashy Cocktails
Beverage Director Prasad Pawar, from Michelin-Starred Vestry, leads the new cocktail menu. It is inspired by his Indian roots, utilizing spices and herbs uncommonly used in American cocktails. His creations implement all house-made juices and syrups, showcasing fragrant and aromatic options that complement dishes emanating similar spices and profiles, such as:
The Emerald Proposal ($20) is a refreshing beverage with tequila, mezcal, and earthy pureed cucumber and peas ingredients. At first glance, the green potion may give the impression that it tastes like a bitter green, healthy juice. But this is far from the truth. It's refreshing, not too sweet, and simply delightful.
For tequila fans, another libation to try is the Chipotle Margarita ($20). At first, sipping the cinnamon chipotle makes a striking statement; it brings memories of being at a barbecue which would be odd for a cocktail. However, when you keep consuming it, the bright flavors of pineapple and lime surprise the buds along with sweet Grand Marnier.
Rum-based drinks include the Indian Sunset ($20.) It's also laced with vodka and infused with the tropical flavor of mango passion puree, and hibiscus rose. Another is the Inferno, as the name infers it is a fiery choice. It lights up when it's dusted with fresh ginger cinnamon. Carrot juice is responsible for the orange hue and delivers a sweet flavor to the smoldering cocktail.
The Cuisine
The menu begins with Taste Plates, which features a collection of beautifully presented small plates. There are several options, but a few standouts include the Kurkhuri Bhel ($16). This vegetarian dish consists of crispy rice puffs paired with an addictively sweet tamarind chutney for dipping. Similarly, the Corn Paddu ($17) is another great vegetarian option where corn and rice-based fritters are served with a bright and tropical coconut kaffir lime chutney for dipping. Other choices are the Shredded Crab ($19), bite-sized rice pancakes topped with spiced shredded crab and tomato. As the name implies, Paneer Lentil Soup Shots ($19), a lentil-based South Indian clear soup, is served in a shot glass. Lastly, Prawn Cutlets ($21), fragrant South Indian Spices, make a bold statement in the golden panko-encrusted chopped prawns.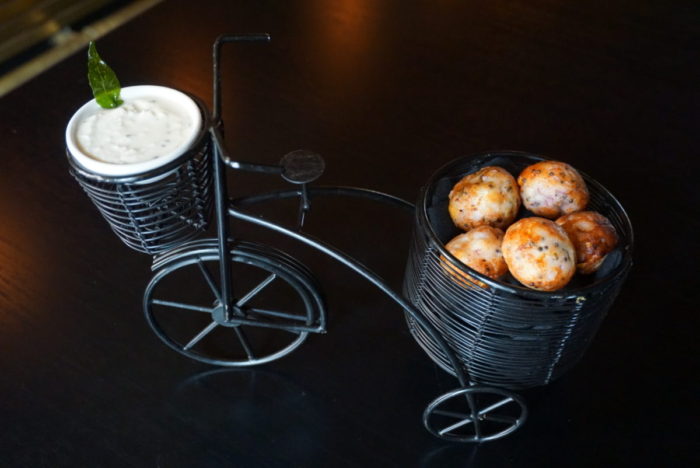 Next on the menu are the Shared Plates, where signature dishes include Okra special ($22), sautéed whole okra in blended onion tomato sauce with a hint of pomegranate. Chicken Tikka Masala ($24) tender pieces of chicken are marinated in a blend of spices and then grilled to perfection, giving them a smoky and slightly charred flavor. The rich and creamy tomato-based sauce boasts fragrant spices creating an irresistible aroma and taste. Famous in the region of Goa and at aRoqa is the Goan Shrimp Curry ($27). The dish features sautéed jumbo shrimp in a blend of coconut tamarind sauce.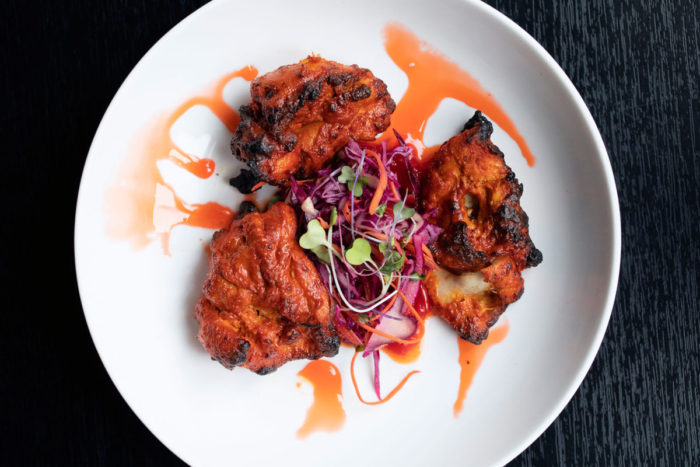 Traditionally Indian cuisine comes with fragrant basmati rice, and aRoqa's Shared dishes follow suit. But it would be remiss if you don't complement your shared plate, especially if it's the Goan Shrimp Curry with an order of Garlic Naan ($7). It's synonymous with having peanut butter and jelly and always pleases. The soft and fluffy texture of the bread complements the Goan Shrimp Curry well, making it an irresistible combination. Every bite of naan with curry is like a journey to the heart of Indian cuisine, where spices and flavors converge in a symphony of deliciousness.
Beyond the Taste and Shared Plates, a variety of Biryani ($22) and a selection of Stuffed Breads ($7) like Paneer Aur Hari Mirch Kulcha, stuffed with Indian cheese and green chilies are available to order.
Dessert
For desserts, aRoqa's are imaginative and visually appealing, as expected. For example, the Rose Pudding with Gulab Jamun ($15) would be perfect to serve at a watch party for the highly anticipated Barbie movie. It features a baby pink hue, is adorned with sliced almonds, and is topped with a bright yellow flower. The pink color comes from the infusion of rose essence. It is also topped with soft and spongy Gulab Jamun balls, making for a perfect blend of flavors and textures.
Based on the crowd populating the tables at 6 pm on a recent Wednesday night, it's clear aRoqa's offerings will keep generating neighborhood buzz.
aRoqa
Website
206 9th Ave, New York, NY 10011