PARTNER POST: We've teamed up with Bonne Maman to bring you the best homemade breakfast and brunch recipes to show Mom you care this Mother's Day and all spring long.
The perfect make-ahead treat for Mom, these easy sticky buns are studded with apricot preserves and pistachios for a sweet morning treat.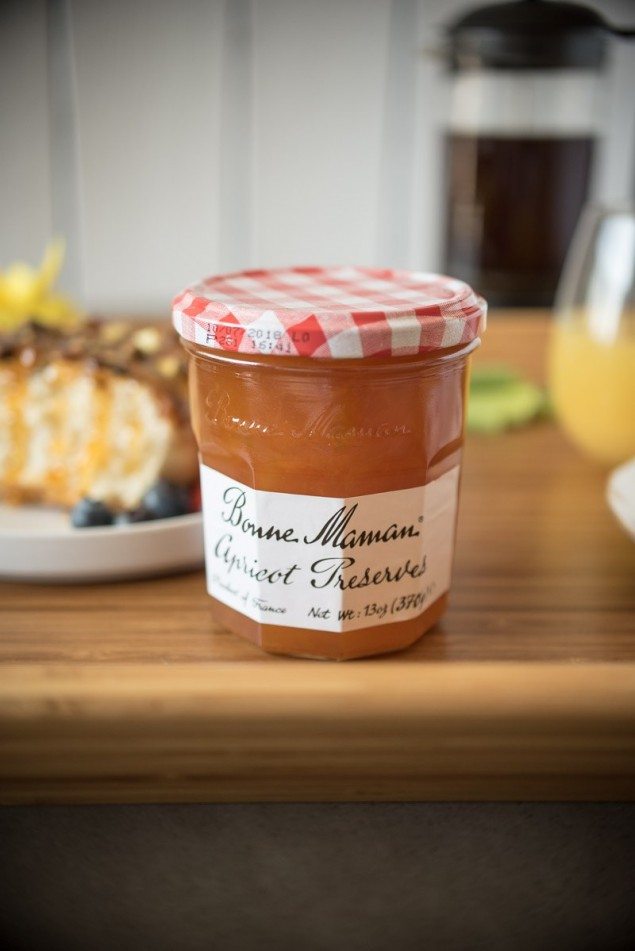 These apricot, pistachio breakfast sticky buns are the perfect make ahead breakfast treat. Homemade bread buns are baked with delicious apricot preserves, dried apricots and pistachios that are light, not too sweet with a little nutty crunch.
Mother's Day is just over a month away and what mother would not love a homemade breakfast? I am working with Bonne Maman to bring this amazing recipe to showcase their preserves. We all notice the distinct gingham patterned jar tops in the grocery store that look like they were just made by Grandma because they are just like homemade preserves. Did you know that 'Bonne Maman' translates to Grandmother? That is why these preserves are the perfect way to start the day on Mother's Day.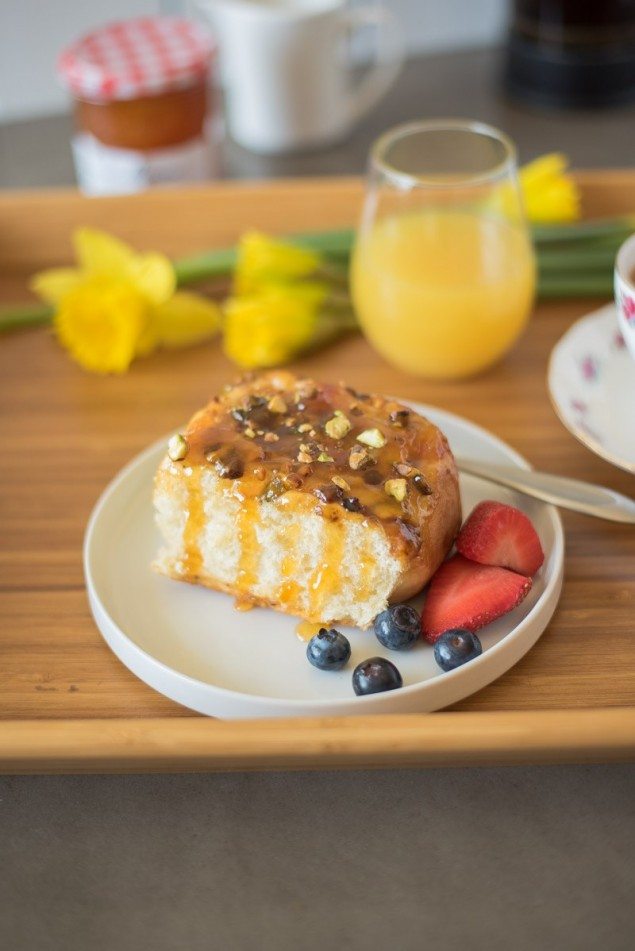 Bonne Maman are my go-to preserves. With a homemade taste, quality ingredients that are Non-GMO Project Verified, no high fructose corn syrup, artificial coloring, or preservatives added, Bonne Maman is a name and product I am proud to represent.
These apricot, pistachio breakfast sticky buns can be made ahead of time. You can make them right up until the time to bake, store then in the fridge overnight covered in the baking dish, then bake them off when you're ready to enjoy.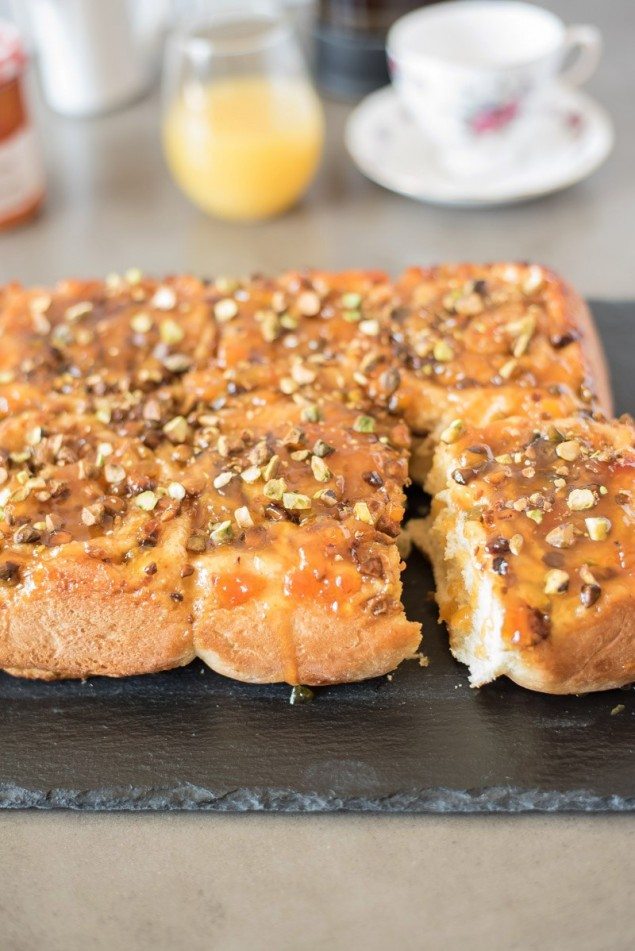 Bonne Maman are currently running a sweepstakes for a chance to win a fabulous Le Creuset 12-piece cook set plus a cookbook! Details of the sweepstakes are below, where you can click to enter.
See Also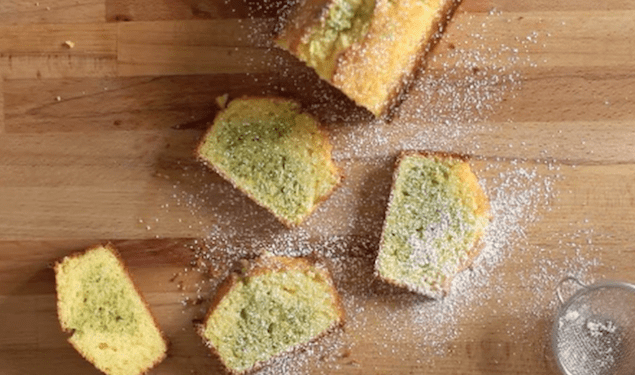 For another recipe idea, check out these strawberry muffins.
Click here for the written recipe.
Print
Apricot and Pistachio Sticky Buns
The perfect make-ahead treat for Mom, these easy sticky buns are studded with apricot preserves and pistachios for a sweet morning treat.
Author:

Janette Fuschi

Prep Time:

2 hours 20 minutes

Cook Time:

25 minutes

Total Time:

2 hours 45 minutes

Category:

Baking, Breakfast
1 1/4 cup

Whole milk (warm (should feel body temperature when you put your finger in))

2 1/4 teaspoons

1 packet (instant dry yeast)

1/4 cup

granulated sugar

4

large egg yolks (room temperature)

1

large egg (room temperature)

4 tablespoons

unsalted butter (melted)

1 teaspoon

salt

4 1/2 cups

all-purpose flour plus more for rolling out dough

1 tablespoon

unsalted butter for greasing baking dish

18 ounces

Bonne Maman apricot preserves

3 ounces

dried apricots (chopped)

1/2 teaspoon

ground cinnamon
Small pinch of nutmeg

1 cup

shelled unsalted roasted pistachios
Instructions
Add a little of the warm milk, yeast and a little of the sugar to a small bowl and mix. Set aside for 10 minutes.
To a large bowl add the yeast mixture, eggs, rest of the milk, rest of the sugar, melted butter and salt, whisk until combined (with a hand mixer or if using a stand mixer, use the whisk attachment).
While beating the mix add the flour in small batches, mixing well between additions. If using a stand mixer, switch to dough hook before doing this. If using a hand mixer, stop and use hands when the dough gets too thick. You may use a little less flour depending on the dough.
When the mixture has come to a ball, turn out onto a floured surface. Knead the dough until smooth and elastic, about 1 minute. It should not be sticky.
Clean the large bowl and coat lightly with oil. Place dough in the bowl, cover with a towel and leave in a warm place to rise for 1 hour until doubled in size.
Generously butter the bottom and sides of a 9 x 13 inch baking dish.
Meanwhile, add the preserves, apricots, cinnamon and nutmeg to a bowl and mix. Add 1/3 of the preserves mix to the bottom of the baking pan and sprinkle pistachios.
Flour a clean surface and roll out the pastry to 18 inches square.
Spread the rest of the preserves mix all over the pastry leaving a 1-inch border. Sprinkle with pistachios, then take the edge closest to you and roll snuggly ending with the seam side down.
Trim the roll into 1 ½ inch thick pieces and place, spiral side down into the pan. Cover and allow to rise in a warm place for 1 hour.
Preheat oven to 350°F.
Once risen, bake in the center of the oven for 25 to 30 minutes until golden brown.
Remove from the oven and allow to cool in the pan for 5 minutes. Turn the buns onto a large cutting board and serve warm.
Janette Fuschi
Hi, my name is Janette, originally from England, currently living in Southern California. I'm the author, recipe developer, photographer and resident redhead behind Culinary Ginger. I grew up in a household with 4 siblings where my mother cooked a from scratch meal for us every night. I took an interest at an early age in cooking and learned a lot by helping and watching my mother in the kitchen. Today that tradition is carried on my household in that I also like to cook every night. I like to use only fresh ingredients, no processed or pre-packaged foods are allowed in my kitchen. I like to try new recipes and adapt current ones from all cuisines. In addition to all of this, I am fortunate that I get to travel with my husband for business and this allows me to explore and document my findings here for you to read and hopefully, take something with you.