Amisfield is a personal expression of a territory, a grape, a philosophy and a series of common values that shine through from the first tender bud to the final harvest to each glass and sip.
In Central Otago, New Zealand, at the very bottom of the world, you find the organic single-estate winery, Amisfield. Once a sheep station, today 92 hectares of devotion and love for wine making. Amisfield is a personal expression of a territory, a grape, a philosophy and a series of common values that shine through from the first tender bud to the final harvest to each glass of mostly Pinot Noirs, produced by passionate people with a lot of perseverance.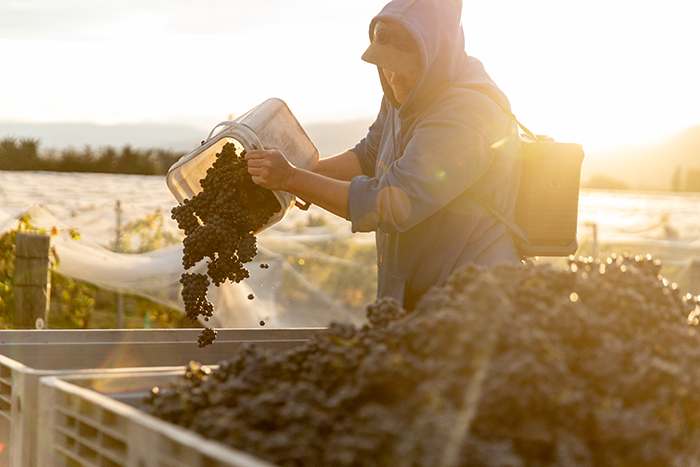 It's early morning and extreme jet lag gets overpowered by the view. I stand at the foot of the cinematically imposing Pisa Mountain range in one of New Zealand's most breathtaking wine regions, as I enter Amisfield Winery – a 35-year-old single estate that specializes in silky and complex, pioneering Pinot Noirs. It feels like I'm in Gondor – in the land of 'The Lord of the Rings' and am meeting close to the entire team of the winery to dive into their world and discover the lands, the grapes, the methods and the true philosophy of these New World wines, and as they explain, it all starts with the seasons.
Sam Davies – the chief winemaker at Amisfield – welcomes and introduces André Lategan, the vineyard manager, before we jump into André's bumpy pickup truck to go around his 92 hectares of magic.
"This is a place where the seasons make the wines as much as we do", André explains. With unwavering dedication, he has spent over two decades nurturing the grapes at Amisfield and was originally born on a wine farm in South Africa's Western Cape, so it isn't surprising that he has this hearty craft in his blood. This you feel after spending just five minutes with him exploring the land. He has helped grow the vast major big part of the vineyards, knows every single plant, corner and story there is behind them.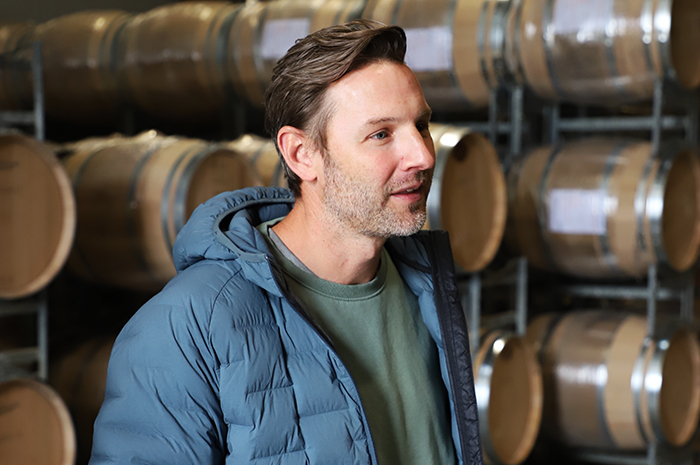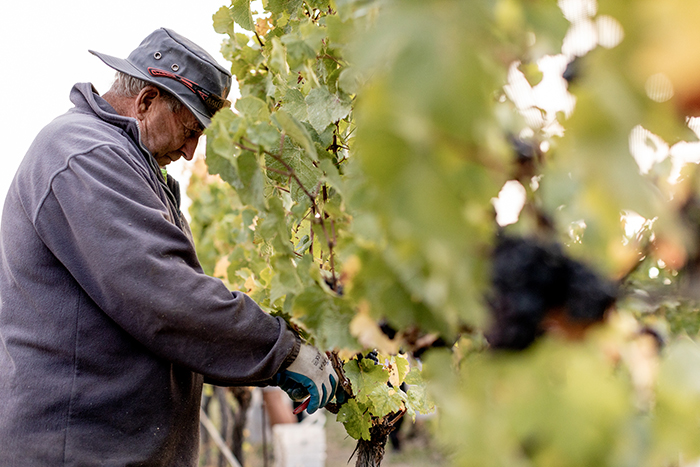 Touring with André through his vineyards – as they truly are even though he doesn't own them – becomes a reflection. You see the humanity in the wine, the love, passion and patience that is needed to work in this craft added to the humility of a true craftsman who has dedicated a giant part of his life to a project. This while getting to stand there with fifteen seconds on your own, with an awe-inspiring view, a couple of squeezed grapes in your hand, sucking nature in.
Harvest at Amisfield
You feel Amisfield. André Lategan planted the vines that reach our horizon, he has taken care of them ever since and grown the precious grapes that we later that night swallow with pride, paired with Vaughan Mabee's pristine culinary preparations at Amisfield's equally famous and notorious restaurant. Notorious in the best of ways.
I can't stop thinking about how we are so used to connecting chefs to their dishes but when it comes to wines, we forget that that liquid is the result of a very personal journey for a group of people like André. It truly is the reflection of their passion and hard work combined with the reflection of New Zealand and Central Otago.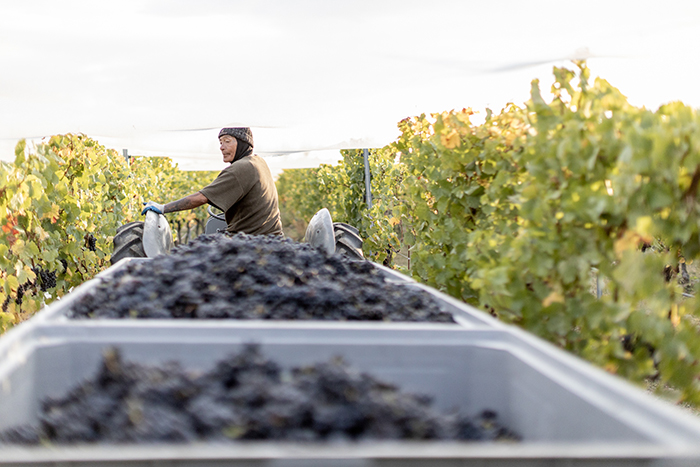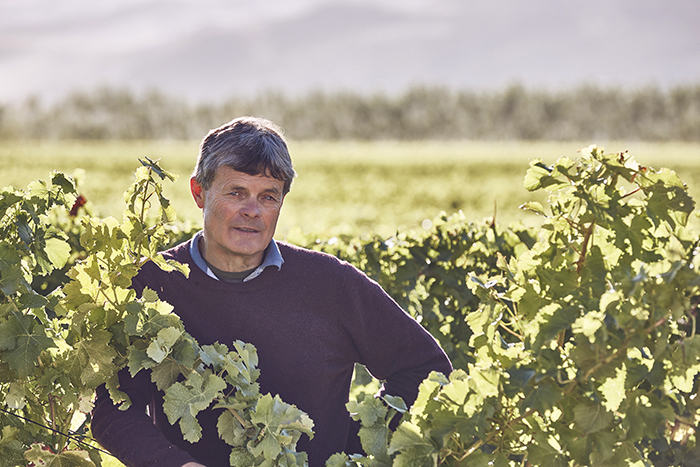 Pinot With Patience
Amisfield was established in 1988. An organic Single Vineyard Estate, discovered by owner John Darby. John is one of few who can spot a diamond in the rough. The vineyard instantly flooded his memory with childhood trips to the area, nostalgic family memories that last a lifetime. More importantly, John was flooded with nostalgic memories of the fruit on these holidays and held onto that dream. It's not often someone has the vision to build something so beautiful out of such a challenging environment.
With the first vines breaking ground in a then unestablished wine region, their roots deepened across a challenging 92 hectares of terrain, and the vineyard now specializes in Pinot Noir and aromatic wines. But why Pinot? Sam Davies explains that Pinot Noir is everyone's favorite varietal. "It's difficult to grow and it's susceptible to the whims of Mother Nature. So you have to work hard at it. You've got to be passionate about it, because if you're not, then it won't take hold and you'll fail. So it's almost as much about challenging yourself to work with a variety that reflects the site, as it is about the end wine that goes into a glass", he says. 
Sam Davies is right. Pinot Noir is a hard grape to grow. It's thin-skinned, temperamental and ripens early. It's not a survivor like Cabernet that can grow anywhere and thrive even when neglected. Pinot Noir needs constant care and attention and in fact can only grow in specific little tucked-away corners, like here, literally at the bottom of the world. Only the most patient and nurturing growers can do it really, can tap into Pinot Noir's most fragile, delicate qualities. Only when someone has taken the time to truly understand its potential can it be coaxed into its fullest expression. And when that happens, its flavors are the most haunting, brilliant, subtle, thrilling, pioneering and ancient on the planet.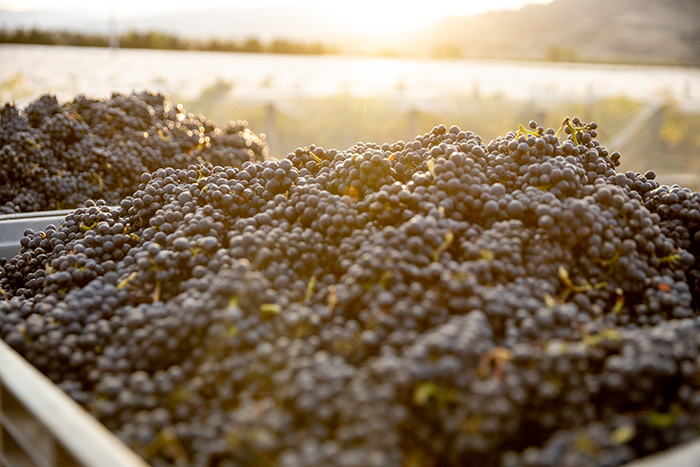 Pioneering is a great way to describe the essence of what this team creates at Amisfield. As we move from a Riesling-field to that of Pinot Gris, I'm explained that in a country without a millennium, or let's keep it at centenary wine-making tradition, there are far less restrictions on how to achieve great wines. It's a new world way of going about it. I ask Sam as I devour the almost ready to harvest Chenin Blanc grapes straight off the vine: What does New Zealand bring to the world of wines?
"We don't have a great history of grape growing in New Zealand, you know, centuries upon centuries like the old world does, where there have been rules and regulations passed down and very set ways of doing things. We don't have those restrictions. We are open-minded. We can be innovative. We can use different techniques. We're not a closed book or limited to do things like my father did, and his father and his father before him. And whilst tradition is fantastic, it's not good if it becomes cumbersome or burdens you down and it stifles the energy or creativity. That's something that New Zealand brings to the table in the wine world – the ability to look outside the box, to think a little bit differently and to take chances", says Davies.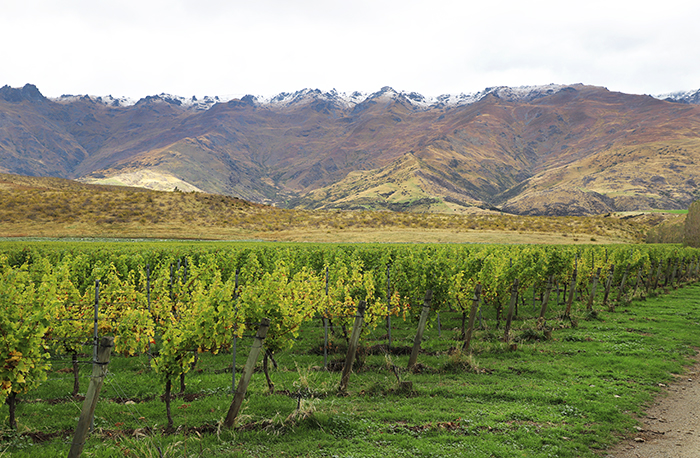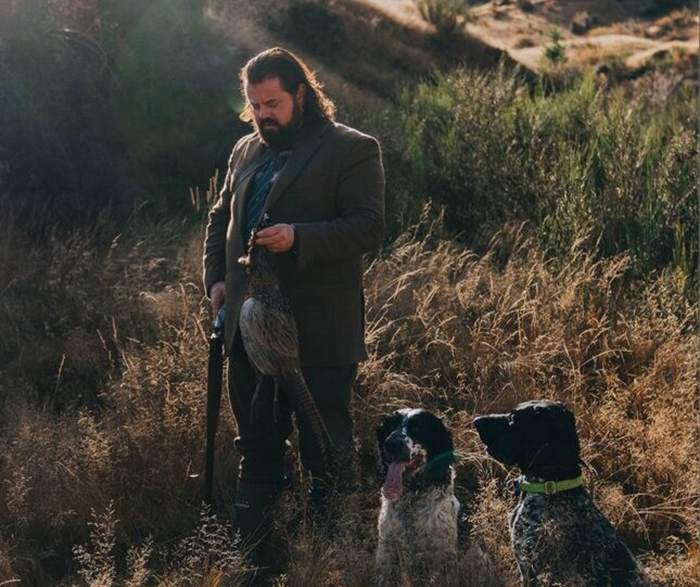 Quality Over Quantity
The excursion continues as we drive from one area to another and try different varieties of grapes. The rugged inland location affords a semi-continental climate, with cold winters, hot summers, cool evenings and low rainfall. This unforgiving environment gives generously to flavor. Central Otago is actually the most southern grape growing region in the world. Deep valleys carved by glacial river terraces surround the snow-covered mountains. The vineyards have very low rainfall, which means the air is dry, reducing the risk of botrytis and other diseases often present in more temperate climates.
The unique growing conditions combined with glacially derived soils produce wines of remarkable purity, intensity and vibrancy. Their magnificent Pinot Noirs account for over 60% of the production but the rest comes from Sauvignon Blanc, Pinot Gris, Riesling & Chenin Blanc, all done with as minimal intervention as possible and with organic certification. 
André Lategan explains that the road to earn this certification began in 2013 and it was done in stages. It was in 2021 that they finally produced the first vintage with 100% organic fruit. It was André's deep connection to the land and meticulous approach to organics that paved the way for many of Amisfield's innovative sustainability initiatives, such as inter row irrigation that has provided essential organic nitrogen sources for the vines.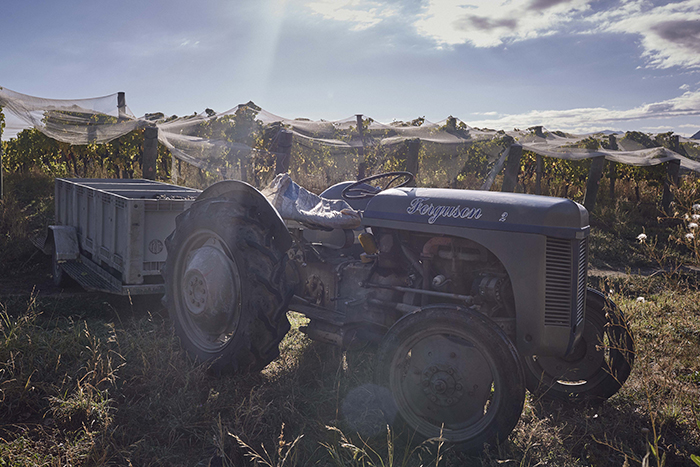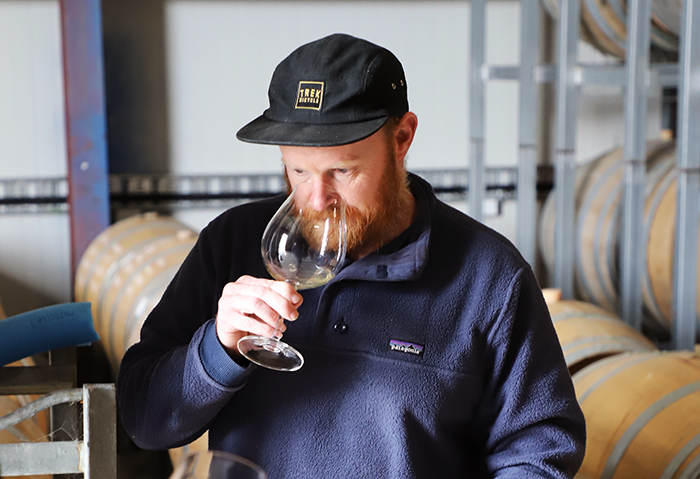 The pickup truck stops and I'm greeted by another key member of the team, Ben Leen, another winemaker at Amisfield. Ben used to do a boring office job and found winemaking as a second career, one that he actually enjoys and is passionate about. He and his then girlfriend, now his wife, lived in France for over a year where they ended up working in a vineyard, picking grapes and getting to experience the whole process. That sparked his interest in the craft and he returned to New Zealand with a new love for grapes and wine. He then completed a Post-Graduate Diploma in Winemaking and Viticulture at Lincoln University, Canterbury. He especially loves working with Pinot Noir but has a soft spot for Riesling, too.
For Ben winemaking and grape growing is an intricate dance between science and art. It's a collaborative process in which knowledge and feeling come together. As he guides through the winery he lets me know about the history of their iconic building. A building of concrete and corroded steel hunkers into the hill that leads up to the top terraces of vines. It's in stark contrast to the famous, stone building at Lake Hayes that houses the restaurant and cellar door. It has one, long roof that matches the fall of the hill and now that the native planting has grown up, and strangely, does look like it belongs there. Designed by Christchurch architect Charlie Nott in 2006, its purpose was to blend in the incredible surrounding nature and with one main goal, to be efficient. 
With long lines of barrels surrounding me, classical music sounds in the background as we do a round of tastings. I tried at least 14 different juices that will sooner or later become Amisfield wines. New world wines produced embracing hyper seasonality and quality over quantity.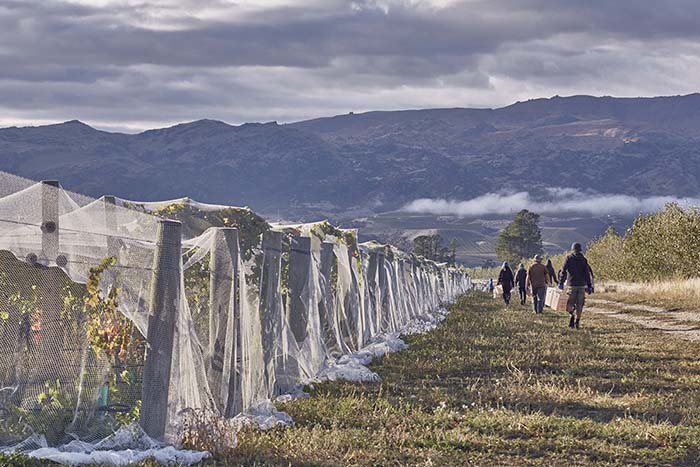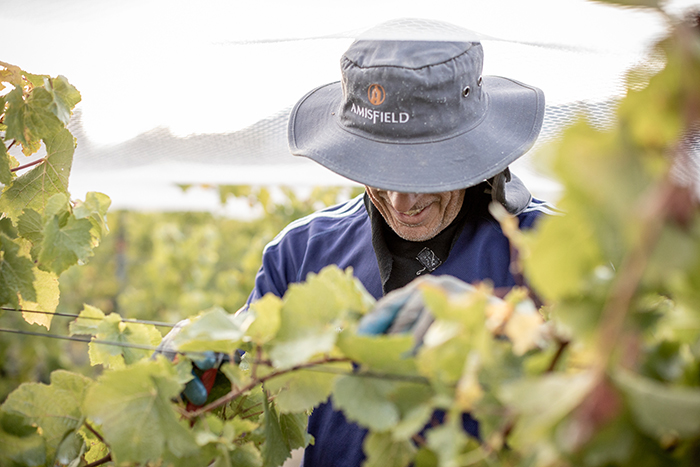 Passion And Perseverance
Amisfield's Pinot Noirs include the RKV Reserve Pinot Noir with notes of dark fruits, licorice and velvety tannins; the Breakneck Reserve Pinot Noir complex, full bodied and with plush red fruits notes and a subtle spice. The Pinot Noir has fine grained tannins and an elegant finish with expressive dark fruits and spicy subtle oak and the Brut is full of bright citrus and bready aromas. They also produce a Pinot Noir Rosé with ripe summer berries notes, refreshing and with a dry finish. Each wine has its own personality and moment.
At this point the excursion is almost over and I meet Olivia Herbert who has been with Amisfield for almost two decades. Even though I have been absorbing Central Otago for the last couple of days I wonder how a local would describe it since their main goal is to translate the region into their bottles:
"Central Otago has always been the land of extremes, relentlessly hot summers contrasted with snow laden winters. The land is difficult to tame, so the people here have learnt to be hardy. I think that continues through our personalities now and definitely through into our wines. People make the terroir and here you find very determined people. Passionate people with perseverance."
She confirms what I've experienced throughout the entire day. We keep mentioning and attributing terroir for the wine, but like the flavors of a glass of RKV Reserve Pinot Noir it's way more complex than that. It's a work of passion and love. A personal expression of a territory, a grape, a philosophy and a series of common values that can reflect different sides depending on where it's enjoyed. From the first tender bud to the final harvest, each glass of Amisfield has a little bit of New Zealand, of Central Otago, of Sam, André, Ben and everyone involved in the process.
________________
Amisfield Winery
10 Lake Hayes Road
Queentown, New Zealand
www.amisfield.co.nz
With their feet dipped into the US and EU markets, Amisfield's wines are available to purchase through their website.