This recipe from Mariela Alvarez Toro comes with a warning tag attached to it.
By Mariela Alvarez Toro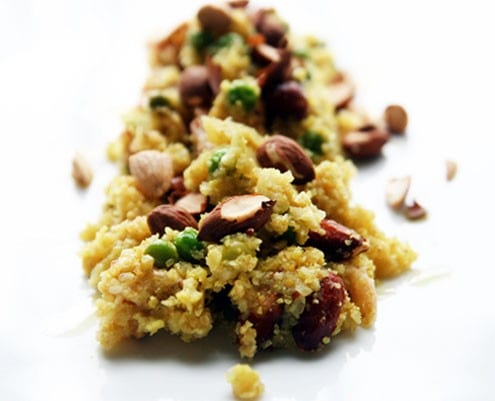 I am about to blow your mind. But I warn you; you might become addicted to this delicious recipe, once you realize how healthy (and low in calories!) it is. This dish will remind you of rice dishes, maybe quinoa dishes, or even risotto. But it is none of the above.
To be honest, I am not really sure how it occurred to me to make this. But I am glad I did. When I thought about it, it felt like one of those old ideas that has been brewing in your mind for ages, but does not emerged to the surface until the moment is right. I made it for a small group of friends, on a Sunday summer evening, and since, have been making it regularly. Recipes like this make me love vegetables even more, appreciate their versatility and ability to transform.
Its simple preparation is non-equivalent to its complexity in flavor and texture. It is smooth, crunchy, earthy, and aromatic, yet, light and fluffy. The cauliflower is chopped in a food processor until it resembles crumbs. It is quickly toasted with curry powder and cumin. The cauliflower is then cooked with a pinch of salt and a little bit of vegetable broth. From here on you are free to do as you wish. Add whatever you feel like, from corn, to peas, to tomatoes. And as the seasons change, you can add butternut squash, potatoes, sweet potatoes. Anything, really! The dressing is quintessential. This delicate miso-mustard dressing adds depth in flavor, and a creamy texture to the whole dish.
I am keeping it springy, by adding radishes and peas, and a handful of cilantro for freshness.
Re-welcome cauliflower to your life as a not so salad-y vegetable that can fool anybody. It fooled all of our friends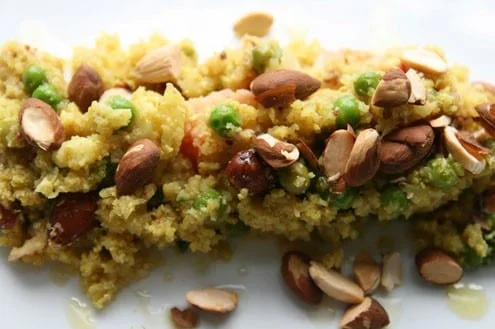 Aromatic Cauliflower Pilaf
An earthy, nutty, decadent pilaf, without the guilt.
Author:
Mariela Alvarez Toro
Recipe Type:
Main, Entree, Side
Ingredients
2 tbsp olive oil
1 leek (2 wild onions) thinly sliced
1 garlic cloves sliced
1 tsp. cumin
1 tsp. curry powder
½ head large cauliflower (grated in a food processor)
pinch of salt
½ cup (12dl) vegetable broth
5 radishes thinly sliced
½ cup (75g) sweet peas
handful cilantro
handful roasted almonds
1 tsp miso
1 tsp grainy mustard
1 tsp maple syrup
1 tsp rice vinegar
Instructions
In a food processor, chop cauliflower florets into even smal pieces. It should resemble "rice".
In a large sauté pan over medium heat, heat 1 tbsp. olive oil.
Add leeks (or onions) and garlic. Sauté for 5 minutes.
Add cumin and curry, then toast for a minute.
Add cauliflower. Toast for another minute.
Add vegetable broth and cover. Lower heat to low and cook for 5-7 minutes.
While cauliflower is cooking, make vinaigrette by combining remaining olive oil, miso, grainy mustard, rice vinegar and maple syrup in a large bowl.
Add sliced radishes and peas to bowl.
Once cauliflower is cooked, transfer to bowl with vinaigrette, peas and radishes.
Add cilantro and almonds. Mix until well incorporated.
Serve either hot, or room temperature.
Notes
If eating as main entree, this recipe serves 2.
Mariela Alvarez Toro
Recently graduated with from Harvard University's Graduate School of Design. She has recently completed "People in Food-Space", an ethnographic study on the cultural production of taste in space. She has also examined post-soviet food production systems and housing projects in Havana, Cuba. Originally from Puerto Rico, Mariela has been living in the United States for eight years. She has involved herself in both teaching and practice, while writing on food at tastyplan.com. Her goal as a food writer is to cook creatively, using the best ingredients to find new flavor combinations every day.