Laura Davis with a modern classic from the South, Deviled Eggs. Part one in a very tiny mini series of two parts.
Text And Photo By Laura Davis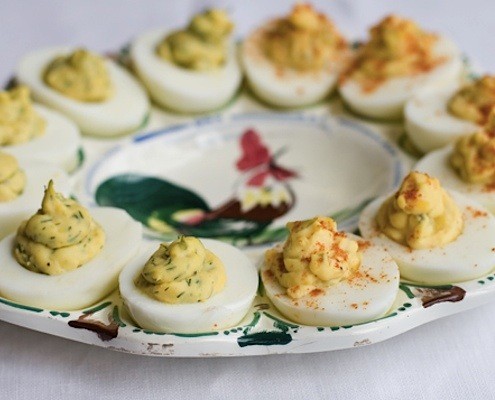 No Easter nor a family reunion was ever complete without Deviled eggs.  They are dead simple to make.  They were prepared at Easter because there was an abundance of eggs after the egg hunts and festivities.  Deviled eggs showed up on Easter and egg salad showed up a day or two after.  The recipes that my Granny and Mother made were basically the classic recipe below but they used dill pickle relish.  They confiscated those eggs and deviled them.  How ironic.  Something that could easily be done between an egg hunt and the Easter meal!  I must confess that I don't really think anyone gave much thought to the possibility of the eggs going bad or making you sick at the time, they were more concerned about not wasting food.  It was a different time and we are all still around to tell the story!
The rooster deviled egg dish is one of my Mom's that I like a lot.  It seems everyone in the south has a deviled egg dish.  I have never seen deviled eggs without one.  My Mom had one (or used to have one, I confiscated it!) and my Grandmothers had one and so on.  If you didn't have one, someone would give you one or you inherited one.  How could one possibly live without a deviled egg dish?!
Here is a classic southern recipe that you can find anywhere and it is how my family made it.  I have never seen a written recipe for this in my family but I do remember helping make it.  Mom always wanted help peeling the eggs.  I don't blame her because eggs can be a pain to peel.  I think the "harder" the egg is cooked the easier it is to peel.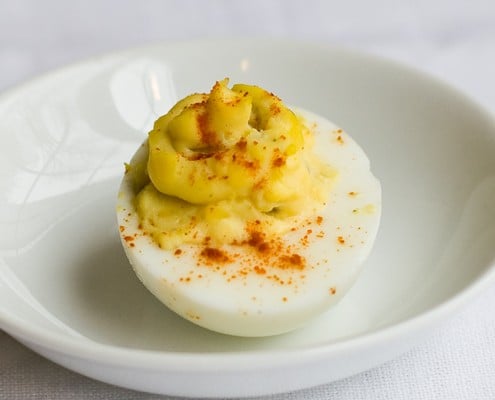 Boiled Eggs. It is amazing that boiling an egg could be done so many different ways but it is.  This is how I do it.  I put the eggs in a pot and cover them with cold water.  Bring the water to a boil gently, it is best not to do this on high heat, but medium high is good.  When the water comes to a boil, turn the heat down to a gentle boil or simmer for 1 minute and then turn the heat off.  Let the eggs stay in the water for 12 minutes for large sized eggs.  Smaller eggs a minute or two less and larger eggs a minute or two more.  If you want them more well done then add a minute or two to the time.  Cool them slowly by pouring off the boiling water and replacing it with room temperature tap water for 5 minutes or so.  Now add ice and start cooling them down until they are cold which will take at least 30 more minutes or so for them to be completely cool.  Remove them from the water and refrigerate or peel if you are using them in a recipe.  I rarely have a cracked egg with this method.  Only if I rush the process does that happen.
I have no trick to peeling eggs. Some eggs are easy and some are not.  If anyone has suggestions on this please share with us how you do this in the comments section.  I would love to know the easiest way possible to peel an egg instead of the tiny piece by piece that sometimes happens!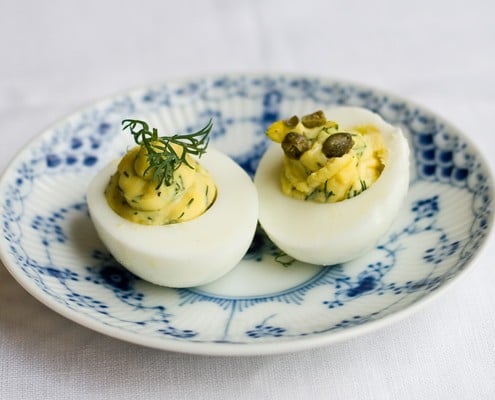 Print
Deviled Eggs
---
Author:

Laura Davis

Total Time:

30 minutes

Yield:

6

to

1

2

1

x
Description
Below are two versions of Deviled Eggs, one classic southern recipe from my childhood and one that I make today. I hope you enjoy them both as much as I do.
---
CLASSIC SOUTHERN DEVILED EGGS
6

hard boiled eggs, peeled

2

to

4

tablespoons of mayonnaise or light mayonnaise (homemade mayo is a nice touch)

1 tablespoon

of sweet pickle relish (or dill pickle relish like my family did)

1/2 teaspoon

of dry mustard powder

1

drop of hot sauce such as Tabasco
Pinch of salt
A couple of grinds of fresh pepper
Paprika for sprinkling over the top
DEVILED EGGS with dill
6

hard boiled eggs, peeled

2

to

4

tablespoons of mayonnaise or light mayonnaise (homemade mayo is a nice touch)

1 tablespoon

of fresh dill, chopped (

1 teaspoon

of dried dill can be substituted)

1 teaspoon

of Dijon mustard

1

drop of hot sauce such as Tabasco
Pinch of salt
A couple of grinds of fresh pepper
Optional: 2 tablespoons of smoked salmon chopped and added after the egg mixture is combined or a small piece for the top of each egg.
Extra dill for garnish or chopped capers (very delicious)
---
Instructions
Slice the eggs in half lengthwise. Remove the yolk by turning it over a bowl, with a little gentle nudging it should come right out.
Add the remaining ingredients and smash together until fairly smooth.
Add salmon or save to top eggs with small pieces if you choose to.
Take a sandwich bag or piping bag and put the filling it it. Cut the bottom corner tip and squeeze or pipe the egg yolk filling into the egg white half.
For the classic recipe: Sprinkle with paprika and place on serving dish.
For the Dill recipe: Decorate with small sprigs of dill and place on a serving dish.
Notes
The basis for deviled eggs are the yolks and the mayo. Here are some other variations that I have enjoyed in the past or you can get creative and come up with your own version.
-1 or 2 Anchovies smashed or chopped capers, a squeeze of lemon juice and 1 tablespoon of chopped parsley
-1 to 2 tablespoons of Blue cheese, 1/2 teaspoon of mustard and 1 tablespoon of chopped chives
-1/2 teaspoon of curry powder and 1 tablespoon of chopped green onion or chives
Remember to add salt and pepper to taste and enjoy!
Prep Time:

10 mins

Cook Time:

20 mins
One last thing – if you are interested in making egg salad for sandwiches it is as easy as chopping the eggs and adding one of the set of ingredients above.  Add some chopped celery for crunch and your egg salad is ready for some toasted whole grain bread and lettuce or spinach.
Have a Happy Easter!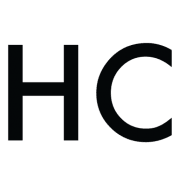 Laura Davis
Laura Davis is the author of the blog Sweet Savory Planet and has a life long culinary passion with southern roots originating in her home state of Alabama. She has a degree in nutrition from University of Texas at Austin.