Cannelloni – A Series of Tubes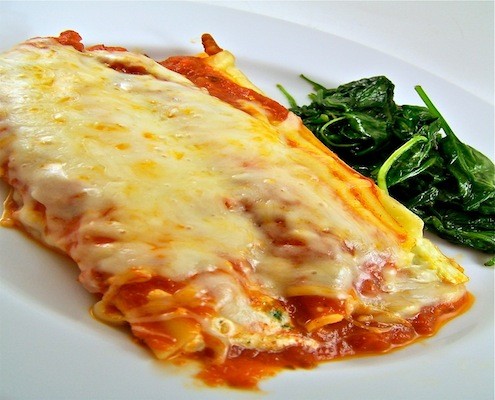 A vegetarian dish that keep pleasing your meat eaters years from now.
By Jerri Green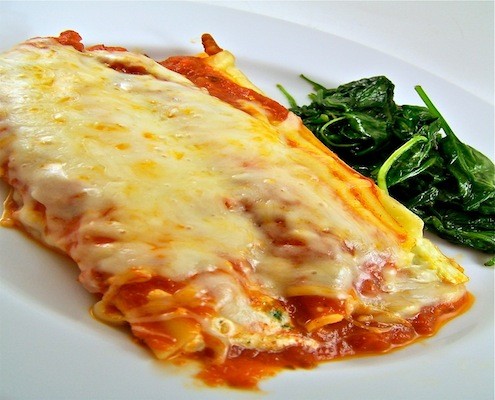 Doesn't it seem like a million years ago when we didn't have the internet? Having a new baby has made me realize how much things have changed just in my lifetime. Cellphones, DVR, automated litter boxes…other than flying cars we are practically living like the Jetsons (and if you get that reference you are probably old enough to remember life without all of the other things I have mentioned).
It also seems like forever ago since I started cooking for the carnivore. I will admit at first we did a lot of eating out, but even then I would try to figure out something to make for special occasions. On our first Valentine's Day I made these cannelloni. And while they aren't as revolutionary as the internet, these series of tubes were pretty important in our lives. They are proof that we were going to be able to make it work at the dinner table.
A Series of Tubes - Cannelloni
A vegetarian dish that will please even your meat eaters
Ingredients
1 package of cannelloni
16 oz of ricotta
1 egg
½ cup of shredded parmesan
assorted fresh Italian herbs
½ cup of cooked, chopped spinach
2 cups of mozzarella
1 jar of marinara sauce
salt and pepper
Instructions
Start by preheating the oven to 400 degrees.
Then boil the pasta til al dente (remember it will cook more in the oven).
In a large bowl mix together all of the other ingredients except the red sauce and half of the mozzarella cheese. (Note: I used fresh chopped basil and flat leaf parsley, but oregano would also be nice.)
Once the pasta is done drain it and set it aside to cool.
Then lightly sauce a large baking dish.
Fill up the tubes with the ricotta mixture with either a pastry bag or a long iced tea spoon.
Line them up in the baking dish.
Cover the tubes with sauce and the rest of the cheese.
Bake covered with aluminum foil for 20 minutes.
Remove the cover and bake for 5 more minutes until the cheese bubbles.
Even after all these years (our fourth anniversary is this month in fact) we still love these cheesey cannelloni…and each other of course!
Jerri Green
Jerri Green is a vegetarian that lives with and loves a self-proclaimed carnivore. She makes meals work for everyone while juggling the mounting demands of motherhood. Nothing fancy but always fresh, she draws on her southern heritage to bring satisfying food to the table each and everyday.