A sip of this warming soup transports one to the sunny beaches lined with coconut trees standing tall and gives a calming effect to the mind and body.
By Prathima Rao
As you travel round places such as Mangalore in South of Karnataka bordering the Kerala State and then step into State of Kerala in South India, one common and soothing sight that greets you are the abundant coconut trees swaying to the gentle breeze. You will find them bordering the roads or standing proudly in various homes and so on.
Coconut is very much a part of the Kerala and Mangalorean cuisine. The nutty-sweet taste of the coconut finds its way into all of their traditional cuisines in form of coconut oil or fresh coconut milk or grated dry or fresh coconut to name a few. And yet each of the authentic dishes have their own unique taste and flavor that linger in your mouth for long! This is because different forms of coconut and different ways of cooking them when paired with numerous local ingredients give the dish their unique identity!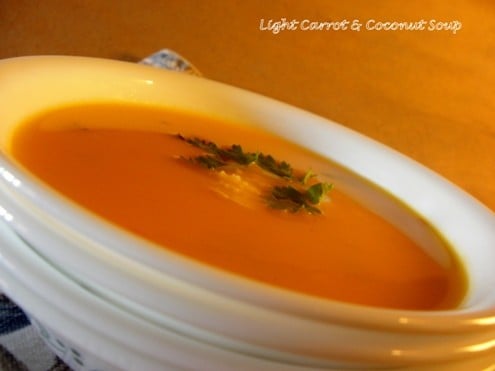 See Also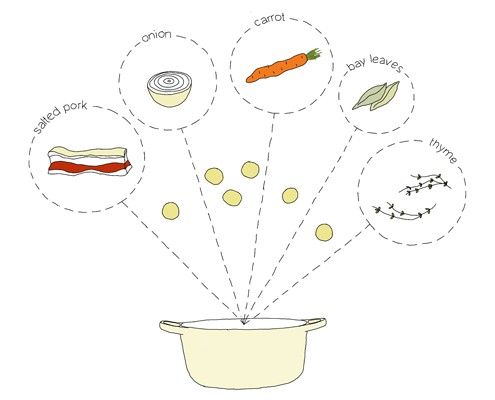 This coconut flavored carrot soup is not a traditional recipe of this region or any where else. Infact this comforting carrot soup is a blend of different flavors and ingredients that are so much a part of the everyday food in the Indian subcontinent. The red tomatoes that are commonly added to carrot soups are replaced by the nutty and pleasantly rich coconut milk and giving it an aroma of a South Indian dish. The blend of flavors is so fresh and rustic without the addition of oil or butter. Freshly minced coriander leaves thrown into the simmering soup in the end makes this bowl of hot soup all the more intoxicating!
A sip of this warming soup transports one to the sunny beaches lined with coconut trees standing tall and gives a calming effect to the mind and body. A perfect soup for brunch, lunch or light dinner for the coming winter.
A Light Carrot and Coconut Soup
Ingredients
250 g carrots, diced
1 big onion, diced
5 cloves garlic, peeled
6 cups water
½ cup coconut milk/ coconut cream (available in tetra pack)
juice of 1 lemon
1 tbsp fresh coriander leaves/ cilantro - coarsely minced
1 tbsp coconut flakes, dry roasted (optional)
Instructions
Throw in the carrots, onion, garlic into a pan, add the water and cook till the carrots are tender.
Remove from heat, let cool a bit and blend to a puree until smooth. If you want to keep the flavor of garlic very mild, then discard the garlic cloves before you blend.
Return the soup/ puree to the pan and boil for about 4 to 5 mins. You may add some water to get the soup as per your required consistency.
Add the coconut cream and simmer for few mins. Do not boil too much after adding the coconut milk as the coconut milk will split.
Remove from heat and add the lemon juice, pour into individual soup bowls. Garnish with cilantro & coconut flakes and serve piping hot with bread sticks or garlic bread or baguette.
Notes
1. To dry roast coconut flakes, place them in a warm griddle and let them turn pale and release their aroma. Stir in between. 2. You may skip the toasted coconut flakes but dont exclude the coriander. They give warm, earty flavor to the soup. And use only fresh ones please and not the dried variety.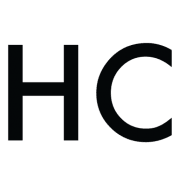 Prathima Rao
Born and brought up in South India amongst hard core food enthusiasts. Cooking and food has always been a part of Prathima's growing years with every family gathering accompanied by a scrumptious and elaborate meal. Now, traditional vegetarian food of her community has paved way to contemporary and quicker dishes.