When in Paris, we fill our hearts not only with romance, but our appetites with the oh-so-glorious food it has to offer. Frolick around one of the most beautiful cities in the world through the eyes of a Parisian.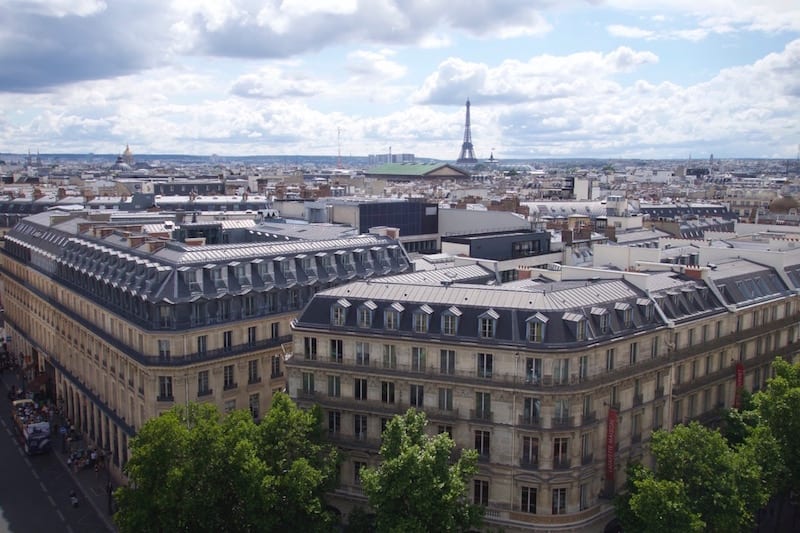 One of the reasons I love Paris is that there are so many great restaurants. I try to test out a new one every weekend, and these are my recent favorites. They're are all on the right bank, I'll give you my tips for the left bank soon!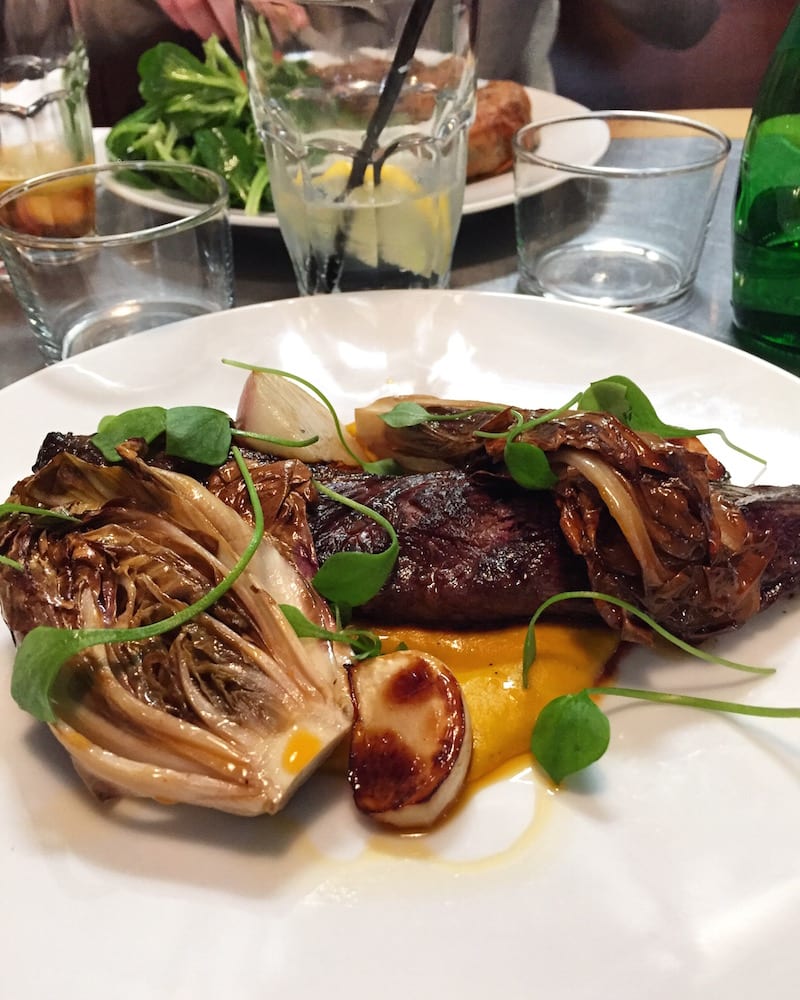 Onglet for main course at Gros
Gros
In a quiet and somewhat hidden side street of Rue du Faubourg Saint Denis, you'll feel far away from the hustle and bustle of the rest of the neighbourhood. Everything we ate there was spot on, and very reasonably priced. We had a 3 course lunch for just 22 euro!
4 Cour des Petites Écuries
75010 Paris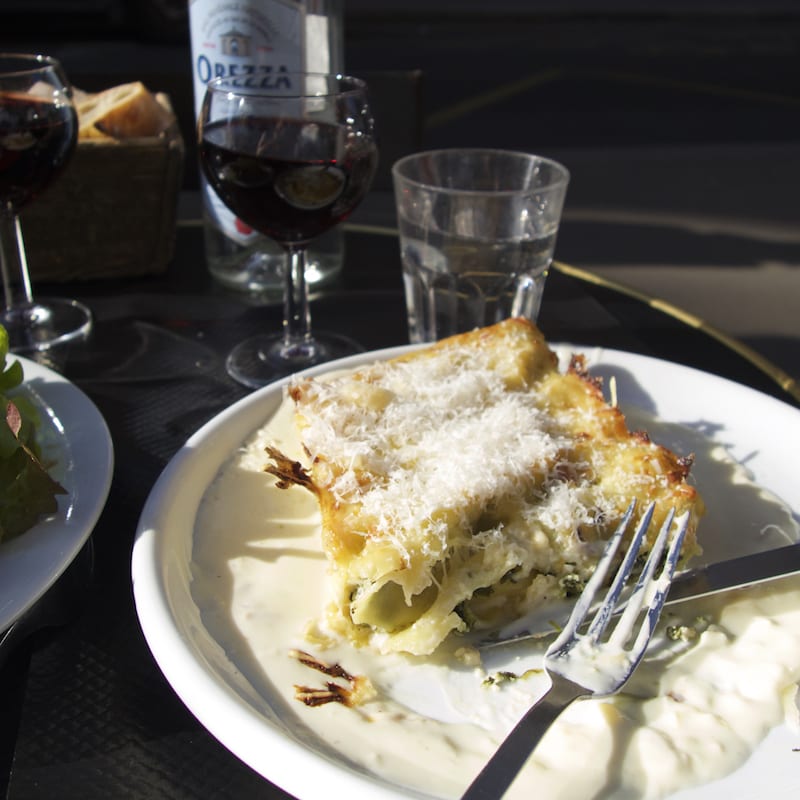 Terra Corsa
Terra Corsa
Located on Rue des Martyrs in the hip part of town, this tiny store and restaurant serves typical Corsican cheeses, charcuterie and hearty pies (many of them are vegetarian, that's quite rare in Paris!). All accompanied by a glass of Corsican wine of course.
42 Rue des Martyrs
75009 Paris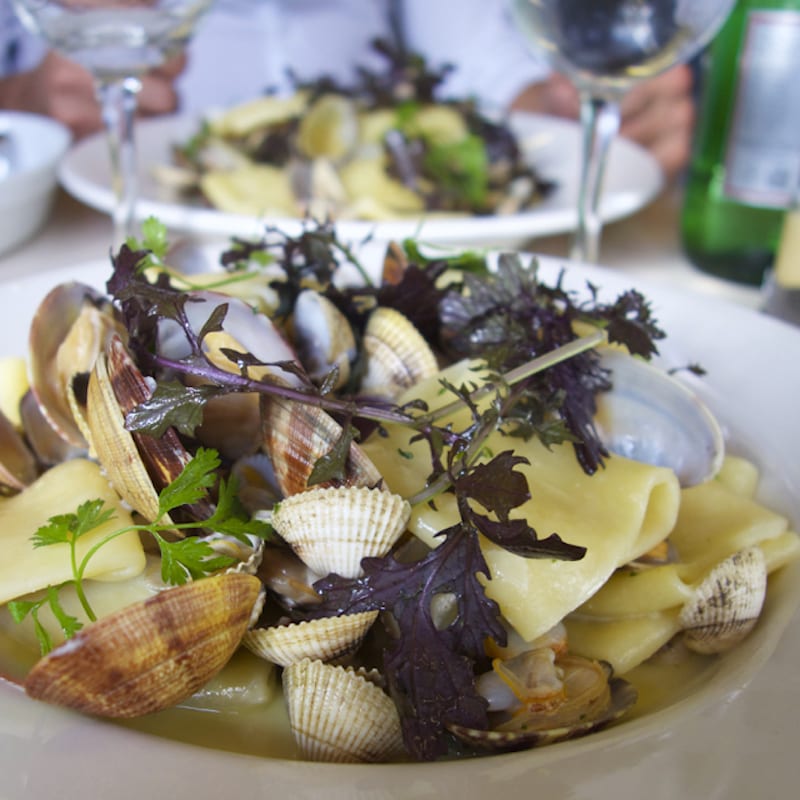 Pasta vongole at La Fronde
La Fronde
Right in the heart of the Marais, you'll find La Fronde. A non-pretentious restaurant that maybe doesn't look like a place where you'll find great food, but first impressions can be so deceiving. I love the friendly staff, and I have yet to eat something there that wasn't utterly delicious. I especially recommend their suggestion du jour, which is often a so-good-you'll-lick-the-plate pasta.
Another plus: the prices are those of a restaurant far outside the Marais.
33 Rue des Archives
75004 Paris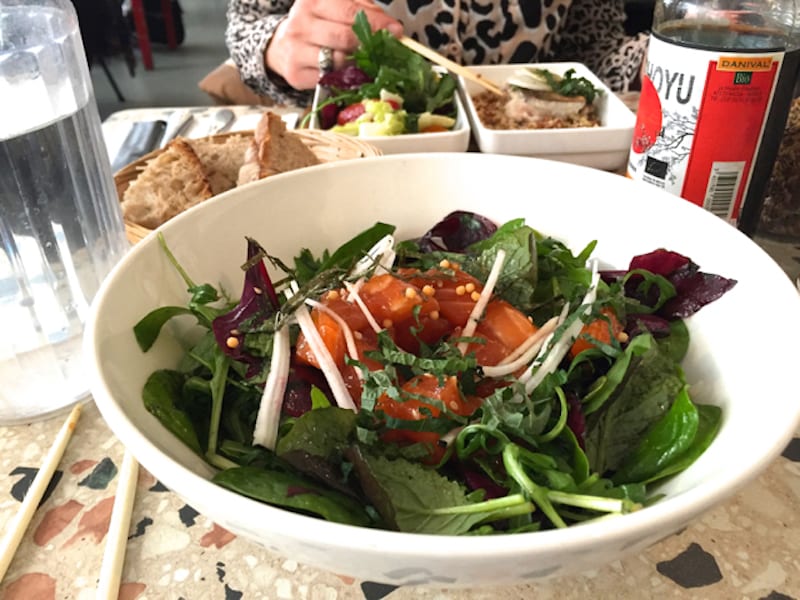 Healthy salad bowls at Nanashi
Nanashi
At Nanashi you eat Parisian Bento, which translates into very tasty stuff in boxes. If you're looking for some healthy food, this is the place for you. Although the desserts would probably get in the way of your healthy diet, they have cakes to die for.
Oh, just a word of warning: this is THE hipster place of the neighbourhood, expect lots of very fashionable and stylish Parisians making you feel like you're wearing your farming clothes (ok, this might be a bit melodramatic, but I did check if I wasn't secretly wearing clogs).
57 Rue Charlot
75003 Paris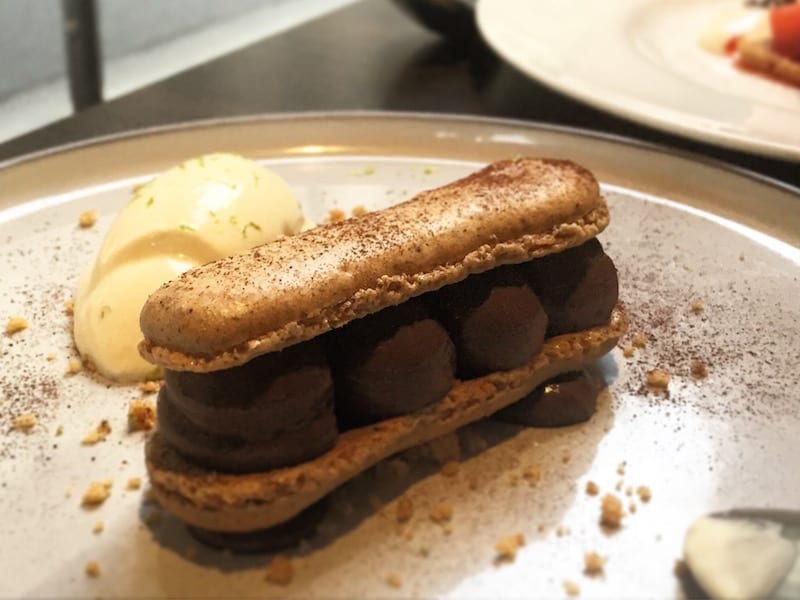 The Maclair at Le Pantruche
Le Pantruche
If you're on the lookout for a classic bistrot around Pigalle, Le Pantruche is the place to go. It's a bit more expensive than my other recommendations, but well worth it if you are going for a romantic rendez-vous (and still quite reasonably priced at 35 euro for a 3 course menu). Expect 'bistronomie', with tasty new versions of the classics. My favourite? The Maclair!
They are in the Bib Gourmand by Michelin, so making a reservation is probably wise.
3, Avenue Victor Masse
75009 Paris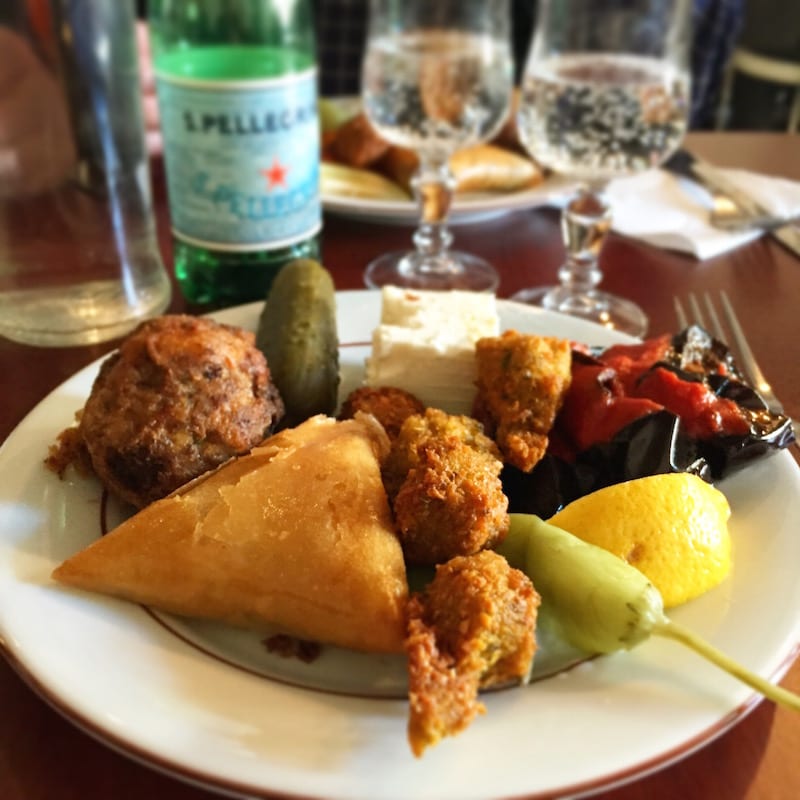 A plate full of goodness at Chez Marianne
Chez Marianne
Rue des Rosiers is where you need to be if you're in the mood for falafel and Chez Marianne is where I like to get my fix. Chances are high you'll have to wait to get a table, but the wait is never very long. Food comes on plates with several items which you choose from the menu. I'm always sure to take the falafel, fried egg plant and a thing called 'brick' (meat pastry made with a sort of phyllo dough).
2 Rue des Hospitalières-Saint-Gervais
75004 Paris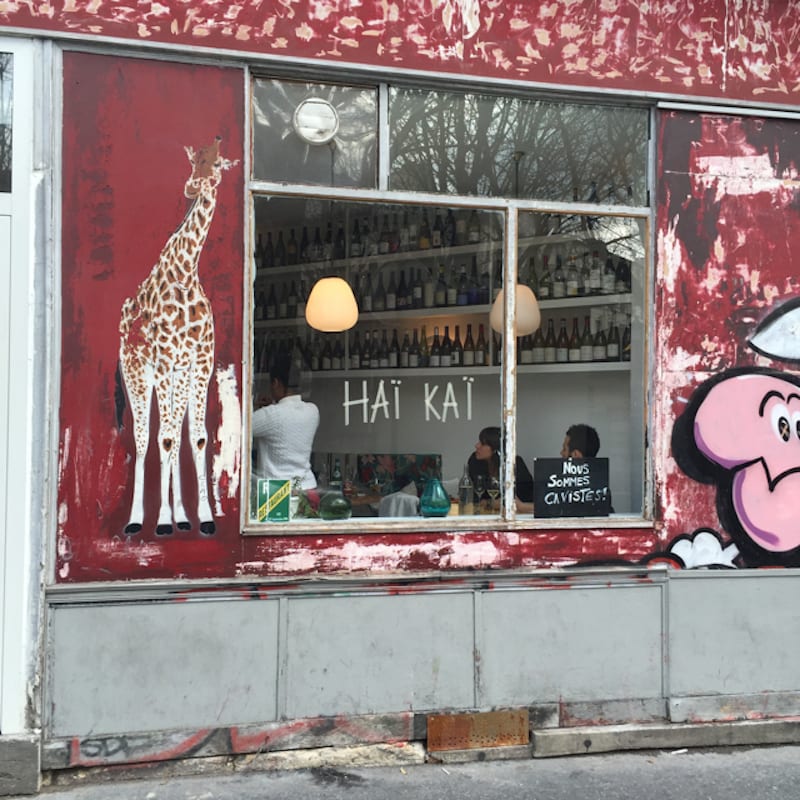 Haï Kaï
Haï Kaï
Haï Kaï is located at the very popular Canal St Martin, near Place de la République. It's easy to mistake Haï Kaï for something else than the fine dining place it is, as the facade is completely covered in graffiti. The kitchen serves light and contemporary food. Think of whole mackerel served with baked chicory, simple but perfect. Portions aren't enormous, even for Parisian standards, but the quality of the food and wine selection more than make up for that. The three course lunch menu costs 27 euro.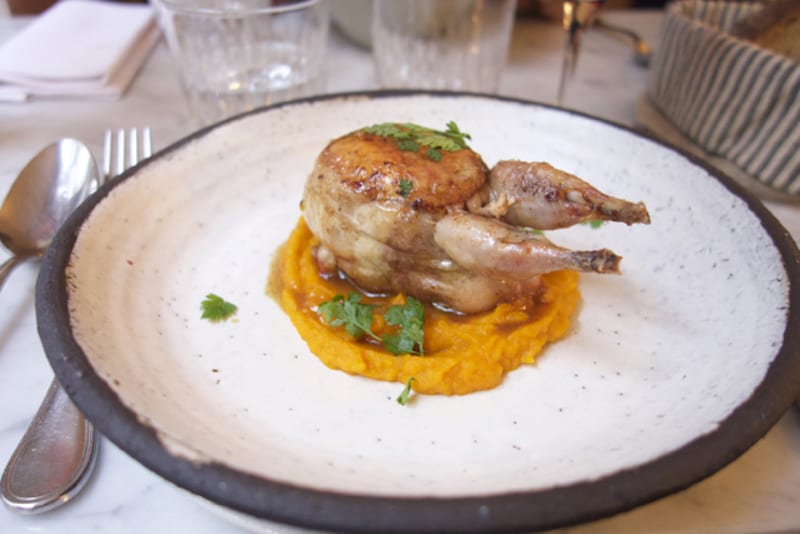 Quail at Ellsworth
Ellsworth
Ellsworth has been very hyped on social media (at one point I couldn't look at Instagram without another big Parisian blogger eating there), and that's probably the reason why it took me a while to try it. But, in the end I caved, and I was glad I did. Though some of the portions are on the small side, everything was very tasty. Ellsworth is located not far from the Louvre and the perfect place to dine for those afraid of speaking French or misunderstandings, it seems that many of the staff are native English speakers.
34 Rue de Richelieu
75001 Paris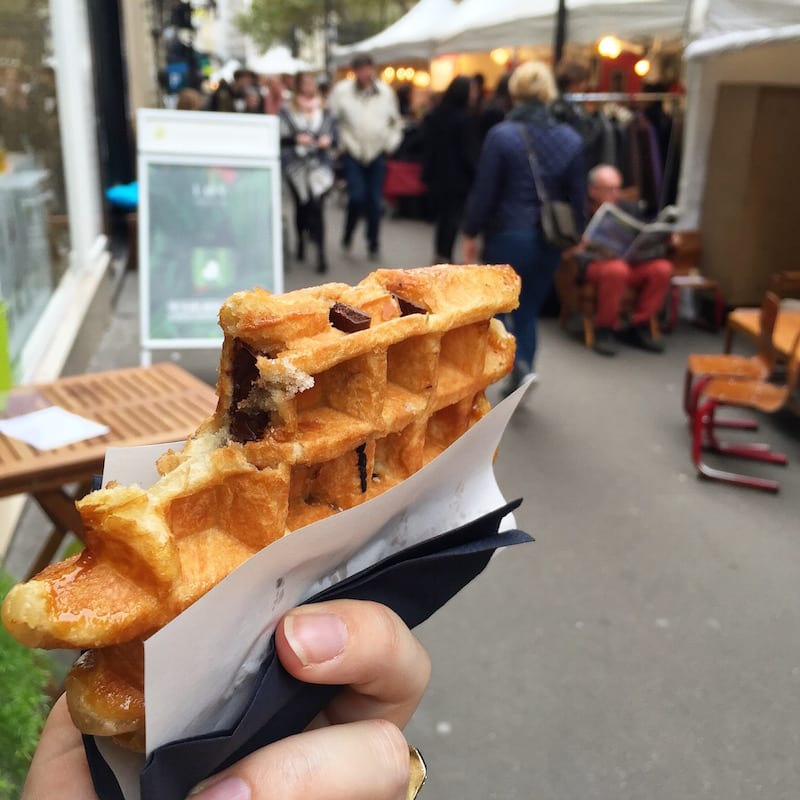 The best Belgian waffle outside of Belgium
Le Comptoir Belge
My last recommendation isn't a restaurant, but a place where they sell the best Belgium waffles I ever had outside of Belgium.
Do take the gauffre with Belgian chocolate, unlike other places where you're likely to get a waffle with nutella (also good, but this is much better) they insert pure chocolate sticks into the warm waffle. I'll withhold further waffle porn, but you can wake me up for one of those every night!
58 Rue des Martyrs
75009 Paris
P.S. Other restaurants not to be missed on the rive droite: Pierre Sang, Atelier Vivanda, Rachel's Pont aux Choux, Le Comptoir de la Gastronomie, Saturne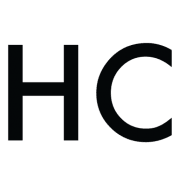 Eva Lambooij
Eva blogs on www.evainthekitchen.com and writes for Dutch the Magazine. Eva is Dutch and lives in both Paris, France as Utrecht, the Netherlands. Cooking for the people she loves is what makes her happy. On her blog she shares her favourite recipes, along with her favourite restaurants in Paris. She believes food should be enjoyed and although she loves cooking, her recipes don't require a full chefs training, nor 25 ingredients. Cooking is fun, so she encourages you to experiment, don't be afraid of making mistakes in the kitchen (because frankly, we all do). Who know's what you'll come up with. Bon appétit!