3 Delicious Dips for Artichokes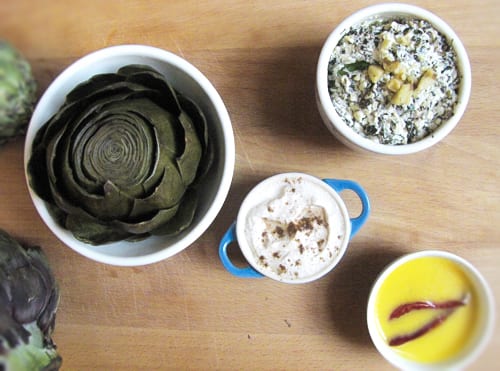 A fresh, ripe artichoke cooked perfectly will taste like the very essence of late spring and early summer. It's more than worth the care and wait.
By Ruth Kirwan
The humble artichoke reminds me of how it feels to be miserable in chair pose. Halfway through, my instinct is to throw in the towel, to lie back down on my mat and pretend I've pulled something. An artichoke can only be eaten if a little work is put into removing its sharp edges and hidden prickly parts. The entire vegetable is an antidote to my reluctance to leave my comfort zone. But after the thorns are snipped, and the inedible choke surrounding the heart is scraped away, after the artichoke is cooked slowly and patiently, what emerges is wondrous.

3 Delicious Dips for Artichokes
A fresh, ripe artichoke cooked perfectly will taste like the very essence of late spring. It's more than worth the care and wait.
Ingredients
5 Spice Tofu Dip
½ block tofu, medium-soft
1 lime, ½ zest and fully juiced
1 teaspoon Chinese 5 spice
½ teaspoon cayenne powder
1 pinch of salt
Walnut Pesto Dip
¼ cup chopped walnuts
¼ cup torn basil
3 cloves fresh garlic, smashed
2 tablespoons olive oil
Chili-Lime Butter Dip
4 tablespoons unsalted butter
1-2 dried birdseye chili peppers
1 lime, juiced
1 teaspoon sriracha hot sauce
Instructions
Tofu dip
Blend the ingredients together until smooth. Serve cold.
Walnut dip
Combine all ingredients in a food processor and pulse until desired consistency is reached. I like mine slightly chunky, but you can process it smoother if you prefer.
Chili lime dip
In a small saucepan over medium heat, lightly toast the peppers for one minute. When the skin has just started to blister, add the butter and let melt. Remove from heat and add the lime juice and sriracha. Let sit for at least 10 minutes to steep, then remove the birdseye peppers and serve.
Ruth Kirwan
Midwestern transplant living in New York City. I live in a teeny apartment in NYC with my husband, whom I call the Big Man. I'm a food writer, recipe developer and tester, cooking school instructor, and total cheese lover. I'm happiest whenever I'm in front of a hot stove with a wooden spoon in my hand.