While planning a menu for holiday parties, include a flavorful salad of greens, fruit, nuts, and cheese as an appetizer or side dish. Friends and family will not be able to resist these fresh creations.
By Kate Devine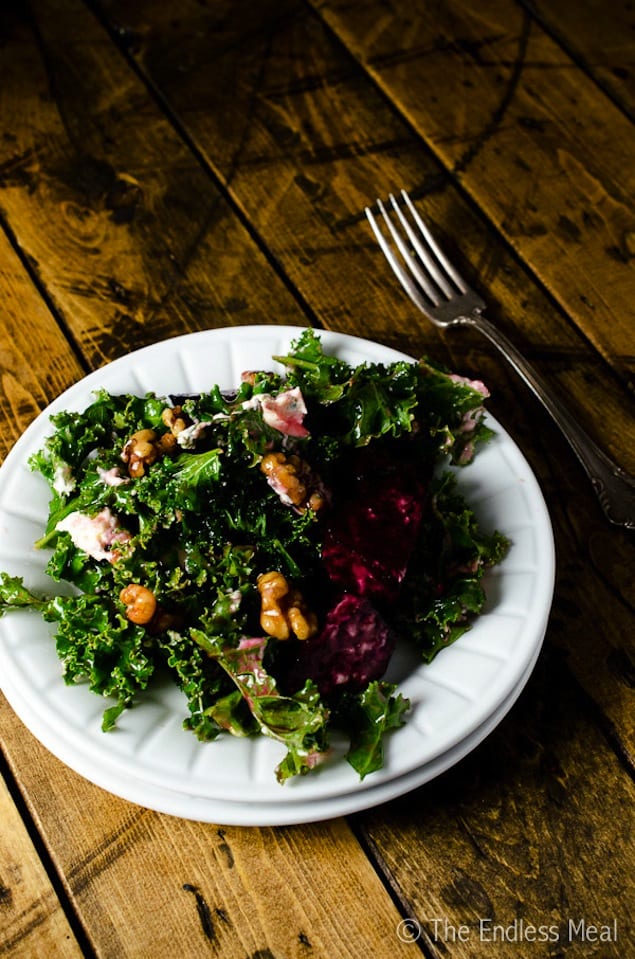 The Endless Meal
Kale is heartier than other greens, and the perfect base for a winter salad. Earthy, sweet beets and creamy goat cheese make this salad irresistible. Get the recipe here.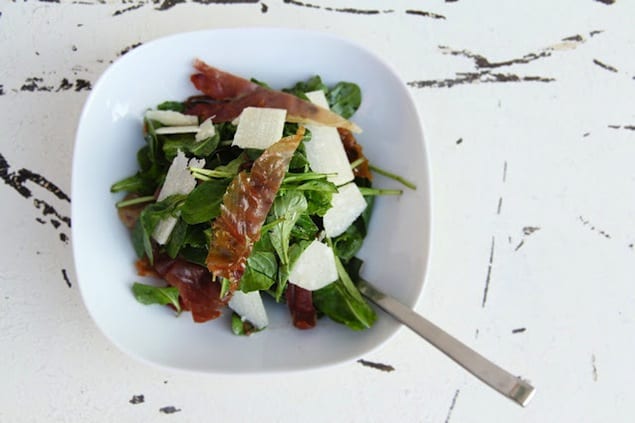 Brooklyn Salt
This salad is simple yet inspired. Just greens, cheese, and prosciutto keep it easy for you and enjoyable for your guests. Get the recipe here.
Cranberry-Avocado Salad With Sweet White Balsamic Vinaigrette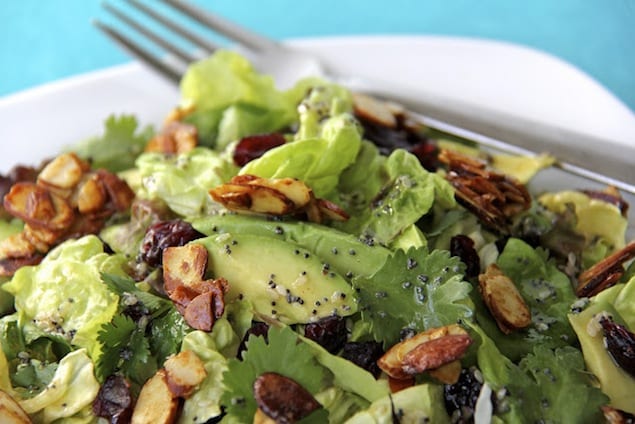 The Cafe Sucre Farine
This salad has a variety of textures and tastes. Creamy avocado, crispy greens, crunchy nuts, and sweet dried cranberries are a feast on their own. Get the recipe here.
Arugula, Potato, and Green Bean Salad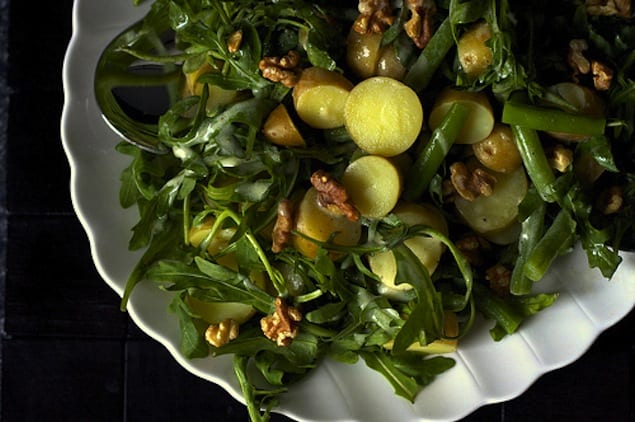 Smitten Kitchen
The cold weather calls for a salad with a bit more substance. If served as a side, this dish could double as your salad and your starch! Get the recipe here.
Apple Pecan Feta Spinach Salad with Maple Cider Vinaigrette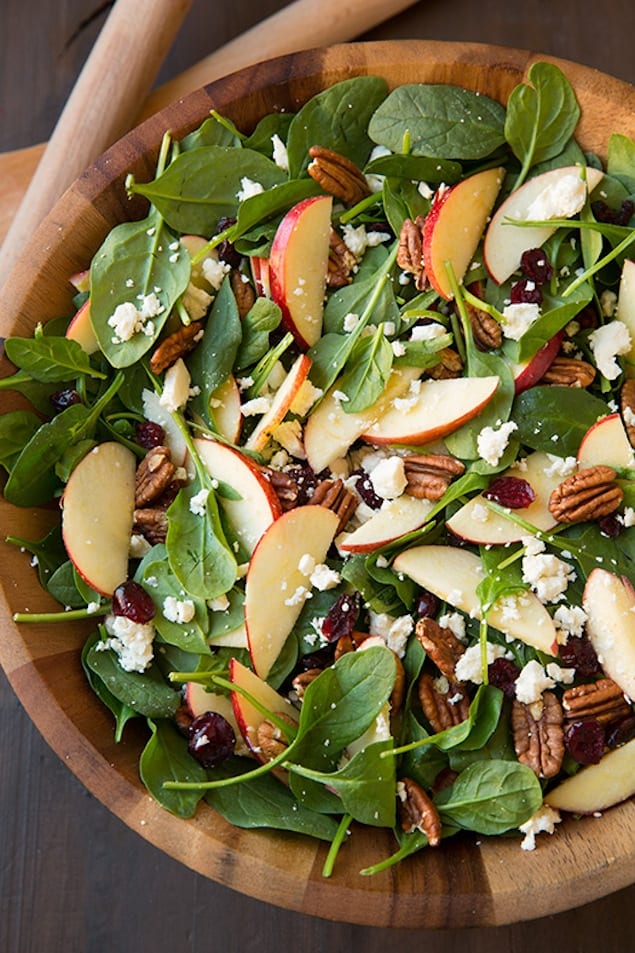 Cooking Classy
This salad looks and tastes like a harvest. Apples, pecans, feta, and spinach fit so perfectly together, do not be surprised if your guests go back for seconds. Get the recipe here.
Kale Caesar Salad with Spiced Roasted Chickpeas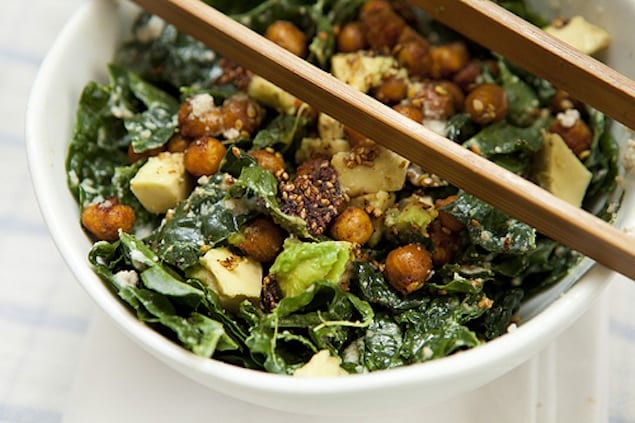 Sassy Kitchen
Kale trumps romaine for flavor, and spiced roasted chickpeas are a step up from croutons. Homemade cashew based caesar dressing is easy to whip up and will certainly impress guests. Get the recipe here.
Brussels Sprout Salad with Pomegranate, Walnuts & Jalapeno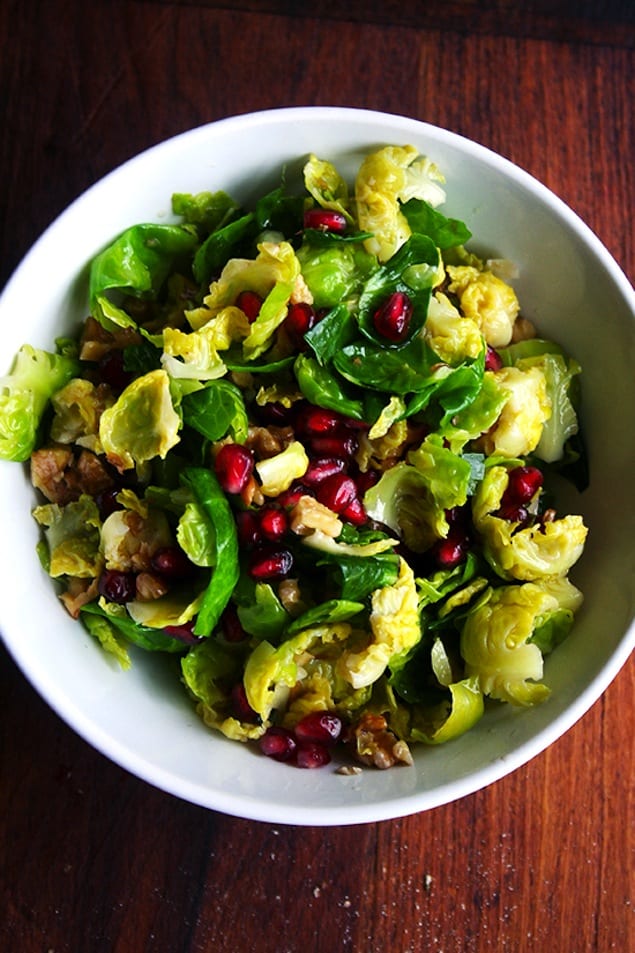 Alexandra Cooks
Use the leaves of brussels sprouts as your main greens for a change, and add some spice with jalapeño. Tart pomegranate seeds offer a pretty ruby color and variety in taste.  Get the recipe here.
Delicata Squash and Bulgar Salad with Maple Vinaigrette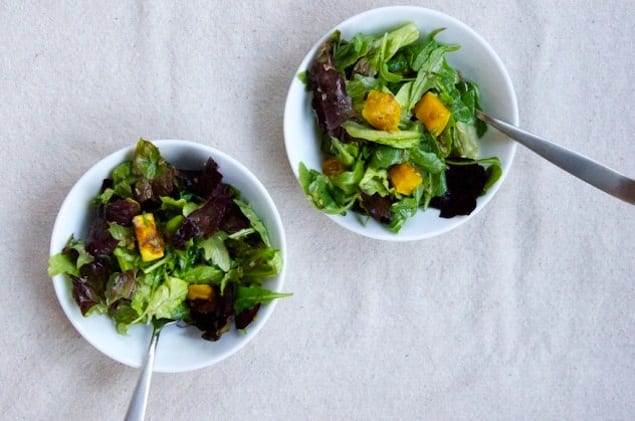 Dula Notes
Roasted squash is still a favorite of the season, even after leaves have fallen. Bulgar adds some oomph to this salad. Get the recipe here.
Autumn arugula salad with caramelized squash + pomegranate ginger vinaigrette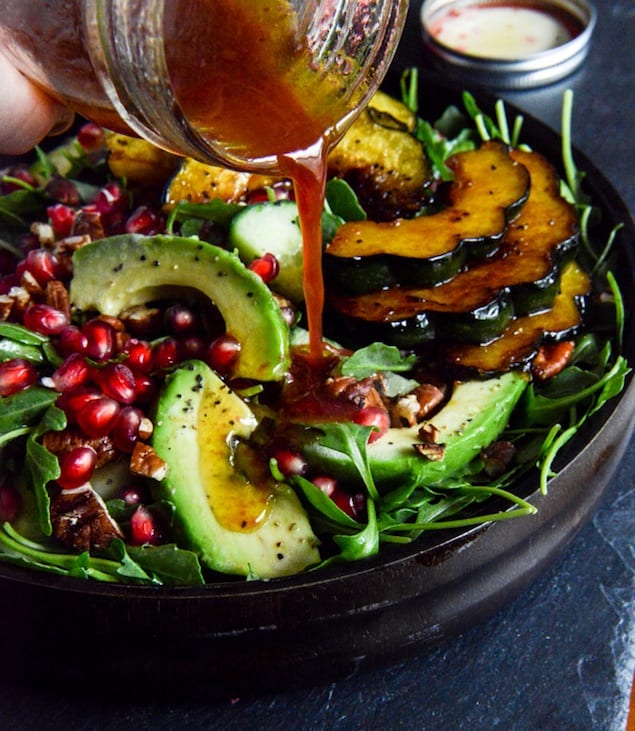 How Sweet Eats
Late fall to January is the season for pomegranates, so their seeds are perfect to accent winter salads. Pomegranate ginger vinaigrette is aromatic, sweet and zesty. Get the recipe here.
Nutty Fried Brie & Winter Fruit Salad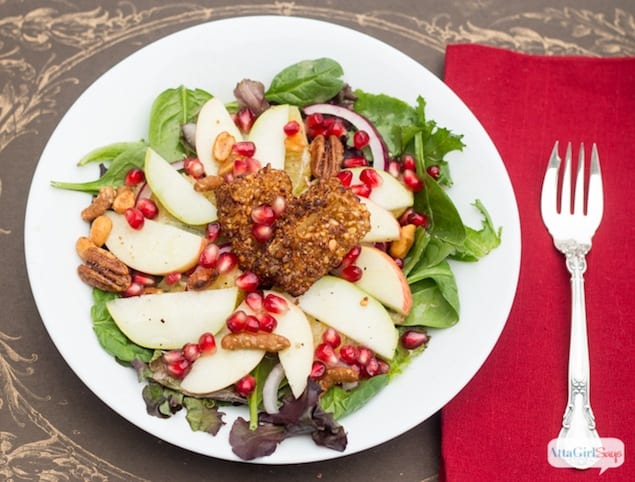 Atta Girl Says
Warm, nut encrusted brie is a decadent treat to top off this salad of fruit and greens. Citrus vinaigrette dresses up apples, pomegranates, and nutty cheese. Get the recipe here.
Kate Devine
Kate Devine began cultivating her culinary insight at the age of 13 during her first trip to Italy. While studying at Rutgers University, she spent a semester traveling through Spain sampling the regional fare. As an editorial intern for Honest Cooking, Kate couples her love of good food with her love of writing.