With the start of outdoor sports in April, it is no surprise that National Pretzel day is also in the same month. The recipes below are some of the best and most unique ways to celebrate the popular snack. The following ideas are both sweet and salty so there is destined to be something for everyone.
By Mallory Davis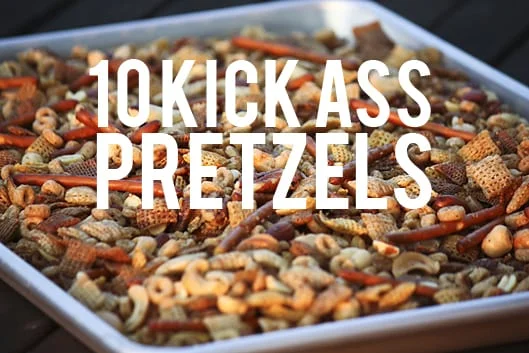 1. Homemade Soft Pretzels
Might as well start off with the most original and necessary of them all. These fluffy pretzels are easy and can be ready in just 30 minutes! Dip your freshly baked pretzel in cheese, cinnamon sugar, or mustard, and admire the simple, but delicious party snack. Get the recipe here.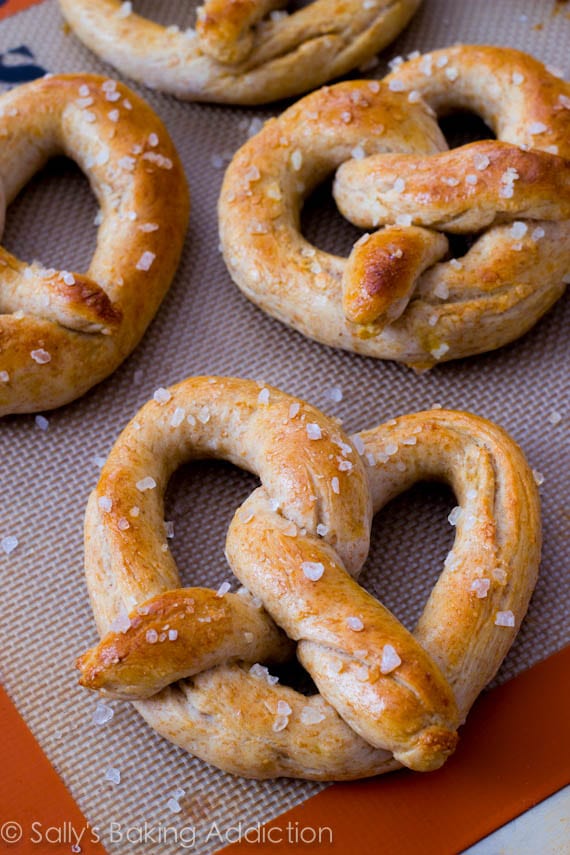 http://sallysbakingaddiction.com
2. Triple Decker Maple Peanut Butter Pretzel Fudge
The title alone sounds impressive, but wait until you taste them! Peanut butter maple fudge is surrounded by a pretzel and chocolate crust and is destined to be a new favorite for dessert lovers. This fudge proves that great things really do come in small packages. Get the recipe here.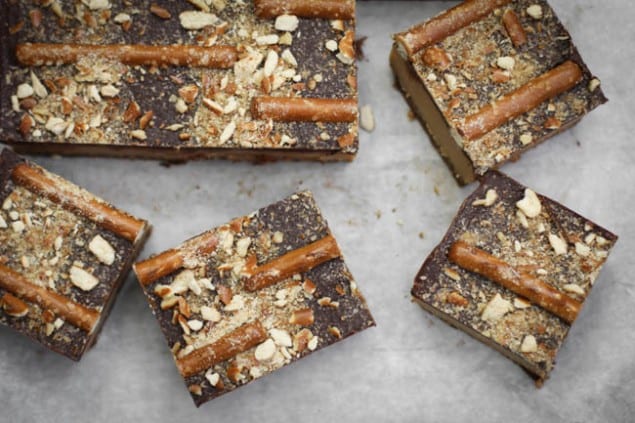 http://www.sprinklebakes.com
3. Pretzel Nutella Ice Cream Bites
These heavenly morsels are an ingredient match made in heaven. Two pretzels are covered in Nutella, then ice cream (of your choice) is sandwiched between them, and then it is dipped in more chocolate and then in hazelnuts (or more pretzels!) to create a super sweet dessert. This dish isn't just for Nutella lovers, but for anyone who loves sweets. Get the recipe here.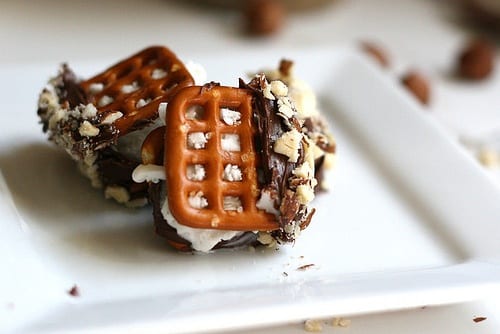 http://www.perrysplate.com
4. Slow Cooker Snack Mix
A party is not complete without the classic snack mix starring the pretzel, of course. Using a crockpot ensures all of the different flavors come together to form savory greatness. Add or take out certain ingredients to make your perfect pretzel mix! Get the recipe here.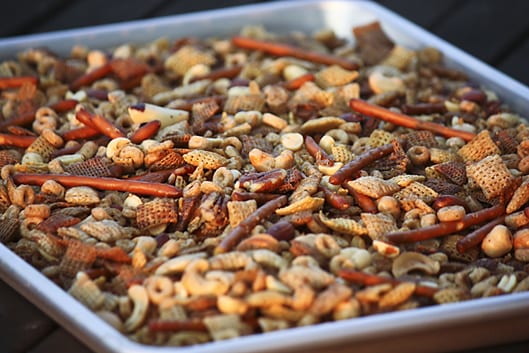 http://unsophisticook.com
5. Salted Chocolate Toffee Pretzel Bark
You won't believe this recipe only takes five easy ingredients (you probably have them in your pantry right now), and that makes it that much better and easier to make! This dessert is a perfect marriage between sweet and salty. Get the recipe here.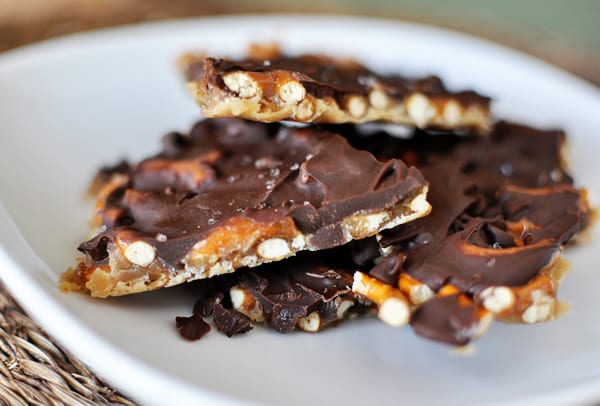 http://www.melskitchencafe.com
6. Pretzel Bread
Want to improve your sandwich at lunch? Then bake a loaf of this fluffy yet filling pretzel bread. Many restaurants are now making hamburgers and other sandwiches with pretzel bread and nothing will ever be the same. See what you are missing–if you haven't already divulged in this new food trend! Get the recipe here.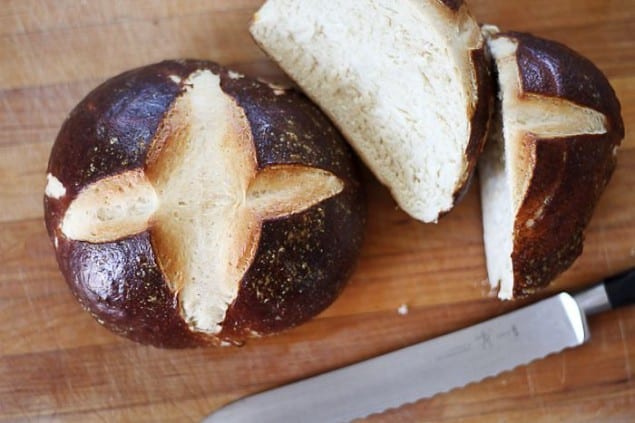 www.pinterest.com
7. Caramel and Chocolate Dipped Pretzel Rods
These treats are so pretty you may not want to eat them–yeah right! They are way too sweet to pass up. You can also personalize these by dipping them in just caramel or chocolate, or both. You can then dip them in whatever candies you's like–M&M's, heath bar, Reese's Pieces, etc…The list goes on and on! Get the recipe here.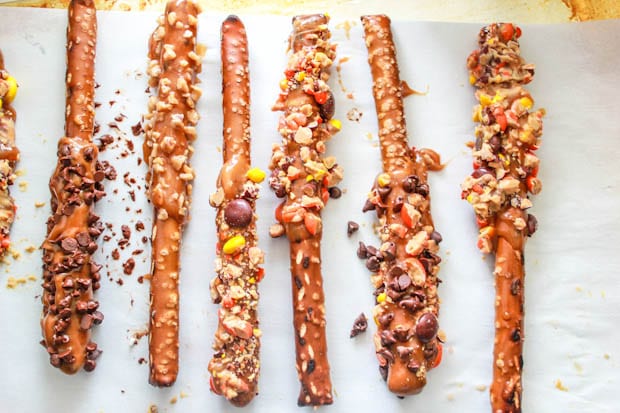 http://sallysbakingaddiction.com
See Also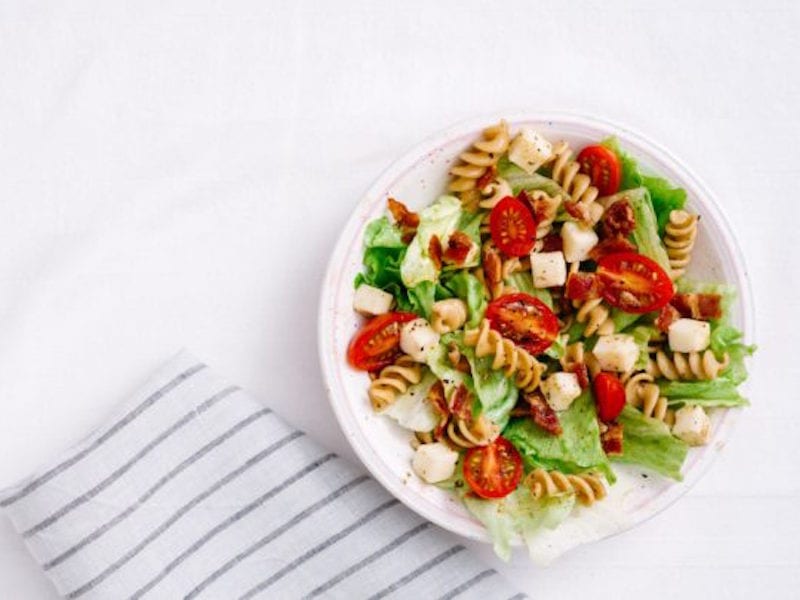 8. Honey Mustard Pretzels
Pretzels and mustard go together like peanut butter and jelly so there's no doubt a recipe including the two would be included in this list of pretzel recipes. They are tangy, zesty, sweet, and perfect to pair with a beer and a good sports game. Get the recipe here.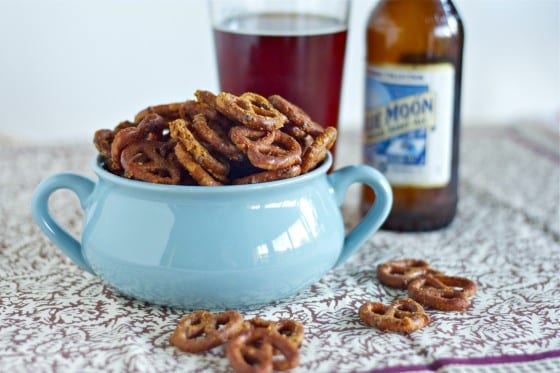 http://www.countrycleaver.com
9. White Chocolate Berry and Pretzel Clusters
You can feel good about making and eating these because they are healthy–well, not exactly. They do include cranberries and apricots, but they are then covered in sweet white chocolate and salty pretzels. Get the recipe here.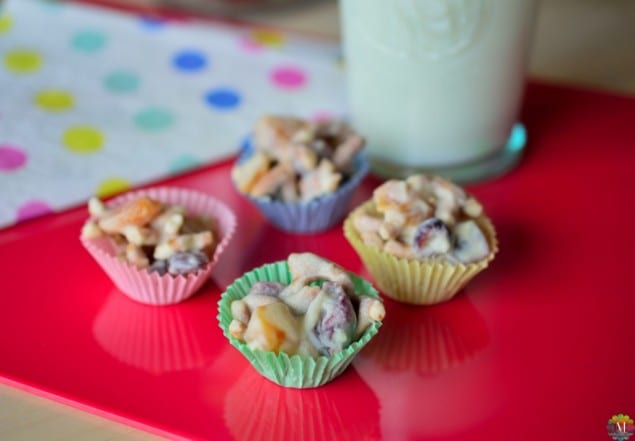 www.fashionaddictedfoodies.com
10. Kentucky Bourbon Bacon Snack Mix
We had to conclude this list with bacon, because why not? This classy and unique snack is perfect for any get together and you'd better make more than one batch because it will be gone as soon as you set the bowl down. Get the recipe here.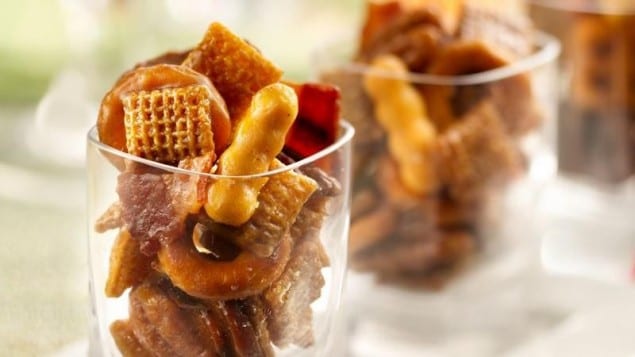 www.bettycrocker.com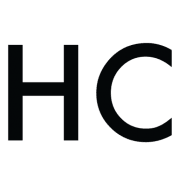 Mallory Davis
Mallory was born and raised in Monterey, California. She has a degree in Broadcast Journalism with an emphasis in sports broadcasting. Although baking and cooking were a favorite part of her childhood; a diagnosis of Celiac Disease is what really set off her passion for food. The diagnosis encouraged her to start cooking and experimenting a lot more. She enjoys making up new and unique recipes to fit her and others' diets (always making sure to include chocolate whenever possible).