Yogurt and Coconut Curried Mussels
These mussels simmered and cooked in vinegar and coconut milk, and by the time the yogurt was folded in, there were some hungry faces at the table.
By Nik Sharma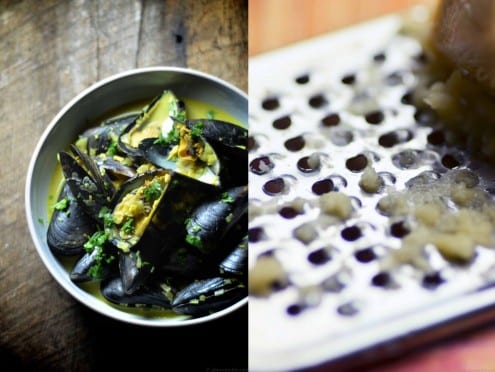 On our latest trip to the market, we picked up a fresh bag of mussels in addition to a bushel of freshly steamed crabs. It turned out we bought way too many crabs for three people. I was so excited to cook the mussels, that off they went into the stockpot as soon as we reached home. This is a Goan-based recipe that I use quite often based on my mother's original version that I've modified and changed a little along the way. It has all the goodness of a rich and flavorful Indian curry but much lighter.
Yogurt and Coconut Curried Mussels
These mussels simmered and cooked in vinegar and coconut milk, and by the time the yogurt was folded in, there were some hungry faces at the table.
Ingredients
2½ lbs mussels
1 tablespoons olive oil
1 medium size red onion, finely minced
2 garlic cloves, finely minced
1 teaspoon ginger root, freshly grated
½ teaspoon turmeric
¼ teaspoon cumin, ground
¼ teaspoon cloves, ground
¼ teaspoon nutmeg, ground
½ teaspoon kosher sea-salt
½ teaspoon black pepper, freshly ground
1 can light coconut milk
½ cup white rice wine vinegar
½ teaspoon cayenne pepper
3-4 fresh/dried curry leaves
½ cup plain non-fat greek yogurt
juice of 2 freshly squeezed limes
2 tablespoons fresh cilantro, finely chopped
Instructions
Wash and scrub the mussels clean under cold water, remove any beards if present and keep the cleaned mussels on ice.
In a large stockpot, heat the olive oil on a medium flame. Sauté the onions, garlic and ginger for about 3 minutes or until the onions turn translucent. Add the turmeric, cumin cloves, nutmeg, salt, and pepper and cook for another minute with constant stirring.
Stir the coconut milk, vinegar, and curry leaves into the onion mixture. Fold in the cleaned mussels and cover the stockpot with a lid. Bring the broth to a boil and cook for 5 minutes. Reduce the flame to a gentle simmer.
Beat the yogurt in a small bowl and mix it along with the lime juice into the broth. Taste the broth and season with additional salt and pepper if desired. Discard any mussels that did not open during the cooking.
Garnish the mussels with the cilantro. Serve hot with warm toasted bread or plain rice.
Nik Sharma
Nik Sharma is the cook, author and photographer behind "A Brown Table" and currently resides in Washington D.C. He is a self-taught cook that is constantly trying to infuse "exotic" spices and ingredients by learning different cooking techniques in day-to-day meals with the motto of keeping all cooking methods fun, simple and useful.