This warm and inviting stew is the perfect home-style winter dinner. A ragout of winter vegetables: turnip, carrots, brussels sprouts and pumpkin, tossed in a tomato sauce with kale and quinoa.
By Joana Oliveira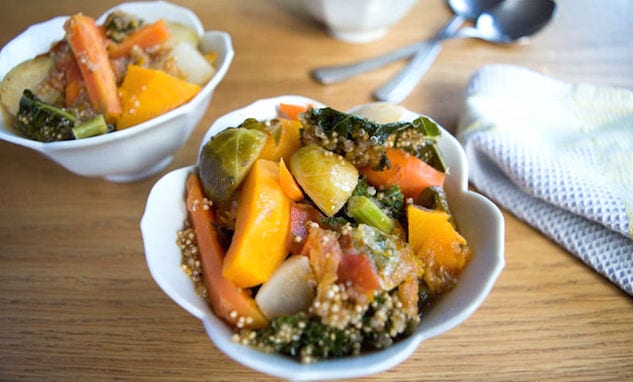 Warm and inviting, a ragout is greatly appreciated on cold evenings. I suppose this is why this hearty French style stew was my first winter craving.
This colorful one-pot meal with winter veggies represents comfort food at its healthiest and makes the perfect home-style dinner. Vegan and gluten-free!
But what is ragout? We could say a ragout is a french style slow-cooked stew made with love. Ragout is French for stew but the French make their ragouts slowly and with extraordinary care. The slow cooking allows flavors to develop over time, creating a richly layered flavor and a particularly refined dish. There are also two important cooking nuances that make all the difference: first it should never boil, but simmer, and secondly, the herbs (normally bay leaf, thyme and rosemary) should be packed in a little bundle called bouquet garni and removed before serving.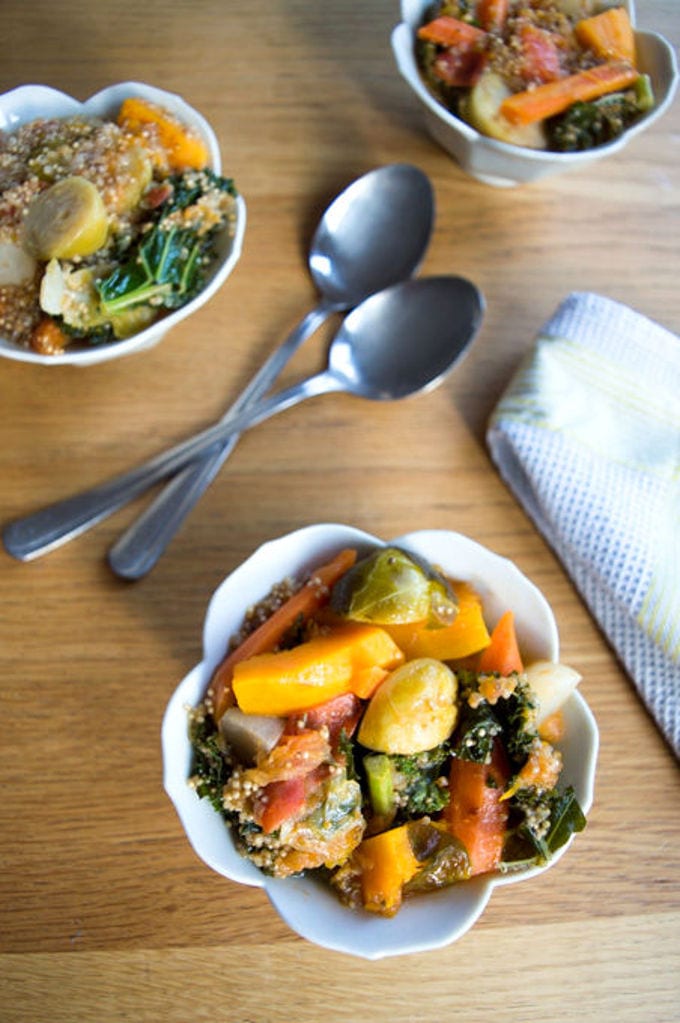 See Also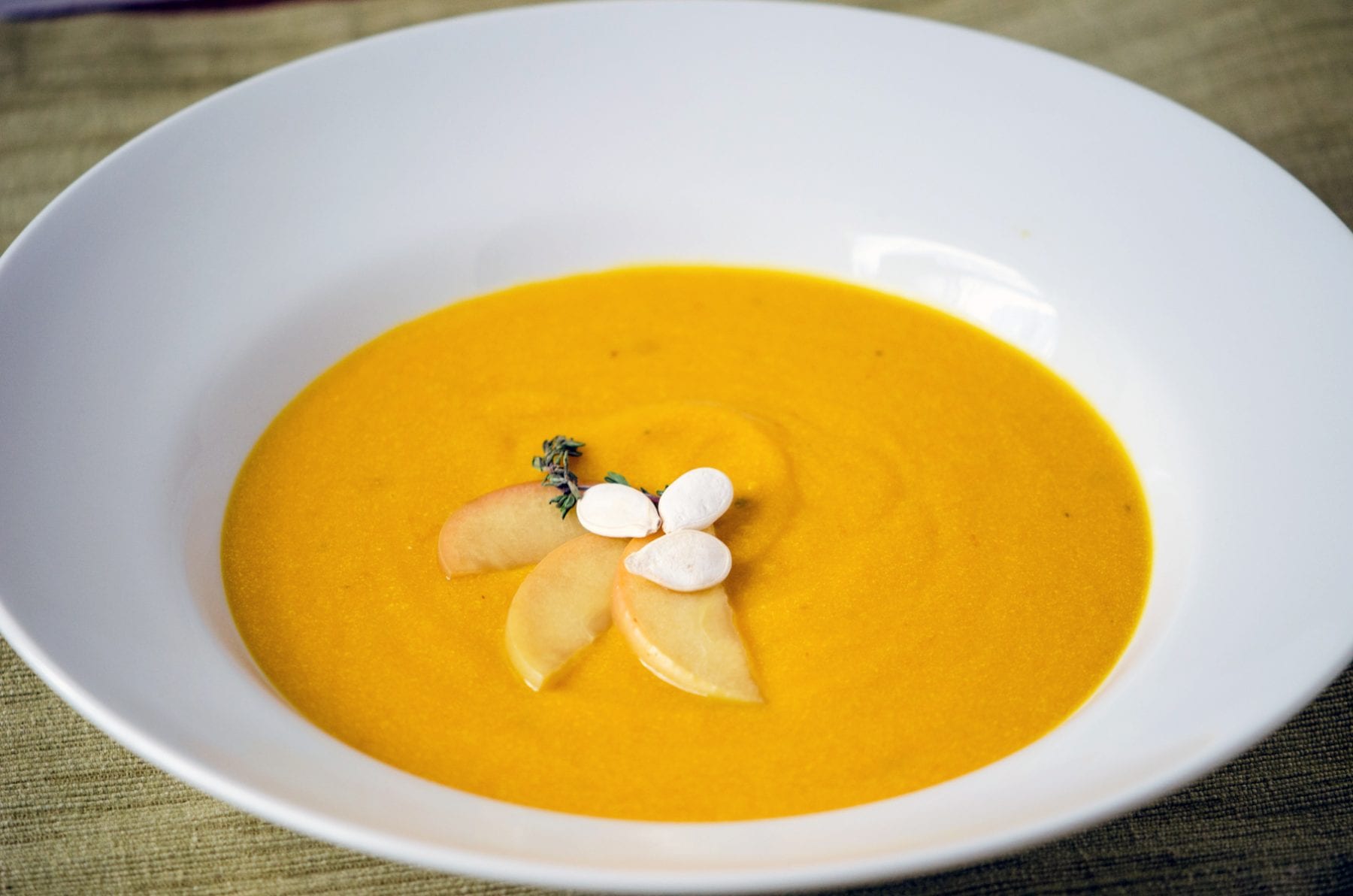 For this recipe I chose some root vegetables like carrots and turnip, complemented by brussels sprouts and pumpkin, all cooked in a classic tomato sauce. I finally added kale and quinoa for a filling and meatless meal.
Tip 1: Seasonal, organic ingredients will definitely enhance the stew's flavors.
Tip 2: I suggest pairing with a bottle of good, French red wine like a Merlot.
Bon appétit!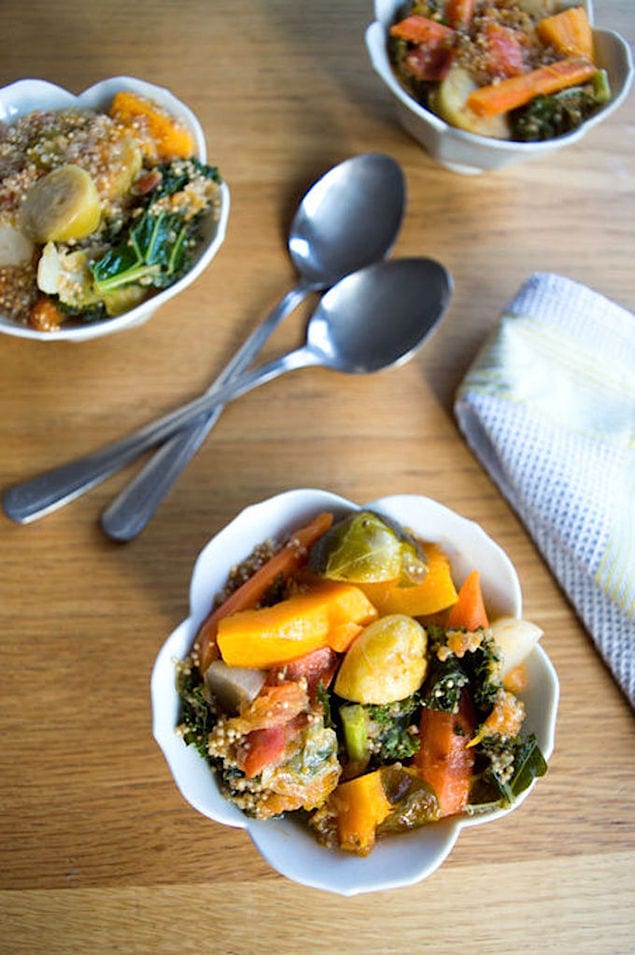 Winter Vegetables Ragout with Kale and Quinoa
This inviting stew is a perfect home-style dinner. A ragout of winter veggies: turnip, carrots, brussels sprouts, tossed in tomato sauce with quinoa.
Ingredients
3 tbsp olive oil
1 garlic clove
3 medium tomatoes, coarsely chopped
1 cup of water (or 1/2 cup white wine and 1/2 cup water)
Bundle of herbs/bouquet garni: 1 bay leaf, 2 thyme sprigs and 1 rosemary sprig, all tied together with a string
2 carrots, julienned
1 turnip, diced
1 handful brussels sprouts (4), halved
1 cup pumpkin, diced
Pinch of salt
1 cup water
1 cup green kale, sliced
1 cup quinoa
Instructions
Heat the olive oil with the garlic clove in a large deep pan over medium–high heat. Remove the garlic clove and reduce heat to medium.
Add the tomatoes and let them cook for 15 minutes or until they turn into a thick sauce.
Add water, wine (optional) and the bundle of herbs and bring to a boil.
Sprinkle with salt and add the carrots, turnip, sprouts and pumpkin. Reduce heat to mininum.
Simmer for 40 minutes or until vegetables are tender yet crisp (prick them with a knife).
Finally add more water, kale and quinoa and cook over medium-low heat for approximately 20 minutes.
Remove the bundle, salt to taste and serve.
3.2.2885
Joana Oliveira
My name is Joana and I am a passionate foodie on a food sensitivities friendly diet. My Gut Feeling blog features mainly gluten free, dairy free and low FODMAP recipes. For more info please visit: