A hearty winter salad complete with bread soaked in a maple balsamic dressing, apples, and butternut squash.
By Kimberly FitzSimons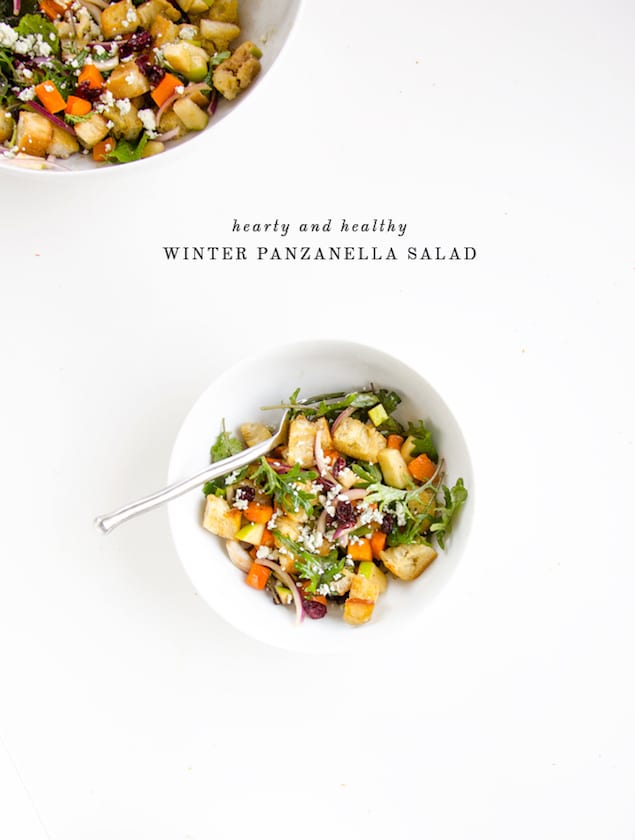 Have you ever bought a soft, fresh baguette from the grocery store only to find it sitting on the counter, dry and crunchy the next day?
It happens to me ALL the time.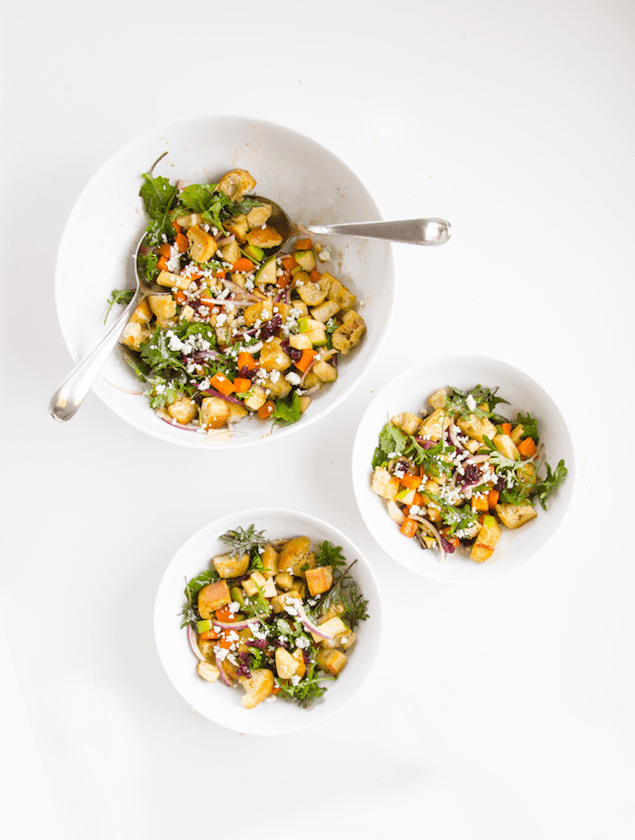 This recipe, my friends, will rescue that day-old bread. Not only that, it will force it to the center stage of this hearty Winter Panzanella Salad.
Traditionally, Panzanella is served in the summer with tomatoes and basil. However, I can't imagine anything more healthy + comforting during a chilly New York winter than a salad in which the main ingredient is BREAD.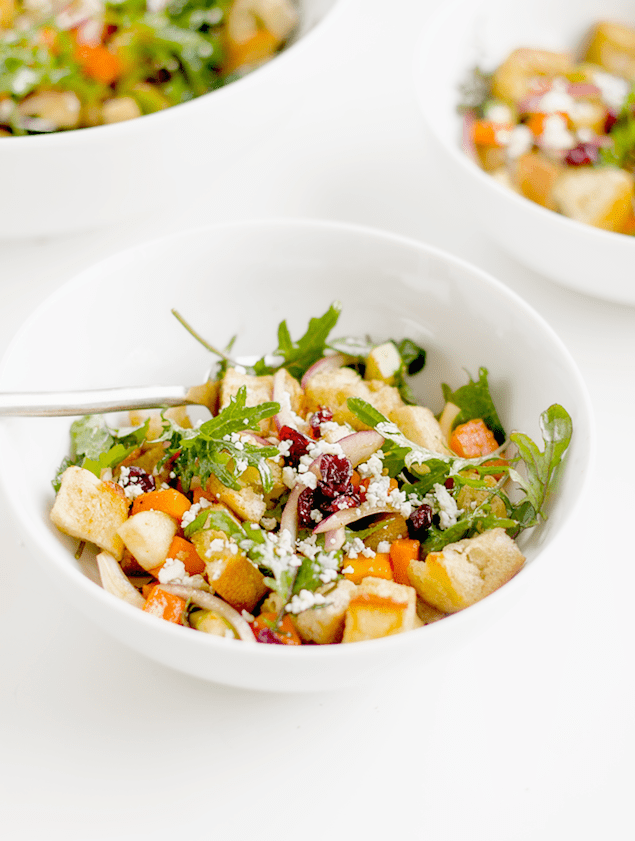 See Also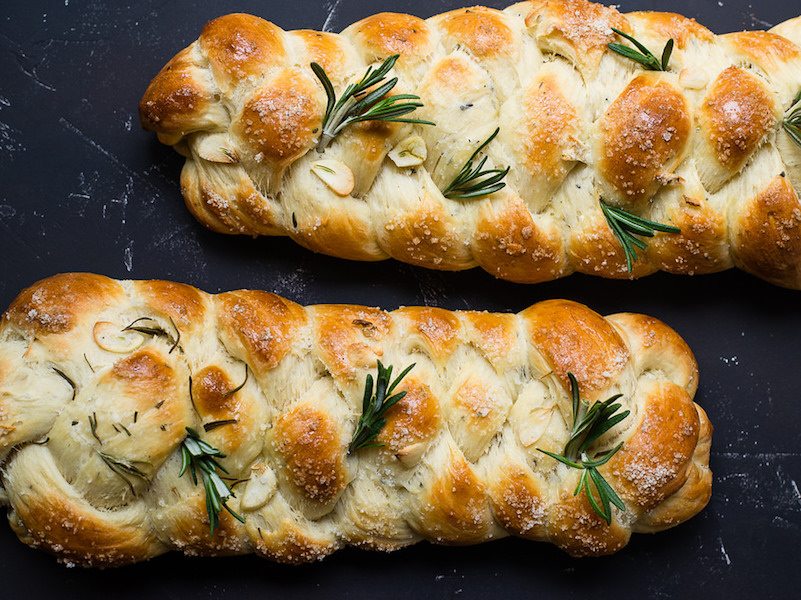 I went all the way to the end of the internet to find the best recipes for Winter Panzanella Salad and combined my favorite parts of all of them. I added one personal touch to this salad: crumbled blue cheese. If you don't like blue cheese you can substitute gorgonzola, feta, or even shredded parmesan.
Be sure to let this salad sit for 30 minutes or so to let the bread soak up some of the goodness of the maple balsamic dressing.

Winter-Inspired Panzanella: Squash, Apples, and Blue Cheese
A hearty winter salad complete with bread soaked in a maple balsamic dressing, apples, and butternut squash.
Author:
Kimberly FitzSimons
Ingredients
For the salad:
½ cup red onion, sliced thin lengthwise
3 tablespoons red wine vinegar or sherry vinegar
1 day-old baguette, diced into 1" cubes
2 cups butternut squash, diced into ½" cubes
2 cups kale, chopped
1 Granny Smith apple, diced
1 cup dried cranberries
2 oz (1/2 cup) crumbled blue cheese
pinch of salt
pinch of pepper
For the Maple Balsamic dressing:
3 tablespoons balsamic vinegar
2 tablespoons olive oil
1 teaspoon dijon mustard
1 teaspoon maple syrup
1 clove garlic, crushed
Instructions
Preheat oven to 400 degrees F.
Place red onions in red wine vinegar and soak for 15 minutes.
Dice baguette into 1" cubes. Place on baking pan and toss with olive oil. Bake for 10 to 15 minutes until bread is slightly golden.
While bread is baking, arrange diced butternut squash on pan. Toss with olive oil, salt and pepper. Once bread is done, put squash in oven and cook for 15 minutes.
While squash is baking, make the dressing. Combine balsamic vinegar, olive oil, mustard, syrup, and garlic.
Combine red onions, kale, apples, cranberries. Add diced butternut squash and bread. Pour balsamic maple dressing on top of salad and toss to coat. Add more olive oil to taste. Top with crumbled blue cheese.
Let stand 30 minutes before serving.
Kimberly FitzSimons
Kimberly FitzSimons is a New York-based graphic designer and editor of lifestyle blog www.chicandsugar.com. Her fondness of timeless traditions, tailored style, and clean lines influence her design work, as well as her passion for food styling and photography. When she's not baking up a storm in her kitchen, she enjoys adventuring around New York City with her husband and two young girls.