These lovely poached pears can easily be prepared in advance, and then reheated or served cold.
By Kankana Saxena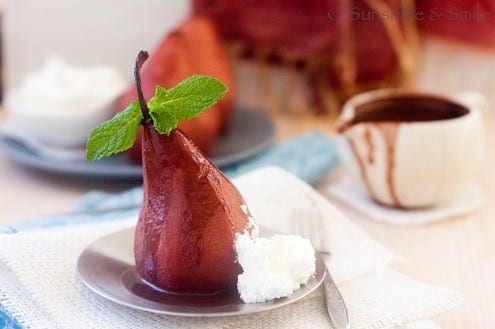 Poached pear is probably  one of the easiest desserts I ever made. It takes absolutely no effort and I think it looks very attractive too.
I picked some brown pears, which I think are called Bosc Pears. These are my favorite – sweet and crunchy. They were not very firm but firm enough to use in this dessert. It took me about 30 minutes to poach these pears, but it might take longer time depending on the firmness of the pears.
See Also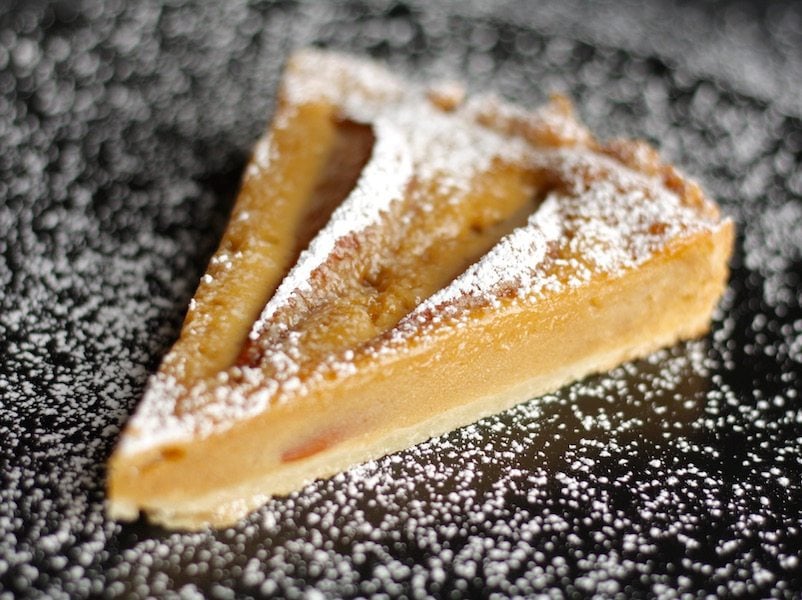 Poached pear could either be served plain with some cream on the side or with some sauce of your choice.
Wine poached Pear with Chocolate and Mint sauce
A quick but gourmet like dessert that's sure to impress.
Ingredients
3 ripe and firm pears (I used bosc pears)
1-1/2 cup red wine, something flavorful and not too strong
¾ cup white sugar
2 tablespoons fresh lemon juice
2 teaspoons vanilla extract
1 teaspoon cinnamon
1 cinnamon stick
2 star anise
2 bay leaves
For the sauce
6 to 7 fresh mint leaves
1 tablespoon cocoa powder
2 tablespoons water
1 tablespoon butter
2 tablespoons heavy cream
Instructions
Peal the skins from the pear and try to retain the stem.
Pour wine, lemon juice, vanilla extract along with sugar, bay leaves, star anise, cinnamon stick and cinnamon powder in a deep-bottom pan.
Bring it to a boil.
Then, drop the pears very carefully in the pan and bring the heat to medium low.
Let it simmer for about 12-14 minutes.
Toss the pear to the other side very gently and let it continue to simmer for another 10 minutes.
Remove the pan from the heat and let it cool.
Once it's cooled, remove the pear using a slotted spoon and keep it on the serving plates.
Turn the heat on and continue boiling the wine in the pan until it's reduced to half .
Mix cocoa powder with water and add it to the pan.
Add butter and heavy cream and keep stirring for about 2 minutes.
It will start looking smooth and silky. Add the mint leaves and continue boiling for 2 more minutes.
Check for sugar and if it's not sweet enough for you, add some more and the sauce is done.
Discard the bay leaves, cinnamon stick, star anise and mint leaves.
Pour the sauce on the pear and enjoy it with some whipped cream, creme fraiche or ice-cream.
Notes
Note: You can poach pears in advance and let it refrigerate for a couple of days. You can either serve it cold or boil the sauce for 2 minutes and serve it warm. If you don't like wine , you can use pomegranate juice or cranberry juice and that will give the gorgeous red color. If you however don't care for color you can choose any citrus juice.
Kankana Saxena
Kankana Saxena shares culinary journey, travel stories and passion for photography in her blog 'Playful Cooking'. Her cooking style is mostly nutritional with little bit of indulgence here and there. She believes in the mantra 'homemade is happiness'! She is a native of India but currently resides in Santa Clara, California with her husband.