Whole Wheat Banana Bread with Brown Butter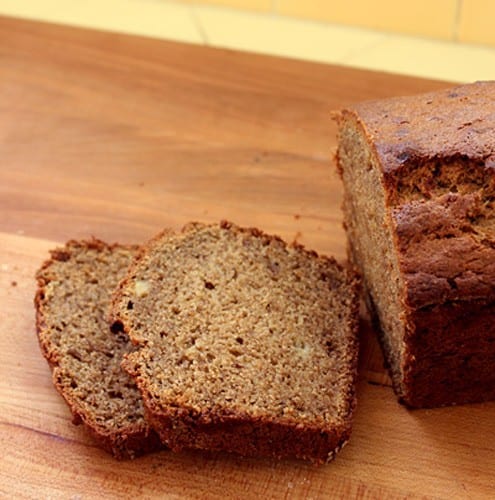 Bowen Close serves a grown-up banana bread with nutty whole wheat flour and browned butter.
By Bowen Close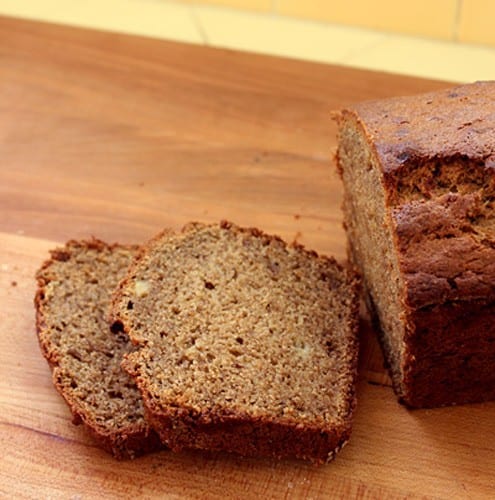 I've always loved banana bread. When I was young, my great-grandmother made it every few weeks and keep it wrapped in wax paper in a kitchen drawer, and I'd sneak slices whenever I could, preferably slathered with a pat of salted butter. After I stopped spending every day at her house before and after school, my opportunities to eat banana bread became more scarce, particularly because most people (and bakeries) fill their banana bread and banana muffins with walnuts or some other lurking nut menace (I'm allergic).
All of this means I eat banana bread pretty rarely, and the last few times I made it at home I was always a little disappointed. It was tasty, certainly, but somewhat boring. A little too sweet, and a little too cakey, and a little too simple. It always left me wanting something more complex and flavorful – something toastier and more subtly sweet, that would fit as comfortably on a plate with eggs as with a cup of coffee in the afternoon.
I've outgrown the banana bread of my youth.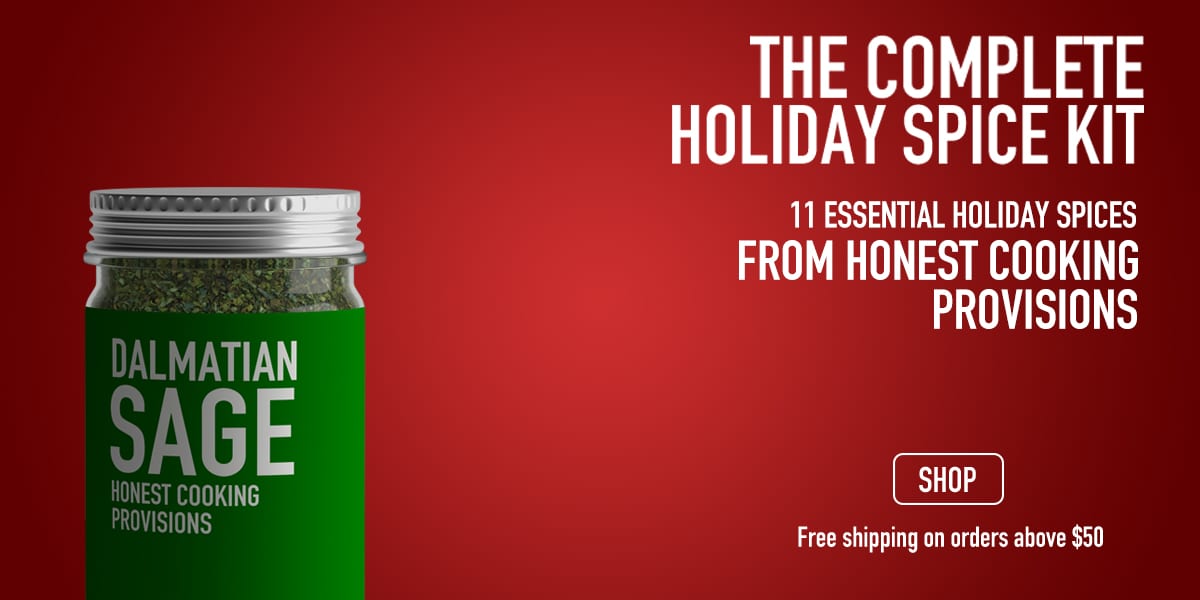 So I tried a few different versions, adding some new flavors (like spiced cinnamon crumble topping, or chunks of crystallized ginger) – but they all came up short.
What I needed was exactly what I couldn't have – nuts. A toasty, nutty flavor to balance sweetness and to give it some density. But I'm not suicidal, by any means, so instead of reaching for a bag of walnuts I added two other slightly nutty flavors – whole wheat flour, and browned butter.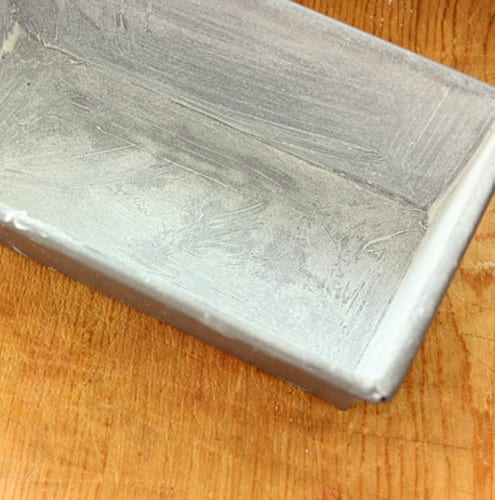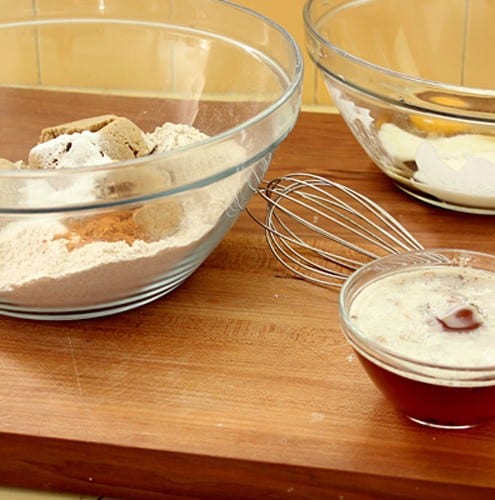 What resulted was a toasty, moist, subtly sweet banana bread that was good on the first day and even better on the second and third. Fresh out of the oven, the texture and flavor of the whole grain was far more apparent, like a piece of wheat toast and a piece of banana bread combined, and a perfect host for a slather of melted chocolate (more on that in a bit). After an evening wrapped in foil, the bread becomes softer and more moist, and the banana flavor deepens and seems to almost caramelize.
Whether fresh or a few days in, this is a banana bread perfectly suited for a slather of peanut butter or a bit of melted chocolate (or perhaps both, ahem). Perhaps you should take a still-warm slice, top it with some chopped dark chocolate, and let it melt about halfway – a perfect flavor and texture complement to the soft, warm, wheaty bread.
(In fact, chocolate is even more wonderful with this than with normal banana bread, so you might consider adding some chocolate chips to the batter.)
Or if chocolate and/or peanut butter aren't your thing, you can't go wrong with a simple spread of butter and a sprinkling of salt (or use some salted butter).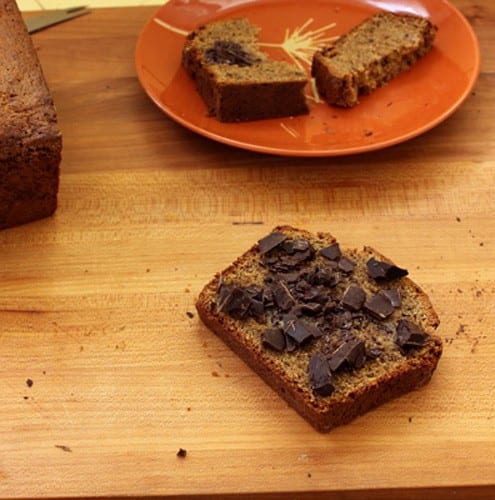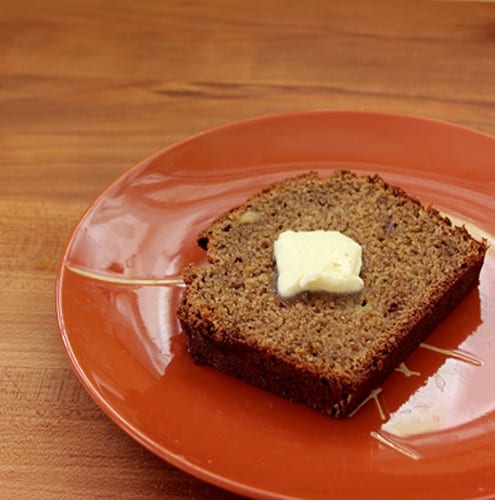 Recipe adapted from Joy the Baker.

Whole wheat banana bread with brown butter
Grown-up banana bread with nutty whole wheat flour and browned butter - healthy and delicious!
Author:
Bowen Close (Bowen Appétit)
Ingredients
¾ cup (6 ounces, 1½ sticks) unsalted butter (will brown to just over ½ cup)
2 cups whole wheat flour
¾ cup + 2 Tbsp. brown sugar
1 tsp. baking soda
½ tsp. salt
¾ tsp. cinnamon
2 eggs
1 tsp. vanilla
5 Tbsp. buttermilk (or plain yogurt)
3 medium bananas, mashed
6 ounces (1/2 bag) chocolate chips (optional)
Instructions
Preheat oven to 350F.
Butter and flour a 9x5-inch loaf pan and set aside.
Brown the butter: Melt in a saucepan over medium heat. The butter will foam and crackle, then start to brown. Swirl or stir occasionally as it cooks, and remove from the heat when the butter is brown and begins to smell nutty. Milk solids will cook on the bottom of the pan and turn dark brown. Traditionally these are discarded or left in the pan when you pour out the brown butter, but they do add a toasty additional flavor, so it's up to you whether you want to use them. I was not careful about straining them all out, but did leave some in the pan as well. When done, pour into a small bowl and set aside. Let cool at least 10 minutes before incorporating into the batter (as directed below).
Whisk together flour, brown sugar, baking soda, salt, and cinnamon in a large bowl. Set aside.
Whisk together eggs, vanilla, and buttermilk in a medium bowl. Add bananas and browned butter and whisk to combine.
Add the wet ingredients to the dry all at once, and everything together with a rubber spatula. Work quickly and lightly, using as few strokes as possible to combine. If using chocolate chips, add them about halfway through the folding process. It is important not to overstir. Make sure you scrape the bottom of the bowl to reveal any hidden flour spots.
Scrape the batter into the prepared pan and smooth the top with the spatula. Bake for 55-65 minutes, or until a skewer/toothpick inserted into the center of the loaf comes out with just a few small crumbs. Remove from the oven and let cool on a wire rack for at least 15 minutes before inverting the loaf onto the rack to cool completely. The loaf will last approximately 4 days, wrapped in foil and left at room temperature.
Notes
Whole wheat flour has a higher protein content, meaning it develops gluten much more easily and can result in toughness in baked goods. Extra moisture and sugar are necessary to balance this, so don't consider reducing the buttermilk or sugars. Make sure you use a light hand in the final mixing of the batter in order to have a bread with a tender crumb.
Bowen Close
Bowen Close believes that food should make people happy and healthy, and loves bringing together people with creative, delicious food made from the heart. She loves making farm-inspired, flavorful dishes with sustainable ingredients - whether that's a big plate of roasted veggies, a towering chocolate layer cake, or a cocktail utilizing backyard ingredients - and collects recipes and other food-related stories on her website, Bowen Appétit. She is a chef, cooking instructor, and food writer living in Southern California with her husband and fully stocked pantry.