Quick, simple and fruity, you can make this with gluten free flour. It makes an almost healthy after dinner treat.
By Tania Cusack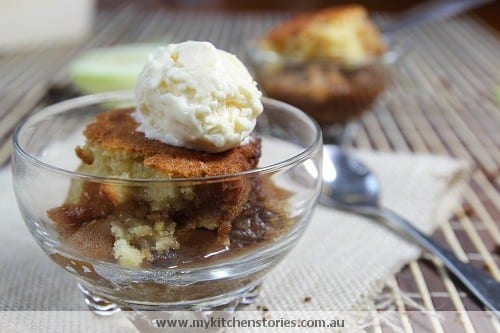 The weather is cooling down, time for puddings and nice winter fruit . I always get very hungry at this time of year and this is a treat. Simple, sweet and very quick. Interested? OK then give this a go with custard or icecream. I made a nice thick custard and froze it to serve with this Apple and Butterscotch Pudding.
Warm Apple and Butterscotch Pudding
Quick simple and fruity. You can make this with gluten free flour if you like. It makes an almost healthy after dinner treat!
Ingredients
1.3 lb (600gm) apples cored and cut into ⅛ths (approx 3 large cooking)
5.29 oz ( 150 gm)Self Raising Flour ( or gluten free SR flour)
1.76oz (50gm) caster sugar ( granulated sugar)
2.82 oz (80gm) diced butter
1 egg
⅓ cup or 100ml (3.38oz) milk
Zest of ½ lemon
3 tablespoons currants
2.82 (80gm) brown or Muscavado sugar
1 oz ( 25gm) butter
⅓ cup ( 100ml) water
juice of ½ lemon
pinch of salt
Instructions
Set the oven to 350 ( 180C)
Put the flour sugar and butter for the sponge into a food processor. Add egg, milk and zest.
Put the sliced apples into a greased oven proof baking dish approx 10 in ( you will serve the dessert in this dish). Sprinkle with currants then poor the batter over the apples. Spread out evenly.
Now make the sauce . Put the sugar, butter, salt, lemon juice and water into a pot and melt without boiling. This will be a very liquid mixture.
Pour the sauce over the sponge base and bake for approx 30 to 35 minutes
Tania Cusack
After completing Culinary School in Sydney, Tania travelled the world working as a Chef in restaurants, doing catering and cooking on road for a travel company in Europe and the US. Once back at home, the birth of her son meant a change, and during his small years, she enjoyed jobs in wholesale food, buying Artisan food products, testing and recipe writing as sales and educational tools. Tania is now back to what she loves, working as an in house Chef for a large retailer, conducting Cooking Classes and writing recipes for her blog.