Few hotels have a legitimate claim to the title of The Coolest in The World, but Viceroy Los Cabos is hard to ignore as one of the top candidates.
As you approach Viceroy Los Cabos from the street, it actually doesn't look all that different from any other luxury resort in the area. The glamorous stretch of beach between Cabo San Lucas and San José del Cabo in Baja California Sur is littered with elegant hotels that face the ocean. Viceroy, with its crisp, white facade, is almost on the humbler end of the spectrum in Los Cabos.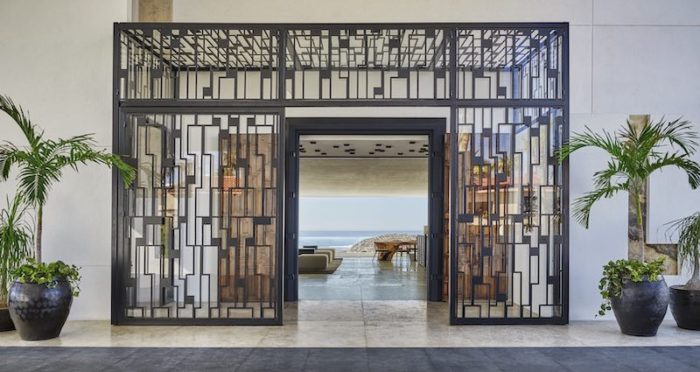 But all that changes as you walk through the heavy wooden doors and immediately find yourself in a futuristic open air check-in lounge that overlooks what can only be described as a jaw-droppingly beautiful, and very very different type of hotel. To both your sides, four squared white buildings are slightly skewed so they all face the ocean, looking like exclusive Lego bricks. In the middle, what looks like an endless reflection of water merges with the dramatic ocean in the distance. At the center, what resembles an upside down birds-nest (it's a restaurant), and a walk-way that snakes its way down towards the water. As you work your way down towards the beach, strolling past two of the pools, you'll pass about a dozen or so grand villas that mirror the architecture of the main buildings. They seem to float on water. And then, the beach, with another upside down birds-nest (another restaurant), and two pools that quietly mesh with the surrounding landscape. Then you turn around, looking back up towards the resort.
First impression? Breathtaking. Second impression? Breathtaking. Third impression? Breathta… well, you get it.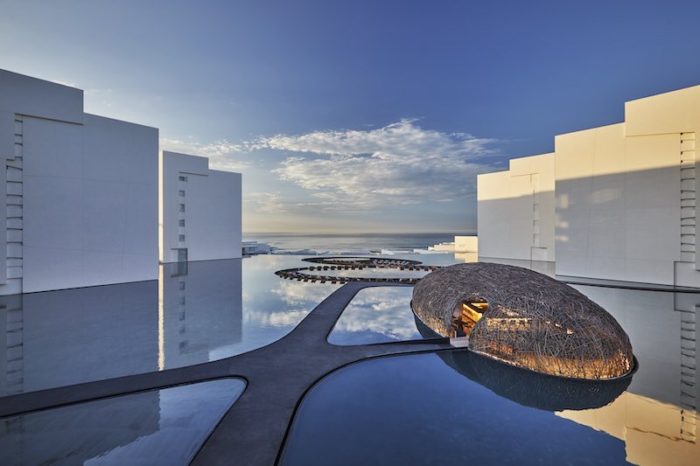 In fact, it's hard to take in the stunning architecture of Viceroy Los Cabos. It's imposing, yes, impressive, yes, beautiful, yes. But it's not just that. It's also that the resort seems to change character throughout the day. Going from the stark whites from the buildings clashing with the blue ocean and sky during the daytime and invoking images of the Greek islands, to the golden hue of late afternoons, where the resort lights up like an Egyptian treasure box, shades of yellow dancing between the buildings and the water. Then, at night, the resort dresses in a completely different set of clothes. Neon lights in different colors streaming from the suites, and dark blue taking over the sides of the buildings, with the two birds nests lighting up from within and creating an almost magical scenery. Is this a night-club onboard a spaceship? Or a futuristic Hogwarts? Maybe it's a little bit of both.
Now, this constant changing of character is going to be bad for your phone memory, just a heads up. There's really no time at the Viceroy where you don't feel compelled to take your phone out and snap just one more photo of a wall, some water, an angle, your suite or a restaurant. You'll take the same photo, over and over again, and you'll make the argument to yourself that this last photo is probably a little bit better than the exact same one you took a day before. Upon coming back to reality, check your phone photos and you'll see what I mean. You'll be able to make a full length stop-motion movie based on all the still photos you've taken during your stay at the Viceroy.
WATCH OUR PROPERTY TOUR OF VICEROY LOS CABOS
With such imposing surroundings, Viceroy instantly makes you feel like you are in the coolest spot in the world. That, however,
usually
comes with a caveat. Bad service. Most "cool" places around the globe are perpetually attached to servers-slash-actors, bellhops-slash-models, and receptionists-slash-influencers that are more interested in what comes after the slash than they are in their guests. At those resorts, saying the words "excuse me" before you place an order for a cocktail often feels like you are actually apologizing for daring to ask.
Not at the Viceroy. Here, the staff is impeccably professional, and keeps the perfect balance between warmth and distance. They know you're on vacation, but at the same time, they know exactly how to make you feel like you are at home (even if the architecture still makes it very clear you're not). It's a fine balance, but the Viceroy staff knows how to walk it – it's clear that these are people that take pride in their work.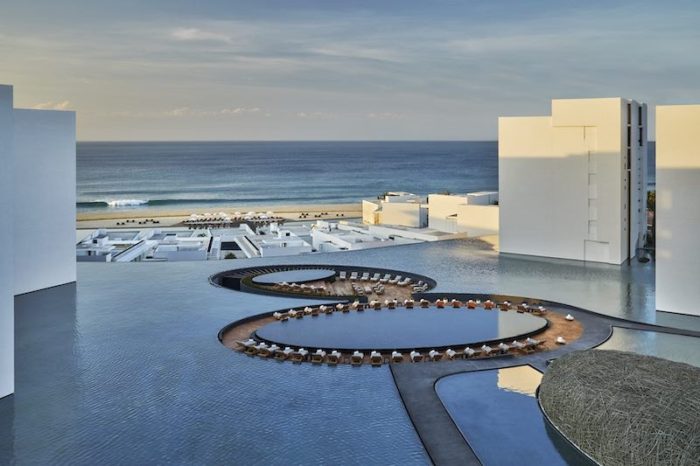 The hotel comes stacked with services and luxury amenities, of course. Design boutique, fitness center, kids club, a wonderful spa and more. But at Honest Cooking Magazine, you know we're here for the food, and following the initial shock to the system of taking in the striking environment, I won't blame you for getting a bit hungry. And you're in luck, because at Viceroy you have five distinctive dining options scattered around the resort.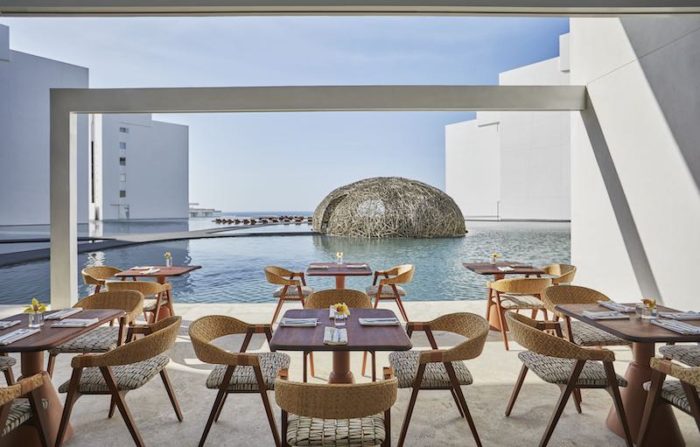 For a casual lunch, Casero Restaurant is your obvious choice. Located in the main building, and just beneath the reception area – it's an impressive double-height space with complete access to the outside. Sit down at one of the water-side tables, overlooking the whole resort, and order from the Euro-Mexican inspired menu. A selection of hand-crafted tacos and ceviches accompany European bistro classics like a Salade Niçoise, Cobb Salad, Club Sandwich and of course the resort's signature burger with bacon and caramelized onion.
The food at Casero is intended to cover any craving you may have, so you'll find everything from soups to pastas as well as larger plates like Mexican pizza and fish & chips on the menu. Everything prepared with a light touch, intended to keep you from sinking to the bottom of the pool during your post-lunch dip, and even if the menu is very broad – it feels cohesive and with a clear focus. Go for the shrimp ceviche, the tuna tartare or the classic Niçoise salad if you are looking to keep it light – and if you are a little more hungry, don't sleep on the excellent Viceroy burger.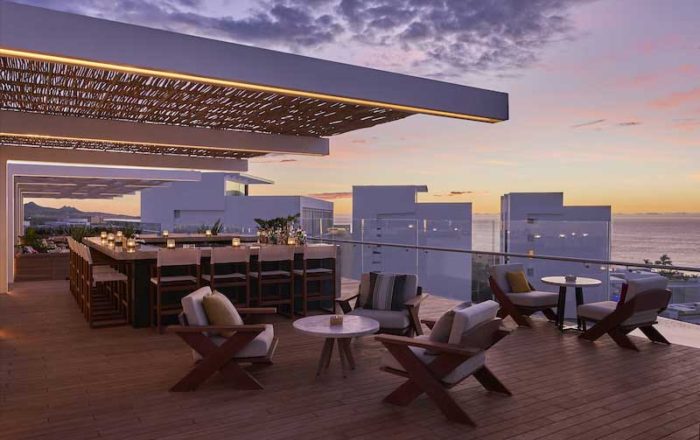 As the sun sets over the Sea of Cortéz, head up to the incredible Cielomar Rooftop to gawk at the gorgeous views that spread from the mountains all the way to the ocean. A contemporary cocktail-bar-cum-upscale-brasserie with some of the most fabulous views in town. And once you're done taking in the scenery (which can take a while), you'll realize that the views are perfectly paired with just as fabulous cocktails and food.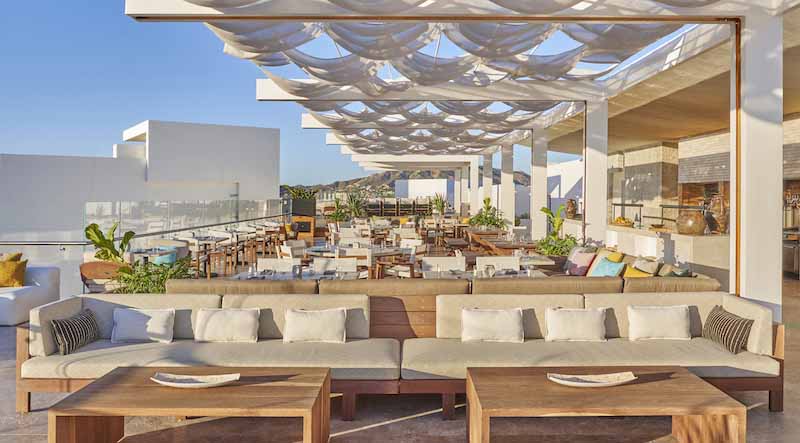 Before dinner, perhaps take a seat at the bar and let the house-mixologists take you on a journey through the wonderful world of tequila, mezcal, sotol and other agave based spirits. But don't hit it too hard, because you will definitely want to be able to remember the excellent food served up here. You are now in the contemporary brasserie gastronomy domain. Classics from around Latin America are given gentle modern upgrades, and the food is fresh, vibrant and – fun. The menu also includes a couple of European inspired dishes like a gorgeous beef carpaccio, served with capers, Parmiggiano cheese and 12 year aged vinegar.
You can't really go wrong at Cielomar, but if you want some pointers – start with the aforementioned carpaccio, some fresh local oysters served with chili cascabel mignonette, the Baja grilled blue shrimp served with curry sauce and green leaves, and definitely the Yellow Fin tuna tartare with cumin oil and crispy garlic chips. It's a symphony of flavors and freshness, and it leaves you wanting more with every bite. And you're in luck, because there IS more. There is a whole segment on the menu dedicated to wood-fired main courses and pizzas, and there's really nothing on it that isn't up to par – but our favorite continues to be the sizzling signature New York Strip that's served in a cast iron pan and accompanied by a perfectly balanced bearnaise sauce and an incredibly light layered potato gratin.
Can you muster some dessert after such a festival of flavors? Of course you can. Hit up the molten chocolate lava cake served with amarena cherry, fried cacao and yogurt ice cream before you realize you have to head back to the cocktail bar to get another tequila as a post dinner digestif.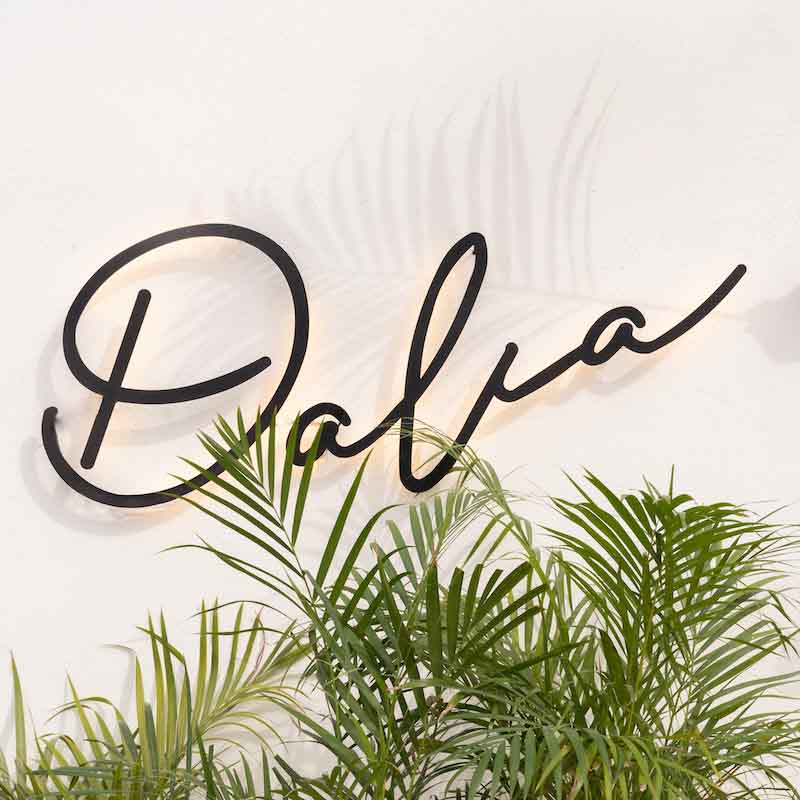 The most recent addition to the hotel is Dalia, an exclusive but inviting outdoor dining experience that has become immensely popular with tourists and locals alike. Dalia is Viceroy's take on Mediterranean cuisine with a Los Cabos twist. The restaurant is a bright garden experience with wooden hues and a slightly club-like feel to it. It's modern, but at the same time looks and feels like it has been there forever.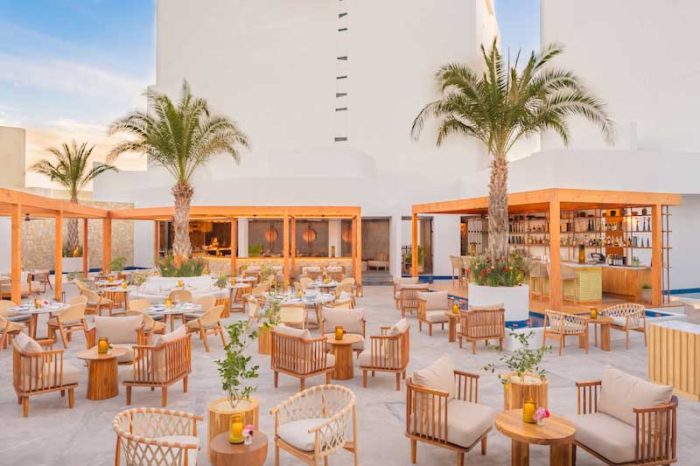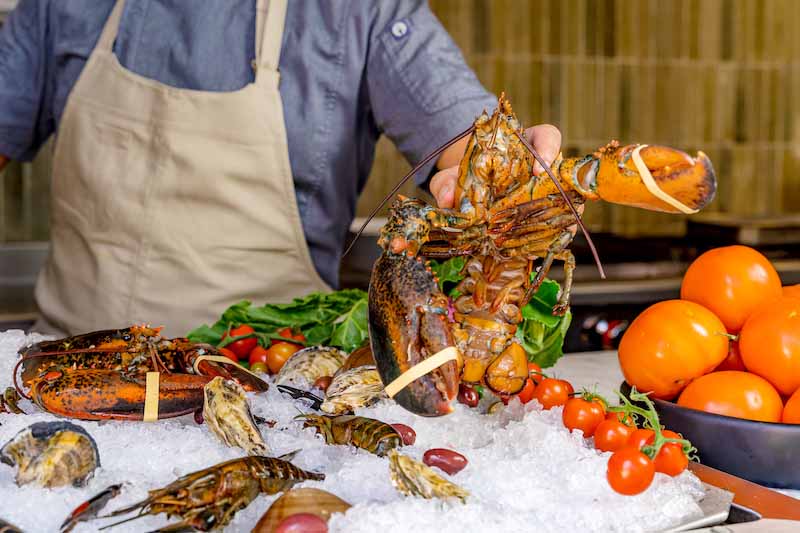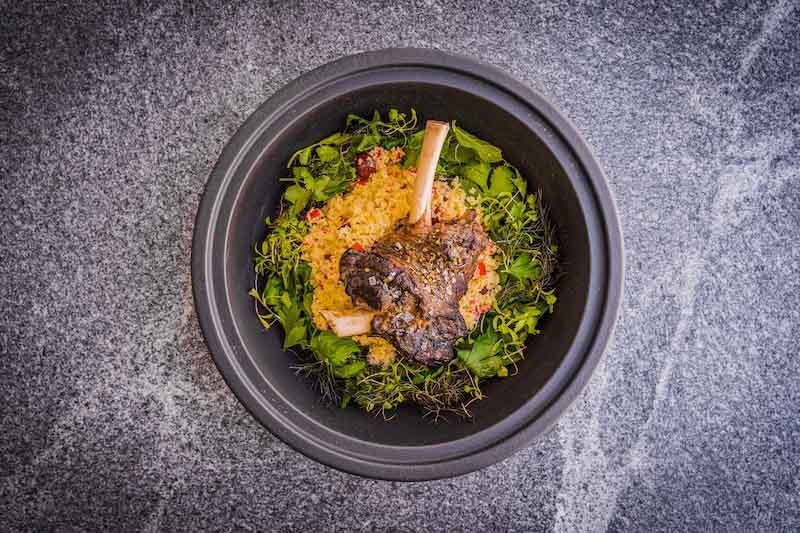 The menu covers all corners of the Mediterranean, often with a slight nod to Mexican flavors, ranging from Moroccan to Spanish, Italian, French, Greek and Israeli. Fava beans, hummus, mussels, Pernod, squash blossoms, parmesan, feta and pita are some of the ingredients that together make up an eclectic menu that's focused on simplicity and freshness. To start, try the Mediterranean spreads served with crudités, or perhaps the grilled octopus served with a puree made from fava beans. Then a cold squash blossom soup served with cucumber and mint oil. For main, maybe the whole table should explore the seafood platter which features everything from lobster to oysters (and a lot in between), or one of the many excellent homemade pastas. A lamb loin served with mint-chard puree, eggplant croquette, tzatziki and cardamom jus is another favorite of ours.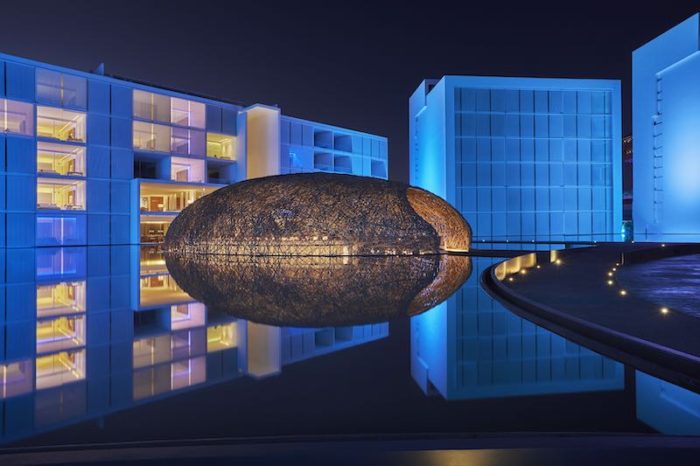 Of course you already know you can't stay at Viceroy Los Cabos without having dinner at Nido. This is the iconic restaurant that looks like an upside down birds-nest, located in the middle of the resort and surrounded by the reflecting mirrors of endless water. Nido is focused on Pan-Asian flavors, and has an exuberant vibe on most evenings. This is your celebratory restaurant, where the cooking happens in the center, and the cocktails are stirred up table-side.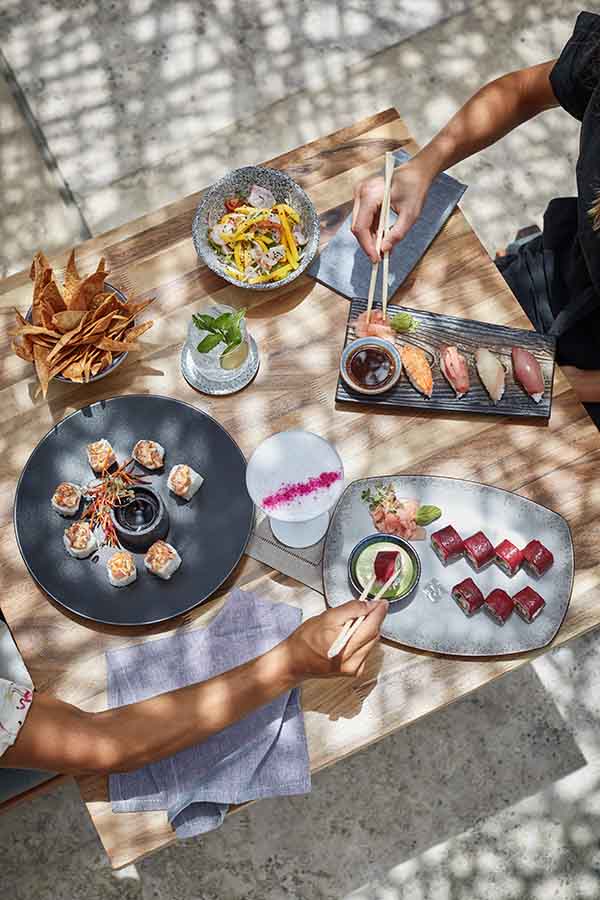 The menu focuses on robatayaki, sushi, sashimi and small dishes with inspiration from across the region (as well as a bit of local fun thrown in here and there). Pressed pork skin dumplings with tomatillo-nori sauce is a good example of how Nido marries classic Asian dishes with local flavors and ingredients.
At Nido, the sushi and sashimi is always fresh, the robatayaki that finishes on the table always a fun topic of conversation, and the many shareable small dishes bring vibrant tastes that set off little flavor-fireworks in your mouth. The feeling of dining inside a delicious cocoon is ever-present, and the vibe is exultant, excited and international.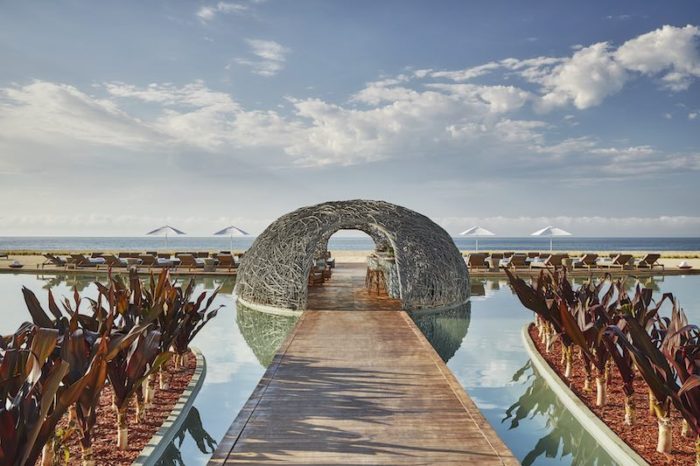 Nido also has a humble but ambitious sister restaurant, where you'll be spending your beach-lunches. Nidito is a miniature version of the birds-nest, a beach bar and casual restaurant that serves up everything from sushi rolls to tacos and fresh salads. And as the mood in the two beachside pools heats up, you're going to want to order some excellent mezcal-based cocktails to pair with your beach-party spirit.
When the sun sets over the Sea of Cortéz, on your last evening at the Viceroy, you'll find yourself on your private terrace, overlooking the ocean, with a glittering moon above and a glass of tequila in your hand.
And while you'll feel a sting of "I don't want to leave" as you look down on the exuberant energy streaming from Nido, this is also a really good time for you to pat yourself on the back for making the wise decision to spend your vacation at the coolest hotel in the world.
Viceroy Los Cabos
Website
P.º Malecon San Jose Lote 8, Zona Hotelera
23405 San José del Cabo, B.C.S.
Mexico