Put an Indian spin on those sports bar onion rings with this delicious Vengaya Bajji recipe.
By Nagalakshmi Viswanathan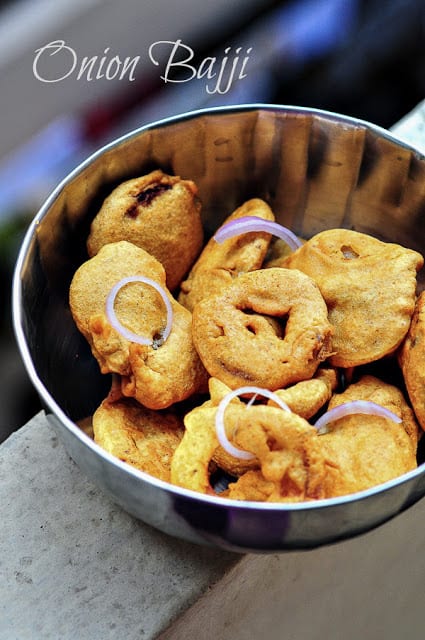 Vengaya Bajji - Indian Onion Rings Recipe
Put an Indian spin on those sports bar onion rings with this delicious Vengaya Bajji recipe.
Author:
Nagalakshmi Viswanathan
Recipe Type:
Finger food, bar food
Ingredients
2 large onions
¾ cup of besan (kadalai mavu or gram flour)
½ tsp of red chilli powder
½ tsp of jeera, whole or powdered (optional)
¼ tsp of hing or asafoetida (powder)
1 tsp of salt (adjust to taste)
¼ tsp of soda powder (optional, we didn't add this)
2-3 cups of oil, for deep frying (according to the size of your pan)
Instructions
Peel, wash, and cut the onions into ¼" thick rings.
Mix the rest of the ingredients in a wide bowl (except the oil). Add enough water to make a thick batter. It should be thick enough to coat the onions as you dip them in but not too "drippy".
Heat oil until it just begins to smoke. Lower the flame to medium-low, dip the onion rings into the batter to coat completely and drop into the hot oil.
Fry until golden brown. This should take about 2-3 mins. Drain and set aside and proceed with the rest of the onions until you are through.
Serve hot with tomato sauce or Pudina Chutney.
Notes
Notes: - Adding soda powder makes the bajjis softer and more puffier but they tend to drink more oil making it a bit unhealthier. Go with the cost-benefit analysis here and do what you prefer. - You can follow the same process for making bajji with other vegetables like eggplant, raw banana (vazhakka), bajji chillies, potato, etc. - You can add a pinch of turmeric powder to the bajji batter if you prefer. I personally don't like the cumin so omit that but it does give an extra kick so add it if you like cumin (jeera).
Nagalakshmi Viswanathan
Nagalakshmi, aka Nags, is the cook, writer, and photographer behind Edible Garden. She loves most things edible, loves traveling to places just for the food, and hardly ever leaves home without her camera. Her specialties are Indian food, making baking look easier than it actually is, and finding new and unique ways to use her Kitchenaid. She lives in Singapore with her husband and a small herb garden in her balcony.