Adapt this recipe as you go, add more vegetables and replace what is here for those you have at hand – but keep the spices the same for a deep, bold flavor.
By Mariela Alvarez Toro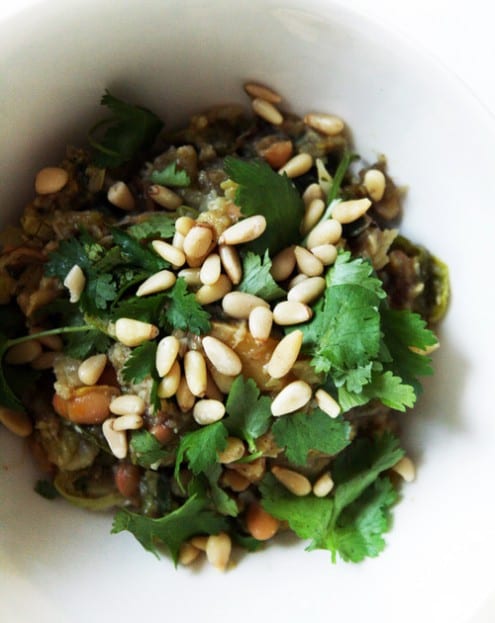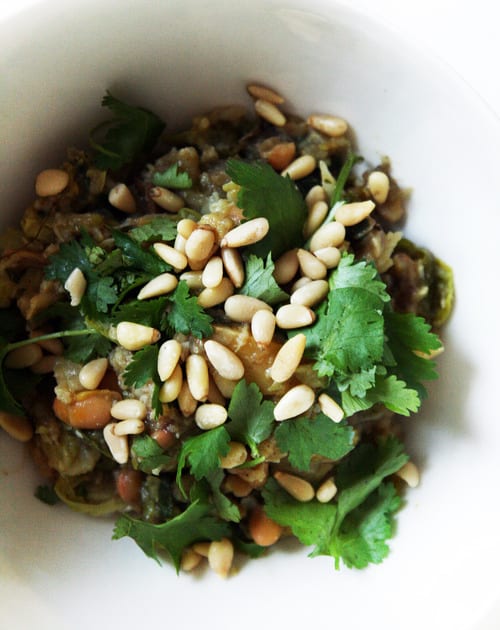 Vegetable Stew with Pine Nuts and Raisins
Adapt this recipe as you go, add more vegetables and replace what is here for those you have at hand - but keep the spices the same for a deep, bold flavor.
Author:
Mariela Alvarez Toro
Ingredients
1 poblano pepper
2 tbsp. coconut oil
1 leek, sliced
3 cloves garlic, minced
½ tsp. powder cumin
Dash cinnamon
Dash chili powder
1 large eggplant, cubed
¼ whole cauliflower, cubed
2 cups cooked white or garbanzo beans
2-3 cups vegetable broth or water
1" piece peeled fresh ginger
Pinch of saffron
6-8 Brussels sprouts
⅓ cup golden raisins
Garnish
¼ cup pine nuts
Handful fresh cilantro, chopped
Instructions
Preheat oven to 450 degrees Fahrenheit. Place poblano pepper in oven, and roast for 30-35 minutes.
Remove from oven and place in a bowl. Cover with plastic wrap and let rest for 5 minutes.
Peel skin off pepper and remove seeds. Set aside.
Pour two tablespoons of coconut oil into a Dutch oven. Cook over medium-high heat for one minute.
Add leeks, cook for one minute. Add garlic, cumin, cinnamon, chili powder, and a generous pinch of salt. Toss for a couple of minutes.
Add eggplant, cauliflower, and white beans. Cook for another couple of minutes, stirring occasionally.
Add ginger and poblano pepper, then 2 ½ cups water or vegetable broth. Bring to a simmer, reduce heat to low, cover, and cook for half an hour.
Remove lid, taste for seasoning and adjust as necessary. Add more liquid if the stew is looking a bit dry. Add raisins, Brussels sprouts and saffron. Cook, uncovered, for another 5-6 minutes.
When ready, scoop into bowl and sprinkle with cilantro and pine nuts. Serve with quinoa, brown rice, pasta or bread. Devour!