Vegetable Loaded Baked Potatoes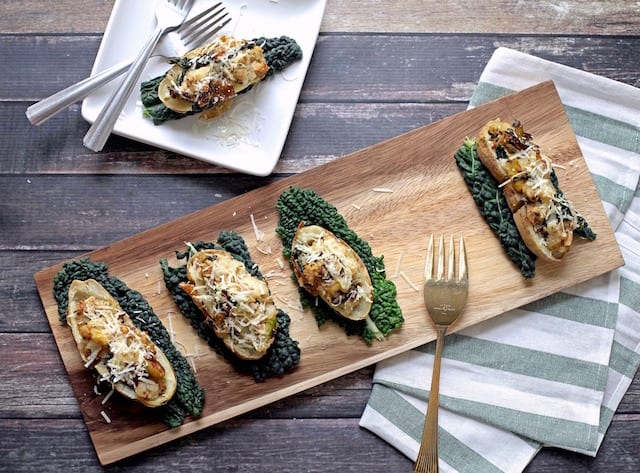 PARTNER POST: Reinvent potato recipes to be fresher and lighter in the new year. Make it your resolution to try these dishes as nutritious packed lunch ideas.
Revisit the classic baked potato and load it up with Greek yogurt and vegetables like kale and brussels sprouts.
By Alyssa Ponticello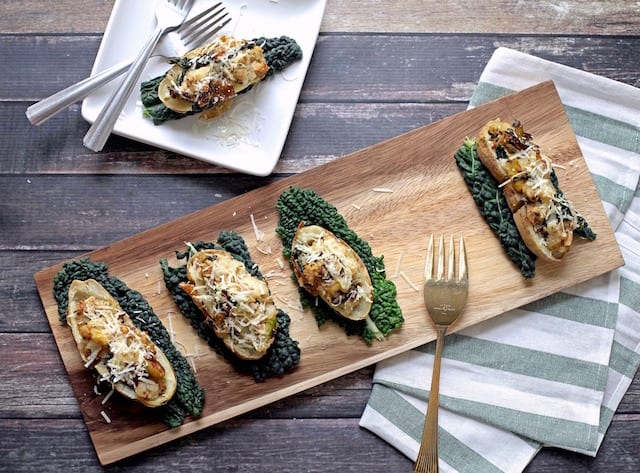 You say potato, I say….have you seen all the delicious things you can make with them?! Like French fries, and hash browns, and potato salad, and gnocchi, and creamy soup, and potato skins?! I know, I can hardly contain my excitement either! I mean, so.much.deliciousness. It's enough to keep a girl fed for a week straight.
Of course, potatoes don't have to be fried or covered in cheese to be yummy. For example, they can be mixed with vegetables, seasonings and Greek yogurt, stuffed back into their skins (which, bonus, is full of fiber!), and sprinkled with just a touch of parmesan cheese, ya know, like a loaded twice baked potato or something.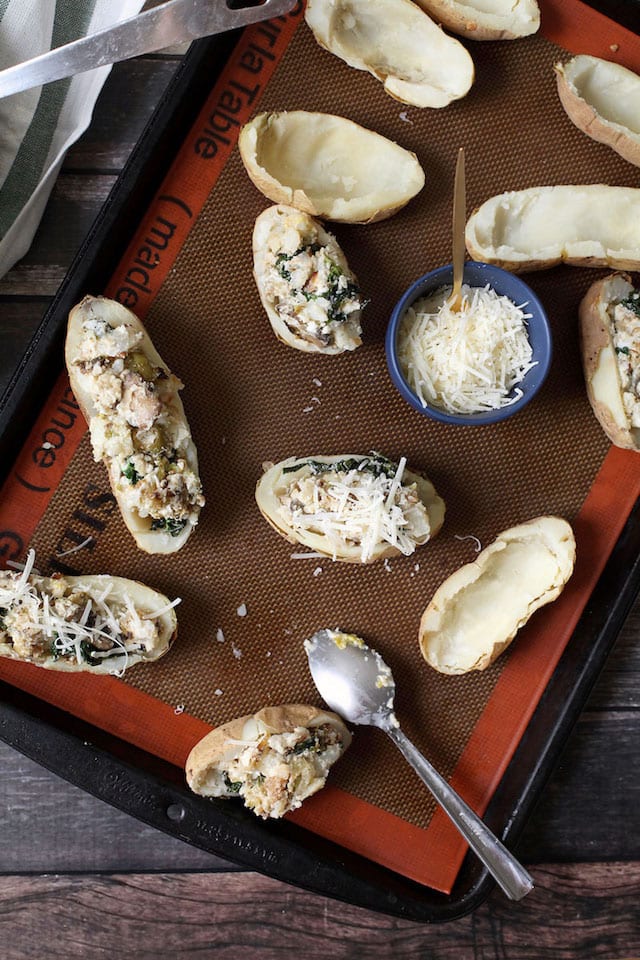 Twice baked potatoes have actually been a favorite of mine since I was a kid. However, the traditional ones, loaded with cheese, sour cream and more cheese, were in need of a bit of a makeover, especially this time of year when we've all got healthy resolutions to keep and weight loss goals to meet. Besides, what's the point of all of a potato's nutritional value (more potassium than a banana, vitamin C, B6, Iron) if it's just covered in calories and fat? These lightened + loaded twice baked potatoes (Did you know a medium-sized baked potato has only 110 calories in it?! And it is fat, sodium and cholesterol free, to boot!) do the just the trick in packing a double punch of nutrition and flavor and are perfect for lunch, eaten as a side dish at dinner, or even served as a snack (perhaps in place of their high-calorie cousin at a little thing coming up that starts with 'super' and ends with 'bowl'?).
What's your favorite way to eat potatoes?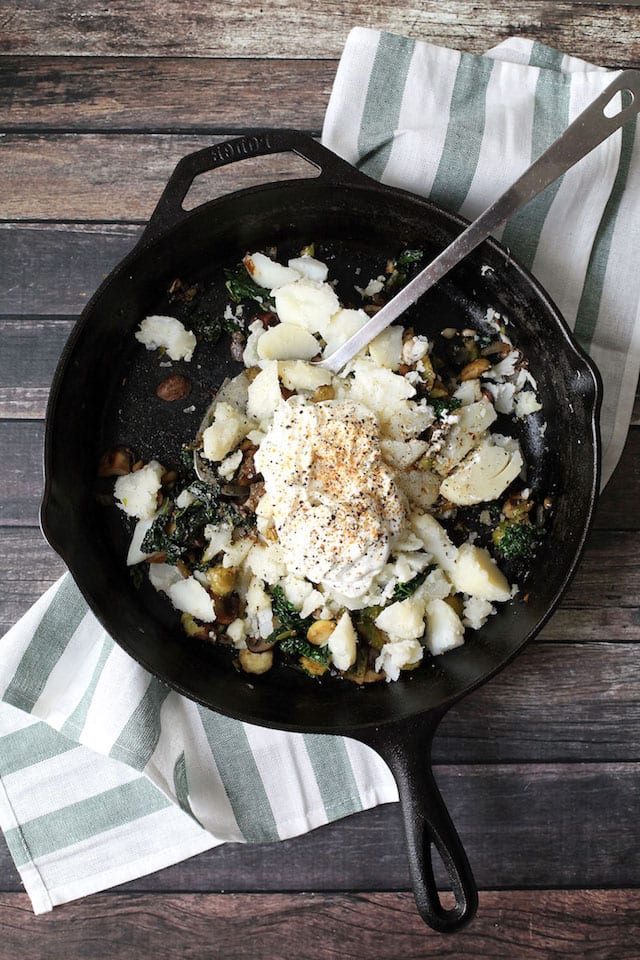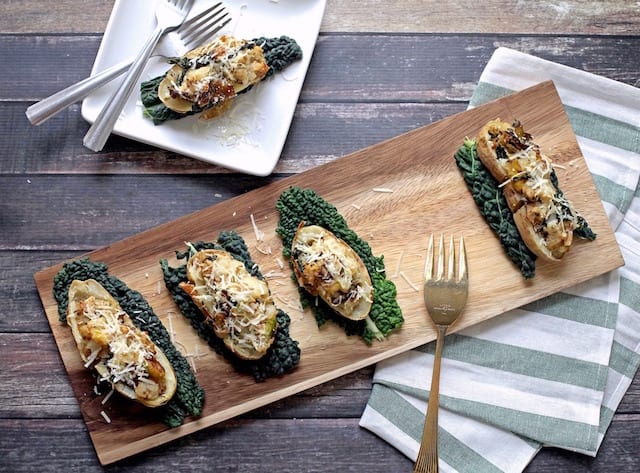 Vegetable Loaded Baked Potatoes
Alyssa Ponticello
Revisit the classic baked potato and load it up with Greek yogurt and vegetables like kale and brussels sprouts.
Ingredients
6

medium-large potatoes

washed

2

tablespoons

olive oil

½

a large onion

finely chopped

3

cloves

of garlic

minced

½

cup

sliced mushrooms

1

cup

shredded fresh kale

1

cup

thinly sliced brussel sprouts

2

teaspoons

Garlic

or regular salt

1

cup

plain Greek

or regular yogurt

½

cup

grated Parmesan cheese

Fresh ground pepper

to taste
Instructions
Set your oven to 350F degrees. Pierce each potato with a knife, then place it in the oven to bake for about 45-50 minutes, or until they're soft enough that a knife or fork can easily be inserted.

While the potatoes bake, heat the olive oil in a large skillet over a medium heat burner. Add in the onions and mushrooms, sautéing for about 5 minutes, or until the onions start to turn translucent. Season with 1 teaspoon of salt. Toss in the brussel sprouts next. Allow to cook for a few more minutes. Next, add the garlic. Cook for a minute before adding in the kale. Continue sautéing and stirring until the kale has wilted and everything has thoroughly cooked through. Remove from the heat and set aside.

Once the potatoes have finished baking, cut them in half and carefully scoop the insides out and into the pan of vegetables. Add in the yogurt and other teaspoon of salt, then stir to combine, using the back of your spoon to lightly mash the potatoes. Season with pepper (and additional salt, if you like).

Line the potato skins out on a baking sheet that has been lined with a silpat mat or non-stick foil. Fill each half with the potato-veggie mixture. Top with a sprinkling of Parmesan cheese. Place the potatoes back in a 350 degree oven and bake for about 10 minutes, or until the cheese has melted and turned golden brown. Serve immediately.

Store leftovers in an airtight container in the refrigerator.
Alyssa Ponticello
Hi! My name is Alyssa and I'm a full-time blogger and creative entrepreneur based in Brooklyn. You can find me on my site, Runway Chef, inspiring people to create beautiful lives by intertwining food, fashion & travel into scrumptious style for everyday life. When I'm not blogging, you'll most likely find me in the kitchen with my husband, aka Mr. Runway Chef, or planning my next getaway.