These soft pumpkin streusel muffins have a crunchy-sweet topping and big flavor, but are still able to be vegan and gluten free.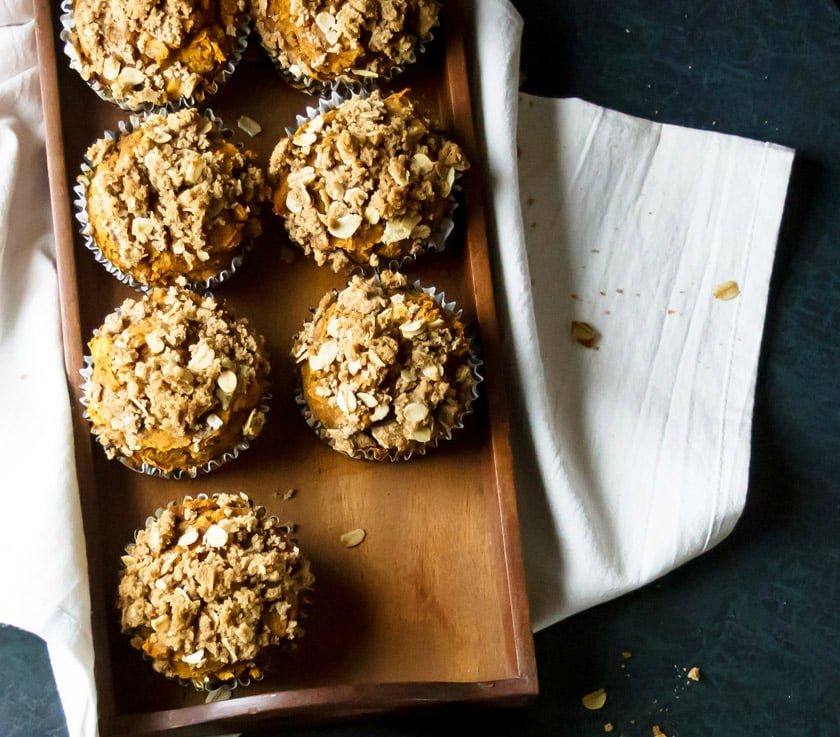 I have a crush on these muffins.
These moist, sweet, spicy pumpkin muffins that taste like they came from a bakery. That sport a snazzy cinnamon streusel topping that actually stays on. That rock a fall vibe harder than a cozy sweater jumping in a pile of crunchy leaves.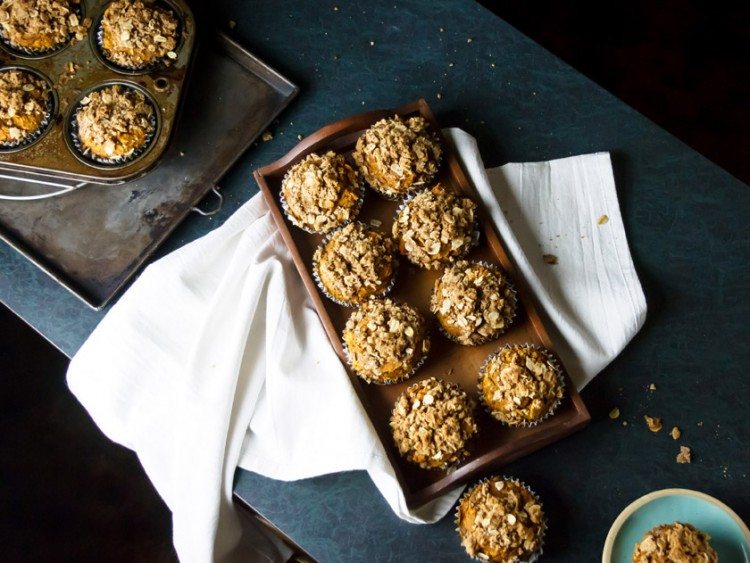 As if being a super yummy perfect autumn treat wasn't enough, the recipe makes the usual dozen plus six bonus muffins. There's have plenty to share, pack in lunches or just hoard in the freezer like a greedy little muffin troll.
That's all good, but here's where I start to swoon: these lovely pumpkin muffins are buff AND sensitive. They're light, gluten-free, made with whole ingredients AND vegan. They're the snack cake equivalent of a hot guy wearing glasses.
And I have proof that if you don't tell people they're healthy…they won't know.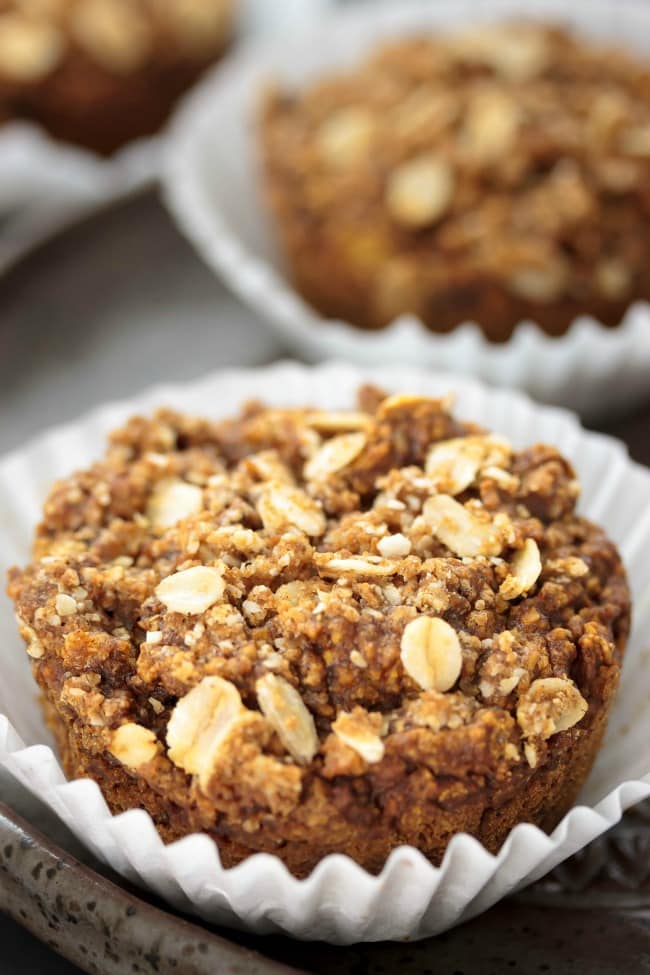 Back in the day ("the day" being my entire life, until I was about 30), it was hard for me to enjoy food if I knew it was healthy. I know that's a common experience, so I share the healthy nitty gritty with you all, and my mom, who really likes knowing that stuff. For almost everyone else, I keep it on the down low unless I'm asked.
I just want everyone to have a good time.
Ok, so use discretion in who you share this with: these are made with oat flour, which lends itself to gluten-free baking. I've made them with premade gluten-free flour blends too, which are more expensive but give great results. I sweeten them with maple syrup instead of processed sugar, and I supplement that with some applesauce. That way I don't have to use all the sweetener as most pumpkin muffin recipes call for. Holy nuts, a lot of them want you to use two cups of sugar! I use one cup of maple syrup and a cup of applesauce, and to me that's plenty sweet.
I totally and completely love using flax eggs! They're healthy, easy to use, and the stuff I make with them always turns out great. I used flax "eggs" in this recipe, but chia "eggs" or another vegan egg replacer would probably yield the same results.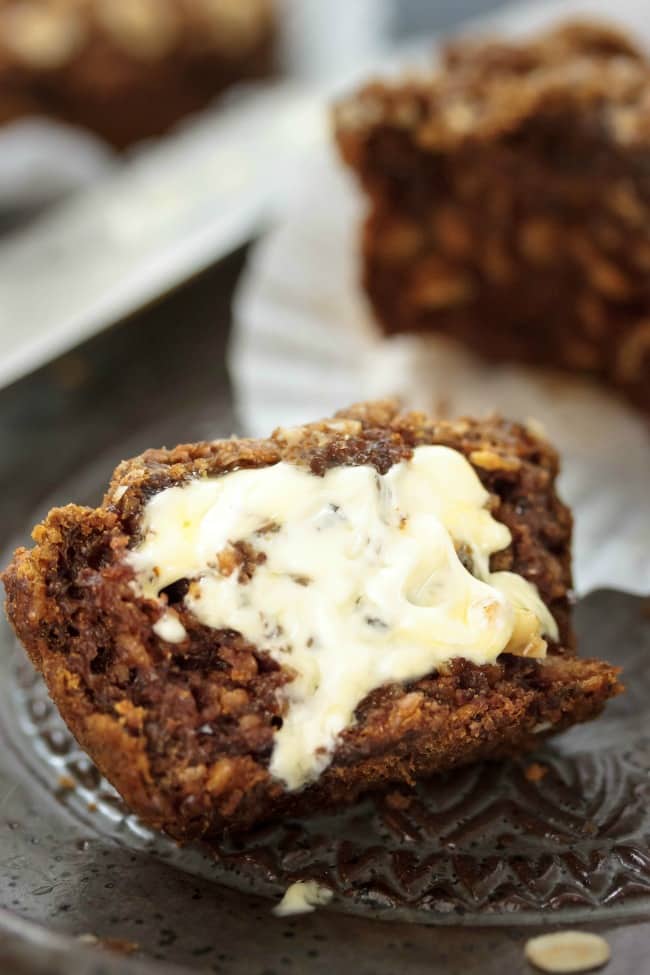 I know standard muffin recipes often call for 1/2 cup of oil, or something like that, but here I'm using two tablespoons (!) of coconut oil instead. And they're still super moist and have a lovely crumb. One of the reasons I'm getting away with that little oil is pumpkin makes a nice natural fat substitute. Any time you bake with pumpkin you're kind of baking with nature's fat substitute. Sweet!
I make the streusel topping with coconut oil instead of butter and coconut sugar instead of brown sugar. I add a dash of cinnamon too. It's crumbly and delicious _and_ actually stays on the muffins! A little falls off, but in a fun way.
I stirred some crushed pecans into my batter, and they taste fabulous. I used to be one of those people who never put nuts in anything, but I'm changing my tune on that. I think these would also be excellent with a handful of raisins, or chocolate chips if you're feeling wild and crazy.
The recipe makes 18 muffins, and that's way too many for me to be left alone with, so I sent half of them home with Graeme. These would be perfect to make for a potluck or brunch or coffee get together. They also freeze well, so you can make them now and still be enjoying moist, spicy, delicious pumpkin muffins well into December.
Click here for the streusel topping recipe.
Print
Vegan Pumpkin Streusel Muffins
These soft pumpkin streusel muffins have a crunchy-sweet topping and big flavor, but are still able to be vegan and gluten free.
Author:

Gin Butters

Category:

Baking
3

flaxmeal "eggs" (

1/2

c water +

3

Tbs flaxmeal)
Dry ingredients:
2 1/3

c old-fashioned oats (pulsed to a flour consistency in a food processor or blender)

1

c old-fashioned oats (left whole)

2 tsp

baking soda

1/2 tsp

baking powder

2 tsp

cinnamon

2 tsp

pumpkin pie spice

1 tsp

ground cloves

1/2 tsp

salt
Wet ingredients:
15 oz

. can pure pumpkin puree

1

c maple syrup

1

c unsweetened applesauce

2

Tbs melted coconut oil
Streusel topping:
Click the link above for the recipe.
Optional:
1/2

c chopped nuts (raisins, chocolate chips, etc.)
Instructions
Heat the oven to 350. Line a 12-muffin tin with papers.
Stir the water and flax meal together and refrigerate.
Stir the dry ingredients together in a large bowl.
Stir the wet ingredients together in a separate bowl.
Fold the wet ingredients into the dry until totally combined. Stir in any extras (nuts, etc.)
Fill each paper about 3/4 full.
Combine the streusel ingredients and top each muffin with a generous pinch.
Bake about 30 minutes, or until a toothpick inserted into one of the middle muffins comes out clean.
Remove the muffins from the tin to cool completely. Repeat with remaining batter.
Let the muffins cool completely before unwrapping.
Gin Butters
Gin's a crazy food romantic who's head over heels for big flavors and fresh, healthy ingredients. She's extra-inspired by Indian, Mexican and Indonesian cooking, and will put peanut butter on just about anything.