Twenty Minute Red Onion Soup: So Good You'll Cry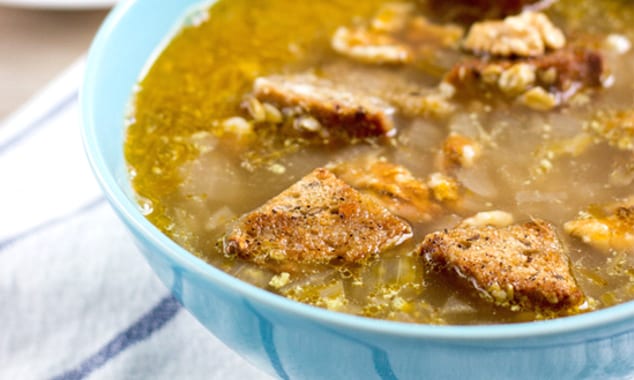 This meatless soup can be made in no time with pesto, herbs, and walnuts bringing a ton of flavor into the mix.
By Dave and Howie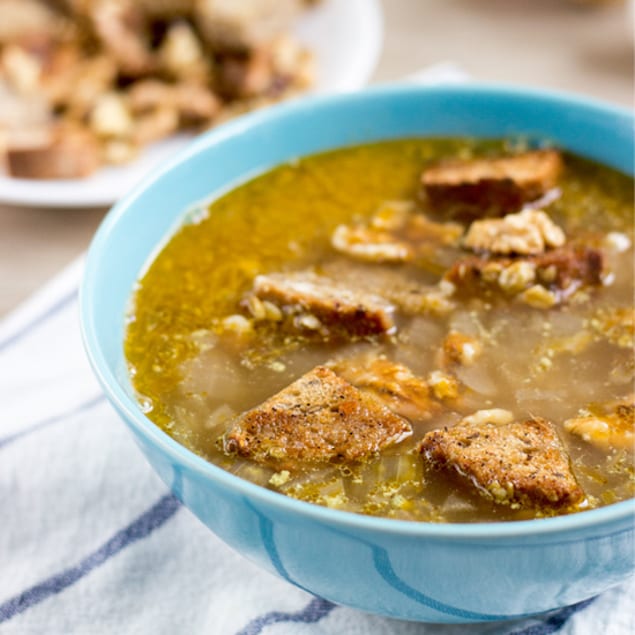 This isn't French, and it doesn't take hours. Don't get me wrong, a slow-cooked, caramelised onion soup is hard to beat – we even have one in our forthcoming cookbook. But finding the time for such a beast isn't always easy. So, here's our 20 minute version. And it's awesome.
We've mentioned before that Howie and I each test our recipes to make sure we're both happy with the result. Sometimes we add a little (or a lot) of something, change a cooking method, or even remove a part of the recipe altogether (if the ingredients are hard to get hold of, for example). We want the taste and timings to be as accurate as possible, and our blog is all about transparency.
Our food tastes are quite similar although we both have our pet hates (mushrooms, slimy little buggers!) and Howie won't eat an egg unless it's camouflaged (check out this Eggy Bread for a good disguise).
Anyway, I digress – with a minimum amount of fuss we quickly concurred that this recipe was near perfect. I like a few extra herbs thrown in, but that's just me. See for yourself, and let us know what you think in the comments below.
Health Benefits – Vegan Red Onion Soup
It just wouldn't be right if we didn't tell you that the delicious food you're about to eat is actually good for you too.
It's really high in vitamin B6, which is used within our brain and nervous system. Our neurotransmitters need it to function properly, and without it we're in serious trouble.
It also helps to metabolise carbs and produce red blood cells, as well as detoxifying our livers (1). What a vitamin.
Other high sources of B6 are tuna, beef and chicken, so this an obvious great vegan alternative.

20 Min Red Onion Soup - So Good You'll Cry
A warming winter soup that's healthy and animal friendly too!
Author:
Hurry The Food Up
Ingredients
2 red onions
2 cloves of garlic
2.5 cups (600ml) vegetable broth
1-2 tbsp lemon juice
5 tbsp olive oil
2 slices whole wheat bread
2 0z (50g) walnuts
2 tsp Classic Basil Pesto
a pinch of pepper
a pinch of salt
optional: dried herbs such as oregano or parsley
Instructions
Heat up 600ml of vegetable broth
Dice up or cut the onions into thin rings and throw them in a pot. Add about 3 tablespoons of olive oil and let it simmer for about 5 minutes
Cut or grate the garlic into small pieces and add it to the pot
When the onions are transparent add the lemon juice and vegetable broth
Add some dried herbs if you have them and let it all simmer for about 10 minutes
In the meanwhile cut the bread into cubes. Then add them into a pan with about 2 tablespoons of olive oil.
Also add the walnuts to the pan. Fry for about 3 minutes until the bread cubes are nicely toasted.
Add the soup into a bowl and add the croutons, walnuts and a teaspoon of basil pesto
Quick and easy comfort soup - ready!
Dave and Howie
We're two lads with one aim: to make home cooking more attractive than fast food. Even if you're crap at cooking.