This soup is all about the balance in flavors: refreshing broth, hints of lime and an undertone of heat from the chili.
By Sukanya Ghosh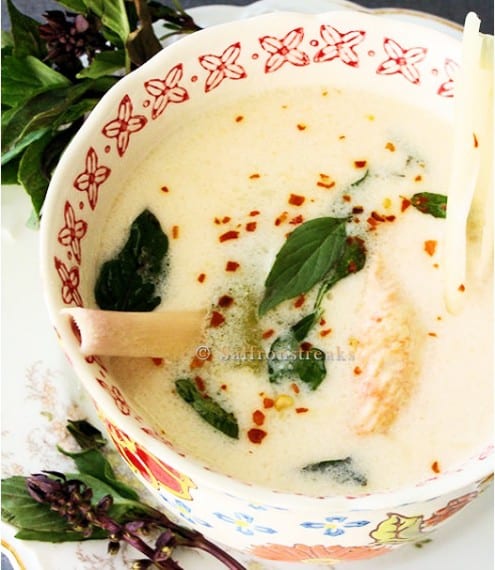 Thai Chicken Coconut Soup
This soup is all about the balance in flavors: refreshing broth, hints of lime and an undertone of heat from the chili.
Author:
Sukanya Ghosh, Adapted from the book on Thai food by Alan Benson
Ingredients
Chicken stock : 1½ cup
Boneless chicken pieces (breast or tenderloin) : 1 cup
Fresh Lemongrass : 1 stalk
Fresh Galangal : 1 inch piece thinly sliced
Fish Sauce : 1 tbsp
Thai bird's eye chili : 3-4 fresh red color
Lime : 1
Coconut milk : ½ cup
Thai basil leaves : 1 sprig
Instructions
Heat the chicken stock and reduce it slightly. I prefer homemade chicken stocks made from bone in chicken pieces with a pinch of salt.
Only the white portion of lemon grass is usable. Smash the white portion of lemon grass, and scrape the inner white fleshy part and put it into the chicken stock pot.
This will help to release the flavour. You can also put the outer thick hard part of lemon grass too in the stock pot for extra flavourings.
Crushed the galangal a bit and add it to the chicken stock.
Add the chicken pieces and bring the whole thing to a gentle boil.
Simmer and cover till the chicken is partially cooked through.
Add the coconut milk, followed by fish sauce, bird chillies (slit them or smash them), and juice of one lime.
Simmer on low heat till the chicken is well cooked.
Remove immediately and check for the seasonings.
A few more drops of fish sauce may be required to get the flavours right.
If you want it to make more spicy, you can sprinkle few more bird chillies over the soup.
Stir in the kaffir lime leaves or Thai basil leaves, close the lid and let it remain sit for few minutes.
Serve it with steamed rice.
Sukanya Ghosh
Sukanya writes the blog Saffronstreaks, a food and travel blog where she experiments in the kitchen spiced up with interesting food stories and gourmet travelogues. She loves to cook with fresh produce, enjoy both spicy and sweet and her many dining out experiences become cherished memories. Sukanya is from India but now lives in North Carolina, USA.