Focused on quality dishes from the Iberian Peninsula, (Cuba, the Dominican Republic, and Puerto Rico) Tasca brings the flavorful tastes of Spain and Latin Caribbean countries to New York's Upper West Side.
For myself and many others, food is an essential bridge connecting us to our heritage. My heritage derives from the isles of Trinidad and Tobago where the flavors and techniques of the more popular dishes came from various countries across Europe, Africa, the Middle East, and India. There are also distinct influences, like the curries from India, and plantains from our neighboring Latin Caribbean islands. Thus, Tasca's dishes are very familiar to me, while maintaining its own distinct and memorable tastes.
What makes Tasca unique to other Latin Caribbean restaurants that flood New York? Restaurateur Jay Espinal says "The thing that's unique to us is our ability to bring together old and new world to create different combinations…Some examples of these combinations are our sofrito goat cheese, maduro tower, garnacha and aged sherry."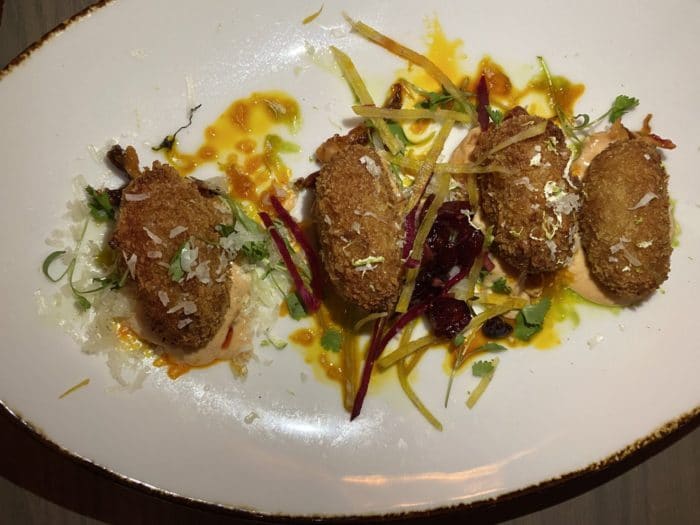 My Memorable Food Experience at Tasca
Starting with Tasca's Croquetas de Maduros, or as I like to describe them, a fancy on the classic fried sweet plantains. Like the traditional fried plantains bananas, the Croquetas de Maduros are sweet and comforting. I use the latter word because as a native of the Caribbean, plantains are synonymous to a warm piece of bread. It's pleasurable in every way. Along with my guests, I devoured the sweet fried bananas in a matter of minutes.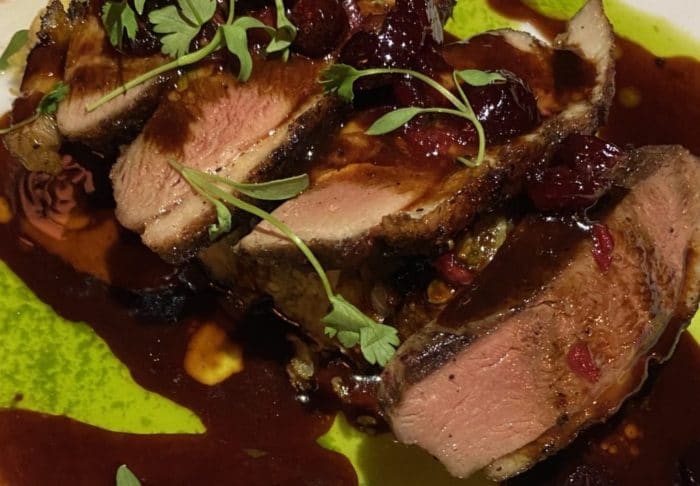 Following the plantains, another dish I experienced was the Pulpo a la Parilla. In my opinion, Pulpo is the filet mignon of the sea. When done right, every bite of the dish is tender, succulent. They key is not to overcook it, when its overcooked it often become rubbery and too chewy. This dish had just the right amount of chew and smoky flavors to it. If you fancy grilled octopus like myself, indeed order it but there are other options.
For some help navigating the menu according to restaurant owner Jay, guests particularly enjoy the Paella Valenciana and Magret de Pato (fillet of duck breast). He also mentioned as one of his personal picks, the piquillo peppers doesn't get the attention it deserves. He states its "light, creamy yet so flavorful and even vegan."
Following the octopus, I also tried the Codicia de Pescado y Mariscos. The plate reminded me of a fancier Trini-style fish broth stew I enjoyed as a child. The stew featured many friends of the ocean like shrimp, mussels cooked. It's cooked with lobster brandy reduction and served with side of saffron banda rice–popular in Spain. Before dessert arrived my go-to foodie friends took a moment to admire our surroundings. Jay states the wallpaper is inspired by the colors of a tropical foliage the Whereas the weathered oak is inspired by the beach and the bricks are reminisce of a wine cellar in Spain. 
Finally when Fabio, one of Tasca's great waiters arrived he served the Pudin De Pan. It translates to bread pudding and is yet another Caribbean classic. I recommend capping every night with a pudding drizzled with a delightful rum raisin glaze.  
Tasca is located on 505 Columbus Ave, New York, NY 10024 | Monday – Wednesday – 5pm – 10:30pm | Thursday – Saturday – 4pm – 11pm  | Sunday- 3pm – 10pm
Reservations can be made by calling (212) 362-2211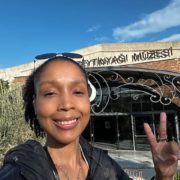 Alyssa Holder
Alyssa Holder is a writer specializing in food and travel topics since 2015.