With spring in the air, everyone is looking for reasons to fire up that grill. Here is a great way to incorporate Indian flavors into this nutty vegetable – and a meat alternative for the BBQ fanatic vegetarians.
By Shuchi Mittal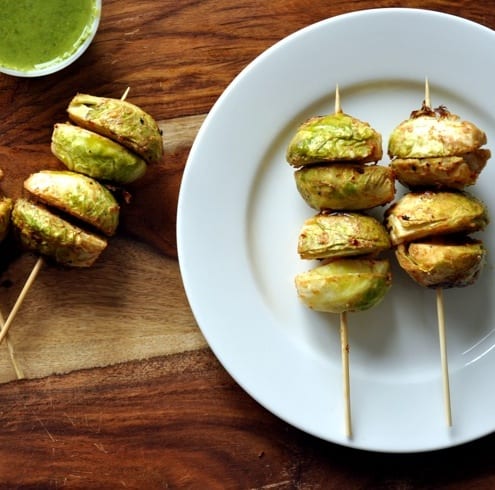 Tandoori Brussels Sprouts
A healthy, quick and yummy BBQ alternative to meat
Ingredients
10-12 brussels sprouts, washed and halved
4 tablespoons thick yogurt
¾ teaspoon coriander powder
½ teaspoon cumin powder
½ teaspoon garam masala
¼ teaspoon red chili powder
1 teaspoon lime juice
¼ teaspoon red pepper flakes
Salt to taste
2 tablespoons olive oil
Chat masala to sprinkle (optional)
Instructions
Mix the yogurt will all the listed spices, except the oil, and marinate the brussels sprouts in this mixture for 2-3 hours. Even better if you can leave it overnight. Make sure it's in an airtight container.
Once ready to grill, line them on a greased baking tray. Brush the tops with more olive oil and bake at 400 degree F for 30-35 minutes, or till they are browned and par cooked (with a little crunch left over).
Skip the baking and line them on a grill if you are taking it all outside. Nothing like cooking them on a BBQ, and they will cook much quicker - in approx 10-12 minutes.
Put on a skewer and serve hot with a mint chutney.