Cindy Wang travels to Taipei and discovers Boîte de Bijou, a French patisserie so delightful that she wants to fold it up in her suitcase and carry it back to Shanghai.
By Cindy Wang

Tucked away inside a back alley behind Far Eastern Plaza Hotel Taipei, there is a small French patisserie where the aroma of freshly baked bread permeates the air, where gorgeous cakes sit quietly inside a glass display, where light-hearted music waltz in the space, where waiters and waitresses carry smiles so genuine you can't help but want to snap pictures of them.
Welcome to Boîte de Bijou.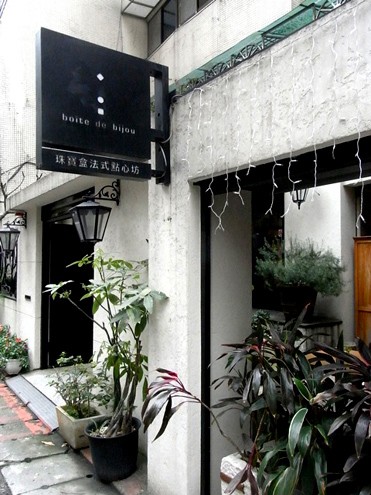 Boite de Bijou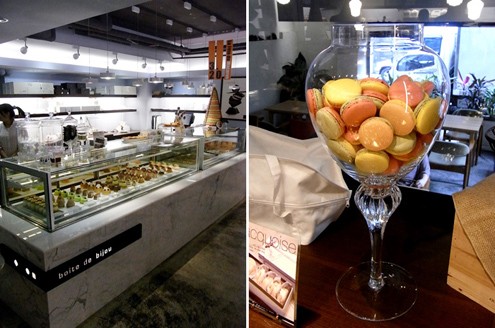 Interior
Glorious, glorious breads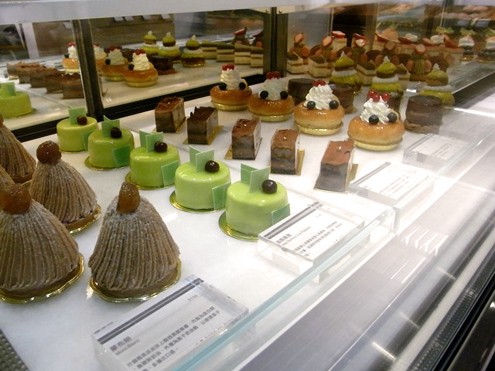 Gorgeous, gorgeous cakes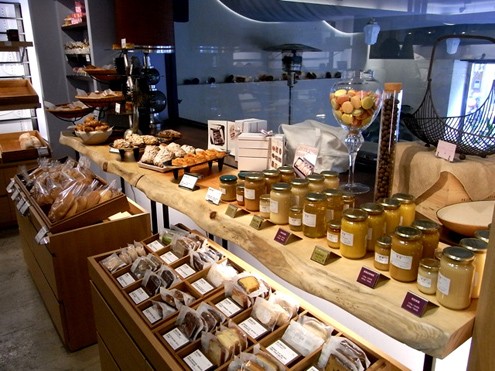 Bottles of house made jam
After browsing through the glorious display of breads, cakes, chocolates, pastries, and jams, we sat ourselves down at a communal table next to the windows and ordered some light fare for lunch.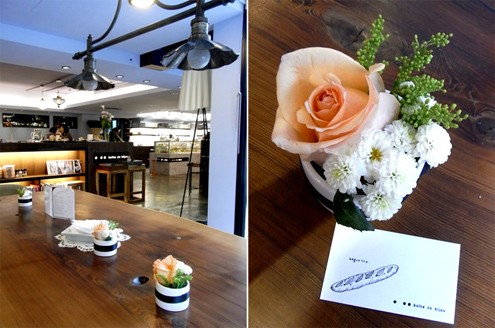 The communal table
Oeuf gratiné à la Mozzarella, a poached egg baked with house made savory sauce, Mozzarella and Emmanuel cheese, was slightly on the firm side but nevertheless delicious in flavor. Better yet, it came with two pieces of pain de mie aux oignons, baugette aux céréales, and a salad tossed in light mustard dressing. I especially liked the soft and fluffy pain de mie aux oignons, which is baked from a brioche dough with onions and parmesan cheese. Both types of bread can be purchased a la carte.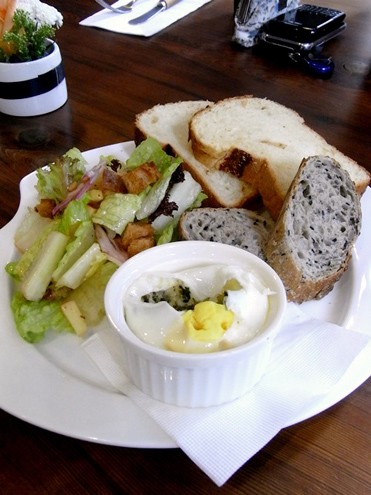 Oeuf gratiné à la Mozzarella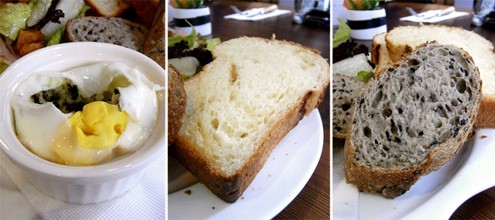 Oeuf gratiné à la Mozzarella, pain de mie aux oignons, baugette aux céréales
Quiche Porc p. de Terre, baked to a satisfying golden brown, was a scrumptious pie of pork tenderloin, onions, potatoes, eggs, and topped with chunks of croissant for extra flakiness. There is also a smoke salmon quiche on the menu that looked equally appetizing, but alas I had to save room for desserts.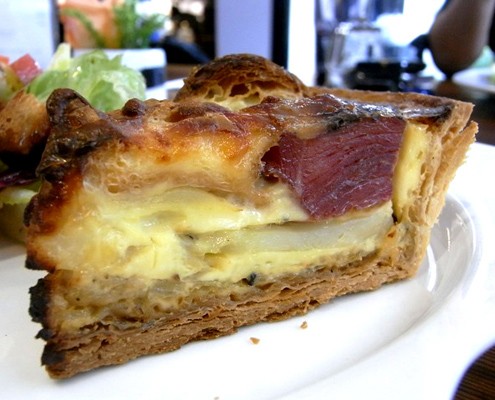 Quiche Porc p. de Terre
As usual, it was a struggle to choose when it comes to desserts. At the waiter's recommendation, we tried the Tarte Macaron Pistache. Raspberry macarons, pistachio cream, and a sweet tart crust filled with with pistachio almond paste – what's not to like about this dessert?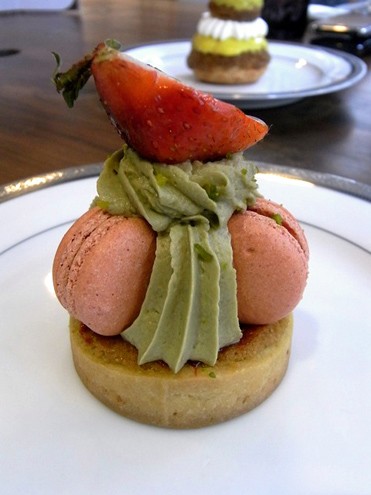 Tarte de Pistache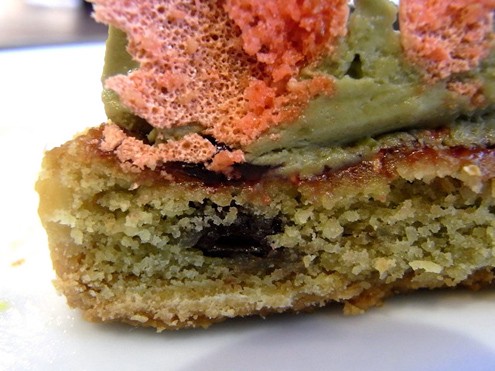 Tarte de Pistache
Then there was the Religieuse, a little tower of two Valrhona white chocolate-glazed cream puffs filled with passion fruit mango custard cream. Lovely.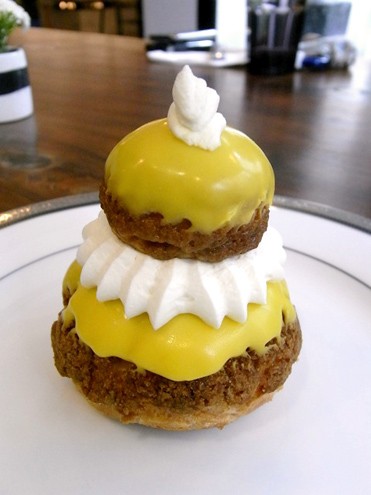 Religieuse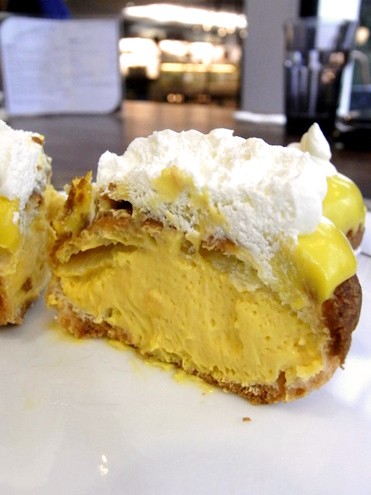 Religieuse
Boîte de Bijou, may I please fold you up in my suitcase and carry you back to Shanghai with me?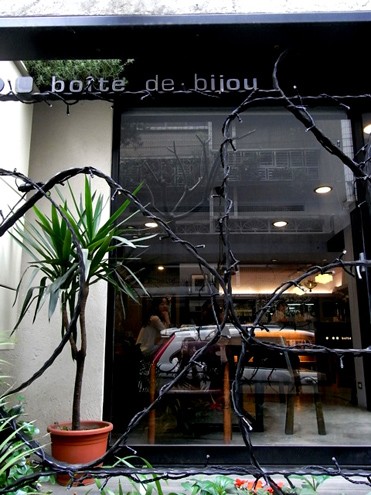 Boîte de Bijou
Address: 1/F, No. 10, Lane 209, Anhe Lu Section 2, Taipei
Tel: 02-3322-2461
Hours: 10:00am~9:00pm
Website: www.boitedebijou.com.tw
Price: [Lunch] 180~380 NTD, [Cakes] 120~150 NTD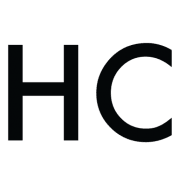 Cindy Wang
Cindy started as the Shanghai/Taipei city columnist at Honest Cooking, but has packed up her life in August 2012 and moved to Paris to pursue her dream of becoming a pastry chef. With a dedicated sweet tooth, Cindy scours the city of Paris for the best pastries and shares them with the world both on her own blog Sugared & Spiced and here at Honest Cooking.