Golden, yeast raised dinner rolls made with mashed sweet potatoes. The perfect use of leftovers and the perfect side dish.
By Carol Egbert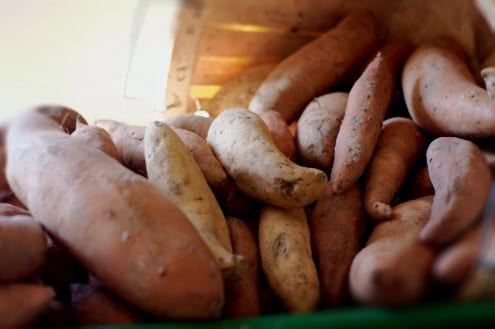 Sweet Potato Rolls
Golden, yeast raised dinner rolls made with mashed sweet potatoes. The perfect use of leftovers.
Ingredients
1 package active dry yeast
2 Tablespoons granulated sugar
¾ cup milk, heated to 105ºF
1 cup mashed sweet potatoes
3 Tablespoons unsalted butter, melted
½ teaspoon kosher salt
1 whole egg
4 cups all-purpose flour – divided
Instructions
Combine yeast, sugar and milk in a medium mixing bowl, stir until dissolved. Cover bowl and set aside, in a warm place, for 10 minutes, until mixture is foamy.
Add sweet potatoes, butter, salt, egg and 3 cups flour to milk mixture and mix with a wooden spoon until well combined.
Turn dough out onto a floured board and knead in enough flour, about 1 cup, to make a soft dough. Knead for 5 minutes, until dough is smooth and elastic.
Put dough into a bowl that has been smeared with butter, cover bowl and put in a warm place until dough has doubled in bulk, about 1½ hours.
Deflate dough, form dough into 12 balls, put balls into a buttered 9? square baking pan, cover and let rise until dough has doubled in bulk, about 45 minutes.
Bake in a preheated, 375º oven for 22 minutes or until rolls are golden.
Serve warm with butter.
Carol Egbert
Carol Egbert is a writer, painter, graphic designer and cook. Her studio is on a country lane in rural Vermont. During mud season she escapes, for a couple of months, to a flat in Sicily overlooking the Ionia Sea. Her newspaper columns, magazine articles and blog are illustrated with her watercolor paintings – Honest Cooking means beautiful food.