This French toast makes a fabulous Sunday (or any) morning treat for all Nutella lovers.
By Julie Andrews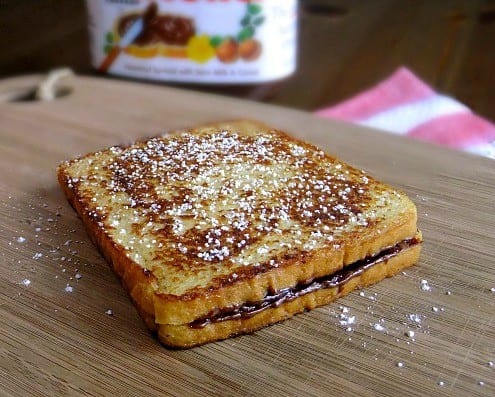 Nutella, Nutella! My kingdom for Nutella!
Nutella, much like real mayonnaise, was an enigma in my house when I was growing up. We were strictly a Miracle Whip and Skippy household. Occasionally, however, I was treated to the hazelnut-cocoa glory of Nutella at a friend's house.
I forgot how absolutely delicious Nutella was until last summer when I discovered Nutella crepes at an amusement park, of all places. It's been a staple in our house ever since. Now it seems like Nutella is just about everywhere I look. I'm not sure if it's making some huge comeback or if I have just been ignoring it for twenty years. If I have, shame on me!
Let us set the record straight, though. Nutella is not a health food. All the marketing in the world cannot make a combination of sugar, palm oil, and cocoa anything besides an indulgence. It's about as "healthy" as a Ferraro Rocher truffle. But, as they say, everything in moderation.
This French toast makes a fabulous Sunday morning treat for any Nutella lover. It's incredibly easy, especially if you're like me and don't have the patience to make crepes. Here it is made with bananas but strawberries would be awesome, too. Or both!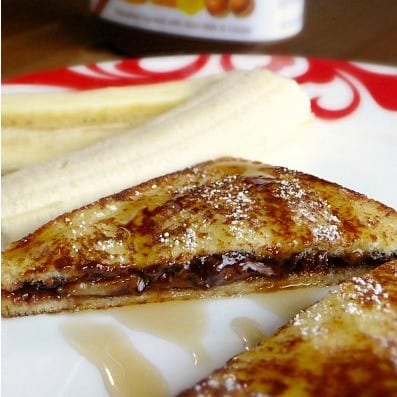 Stuffed French Toast with Nutella and Bananas
Recipe Type:
Breakfast, Dessert
Ingredients
8 slices of thin bread (Pepperidge Farm Very Thin Bread works great)
Nutella
1 large banana, sliced thin
3 eggs
½ cup (120 ml) milk
¼ teaspoon cinnamon
Instructions
Slather each slice of bread with nutella (to your liking). Put a layer of sliced bananas on 4 of the bread slices and then put together 4 Nutella/banana sandwiches.
In a shallow, wide bowl beat together the eggs, milk, and cinnamon with a fork.
Spray a large pan with cooking spray and heat over medium-low heat.
Dip the sandwiches in the egg mixture to lightly coat each side, shake off the excess egg and place in the hot pan.
Cook until both sides are firm and lightly browned.
Julie Andrews
Julie is a Registered Dietitian, food writer, and food photographer. Her blog emphasizes healthy eating and features an eclectic mix of savory and sweet recipe ideas. Her photography is frequently published on Foodgawker, Tastespotting and Healthy Aperture. Read more at tastefullyjulie.com.