As the temperature is rising, you'll need to reserve one hand for a sweet cup of this homemade ice cream, and the other for a brisk brew.
By Amanda Brooke Bothwell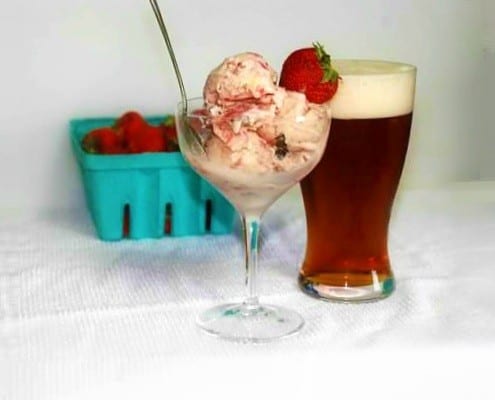 What marks the start of sunshine-laced days, front porch views and barefoot afternoons better than a sweet, melting cup of homemade ice cream? And for those who can bare to put down the spoon for a moment, a cool and hoppy home-brewed IPA is beckoning. Strawberries are in abundance at the moment, with their pops of red and wafts of fruity fragrance revealing the unofficial start of summer. Classically paired with tart rhubarb, this combination finds an easy and refreshing balance in sour and sweet. Throw a third flavor element in the mix with some bittersweet chocolate, and you've got a slightly different angle to the tried-and-true pairing.
Not only does the IPA, dry-hopped using the Amarillo variety, enhance this combination with its bright, bitter taste, but its smooth texture manages to make the already satisfying and decadent ice cream even creamier. And if you get tired of putting down that spoon to take a sip, an IPA float may be in order.
Strawberry Rhubarb Ice Cream
A perfect summer treat using the classic combination of strawberry and rhubarb, with the added twist on flavor and texture using bittersweet chocolate.
Author:
Amanda Brooke Bothwell
Ingredients
2 cups (487g) heavy cream
2 cups (487g) whole milk
1 tsp (7g) vanilla bean paste
6 egg yolks
1 cup (192g) sugar
¾ cup (114g) sliced strawberries
3 stalks rhubarb, diced
2 Tbsp (30g) water
1 ounce (29g) very dark chocolate (I use 86% cocoa), chopped
Instructions
The night before, place the core of the ice cream machine in the freezer.
Whisk egg yolks in a bowl, then slowly add sugar and whisk until egg yolks are pale yellow and sugar is completely incorporated.
Over medium-high heat, combine heavy cream, milk and vanilla, and bring to a simmer.
Remove cream mixture from heat and while whisking constantly, ladle ⅓ of the hot cream mixture into the egg yolks to temper the eggs.
Add the egg mixture slowly back into the saucepan with the rest of the cream, while stirring.
Cook over medium heat until slightly thickened (should be able to coat the back of a spoon).
Pour into a bowl and cover with plastic wrap pressed onto the surface of the custard.
Refrigerate for 8 hours or overnight.
In a saucepan over medium heat, combine strawberries, diced rhubarb and water.
Cook until bubbling and reduces by half.
Mash to create a slightly smoother mixture, leaving some larger pieces for texture.
Refrigerate to cool completely.
In your ice cream machine, prepare vanilla ice cream base according to the manufacturer's instructions.
During the last few minutes of churning, just before ice cream is ready, add the strawberry-rhubarb mixture.
Finish freezing the ice cream to soft-serve consistency.
Fold in dark chocolate pieces.
Transfer to quart container and place in freezer for a minimum of 1 hour to harden.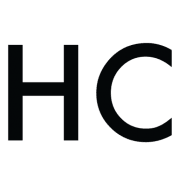 Amanda Brooke Bothwell
Torn between a world of beer and baking, Amanda has embraced both in her life of home-brewing and cake-making, occasionally "spilling" a bit of the former into the latter. Beyond baking and fermenting, she is in the search for some of the world's greatest food offerings perfectly paired with a cold one.